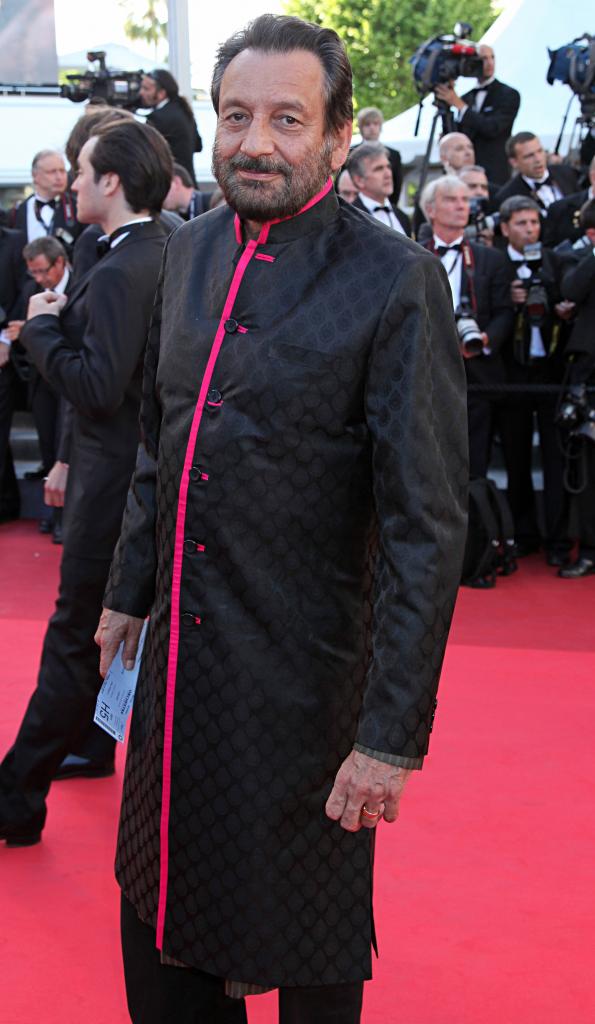 Shekhar Kapur
If you have watched movies like Elizabeth, Golden Age, Masoom and Dil Se, then you would know that sense of style and sophistication comes naturally to Shekhar Kapur. Apart from being a critically acclaimed director, this Indian Actor and Producer is known for his keen sense of style and his ability to integrate chic and classy fashion choices into his strongly knit and woven stories. With an eye for innovative clothing and styles, the Oscar nominated Director has not just wowed the world with his Indian fashion choices, but has also set remarkable trends in fashion with his biopic on Queen Elizabeth. Colors like black, white and golden are his favorite, which seem to be present in most of his movies.
Childhood and Early Career
Born in Lahore in British India (Pakistan), this Indian artist is the nephew of popular evergreen actor and the late Dev Anand. He initially denounced show business because of discouragement from his father and went on to become a Chartered Accountant.
But while living in Great Britain in the 70s', the actor was influenced and started acting with the movie 'Toote Khilone.' Then, he appeared in a few television dramas till he went ahead and directed a popular family drama, 'Masoom.' Starring popular actors like Naseeruddin Shah and Shabana Azmi, this tale of young illegitimate son trying to find love from his step mother is what made the film widely popular. Although, the film was based on a middle class family, it managed to portray a dressing style that any ordinary family in India could follow. With lots of basic, light toned, slightly printed suits along with plain shirts and trousers, the film depicted the true urban Indian family style.
The Making
Since then there has been no looking back for Shekhar Kapur. After wooing Indian audiences with his heart wrenching tale of a child, he went on to become one of the most beloved directors in the west. In 1998, he directed a biopic on Queen Elizabeth. The movie, Elizabeth starring Cate Blanchett, went on to become one of the most critically acclaimed movies of the decade, earning many accolades and awards.
The movie won an Academy Award for Best Costume Design. Because of Kapur's keenness on using Bess, Purple, Green, Blue and Golden colors in the movie, the hues and tones of these vibrant and regal colors became widely popular. His desire to showcase the beauty of the bygone era was appreciated on a large scale. Because of him, Elizabethan Style saw a reemergence in Europe and America, with women and celebrities choosing intricately detailed evening gowns over regular sleek and slender ones. White tone foundations became popular and corsets were back in fashion. Armored hands and veils along with ballroom style, and flair skirts were demanded on a large scale. Fashion designers took a cue and designed elaborately structured, heavyweight collars. Some of these styles are popular in fashion even after a decade.
Making a Style Statement
Shekhar Kapur's personal style statement has been that of a bold yet refined gentleman. His choices for events like Cannes Film Festival have been that of Indian outfits. Mostly, he favors black and golden tones because it complements his skin and his beard style. Sherwanis and Kurta Pajamas with light work of embroidery has been his evergreen choice. He is also known for simple, designer suits and white shirts that are accessorized with a bow. To complement his dressing, he keeps his locks back combed and opts for simple, sleek black shoes or Punjabi Jutti depending upon the ensemble he is donning.
The Trendsetter
Even though he himself isn't a designer, Kapur makes sure that outfits used in his movies depict the style that he wants to portray. Therefore, while the Elizabethan Style was popular in Elizabeth and The Golden Age, New York I love You depicted the regular urban chic style with lots of summer dresses and high-end designer wear.
Personalization
Undoubtedly, Kapur has been a trendsetter in every way. Being a popular Indian celebrity with a great mass following in the West, he has been a pioneer is stylizing Indian outfits all the way to the US. His use of Indian outfits have increased their global appeal by leaps and bounds.
Accessorizing
He accessorizes his western outfits with a bow and generally goes for traditional shoes when he wears Kurta Pajamas.
Maintenance
Being a busy director and celebrity, Kapur mostly chooses outfits that correspond to easy maintenance. Most of his outfits are evergreen and can be worn in different seasons. For instance, the kurta pajamas can be accessorized with a 'Bandi' or jacket during winters.
References
Categories: Bollywood & Beyond, Indian Cinema