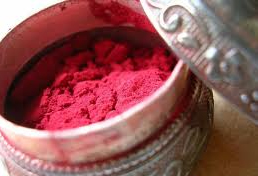 Sindoor
Sindoor is made up of vermilion, a red powder that is applied as a red streak along the parting of a woman's hair. It is also known as kumkum or sindur.  It is a symbol of matrimony and is never applied by unmarried women or widows.  It is always applied in the centre and is a symbol of female energy. It is first put on a woman by her husband on the day of her wedding, and becomes a daily ritual thereafter.  Women have adopted different ways of wearing sindoor – at the beginning or along the parting line or as a red spot on the forehead.
Origin and History
 The history can be traced to as back as 5000 years ago when Hinduism started sowing its seeds into the cultural and traditional outlook in India and around. Historians have also discovered that during the existence of Harappan civilization, it was applied along the partition of a woman's hair and was the most prominent mark of her being married. Besides that, there are legends that revolve around Hindu mythology that indicate Radha, who was Lord Krishna's wife, turned it into a shape, which resembled a flame onto her forehead. Several other scriptures like the Puranas also mention sindoor and its value for a married woman.
Present Day Scenario
The age old tradition of applying it amongst married Hindu women still has a lot of significance and value. People who make sindoor use vermillion, which is basically a red-orange tint. Prior to this however, it was made using more natural resources like turmeric, alum or lime. The chemicals used these days which include red lead can be toxic and one must handle the powder with extreme care and caution.
Even today, for a married Hindu woman, the sindoor signifies her desire for her husband's long life and prosperity and is also considered a sign of her never dying love and devotion towards her better half.
On the other hand, with modernization seeping in, the tradition of applying it on a day to day basis is not customary in several sections of Hindu society, and the decision is left entirely to the woman, who may or may not wish to apply it. However, during certain religious festivals like Navaratri and Sankranti, it is customary for a husband to apply it on his wife's forehead. During other religious events, it is also applied and offered to the various gods and goddesses.
Even the way the it is applied may vary from one woman to the next since everyone has their own particular style of adorning it. Some brides choose to fill in the entire hair line when parted, while others prefer putting it in the form of a dot right at the starting point of the hair partition. But regardless of the length or space that it fills, the sindoor is always applied in the centre.
In recent times, women have also started opting for the sindoor which is applied in the form of a triangle, and is accessorized further with a small diamond bindi.
Global Appeal
Indian cinema has upheld the glory of this symbol in various movies, which even have titles with the name sindoor, for example 'Sindoor Tere Naam Ka', which was an Indian movie that came out in 1987. Several female characters in various Hindi movies have been shown with utmost power and courage due to the sindoor being marked on their forehead.
Interesting Facts and Comparisons
When the sindoor is wiped or smudged off it indicates that a woman has just lost her husband and is now a widow
Sindoor is thrown in the air as a sign of prosperity and honor during festivals like Holi
In ancient times it was made at home, but now it is readily available in the market at reasonable prices
The color red signifies strength, blood and fire
Another name for Sindoor is Kumkum
It is also believed that it enhances the levels of concentration
These days, it is available in the form of a liquid or gel which comes in a bottle that resembles the ones used for lip glosses, and women use the tip of the brush to apply it which makes the application easier and less messy
References
Categories: Cultural Connections, Traditional Practices