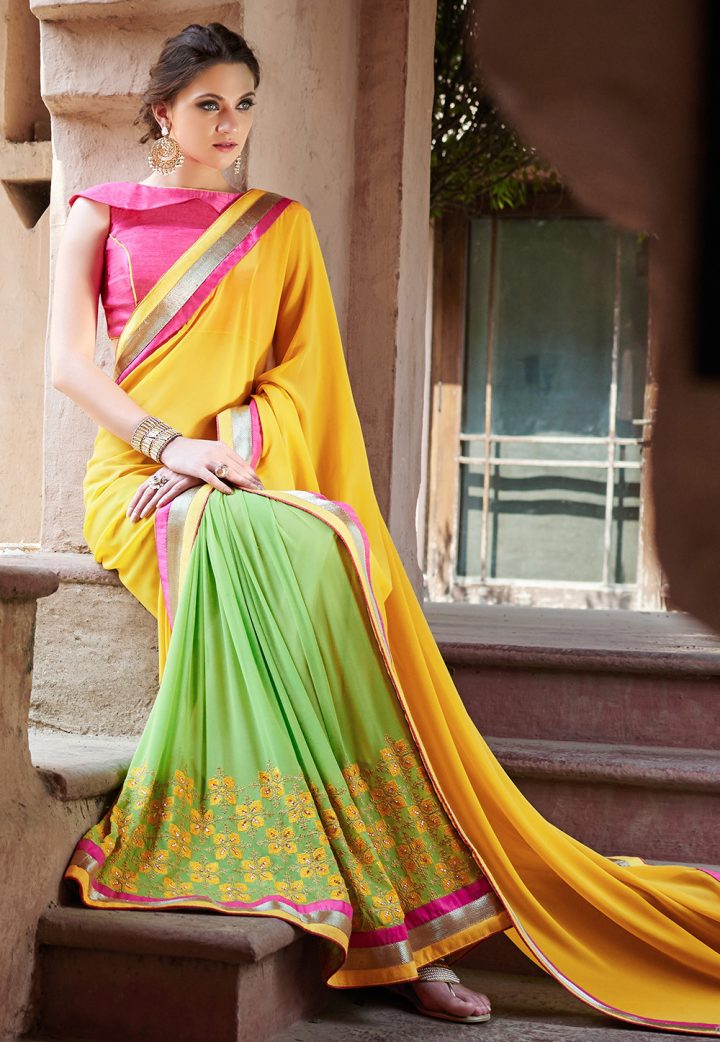 Your Zodiac Closet
Colors add confidence, energy and the peppy smile that would make any woman look stunning. An impeccably dressed woman emits confidence and cheering of an energetic fashion persona. Be it dark, or slightly shaded, bright or a simple white, modern neon or bling of gold & silver, every woman desires to own each of these shades.
With the Zodiac Personas, you might just drape on the perfectly apt color by your planets. Get to know with us the 'color' which will take you higher
Aries
Ruled by Mars, Ariens are energetic personas, spreading their active cues everywhere. Adding Red to your wardrobe is going to present you a hilarious day of compliments and appreciation. Pick Carmine and Scarlet to add drama to your dresses.
Taurus
Being compassionate and understanding, you Taureans are soaked in loads of love and have an enduring attitude towards people. Shades of Pink will add femininity and romance to your persona, and let you be the winner of calmness. Radish Pink and Fuchsia are the new age wardrobe essentials – steal them!
Aquarius
Ruled by Saturn, you are spiritually strong and artistic by nature. Adding Brown to your dressing folder will lead you to harmony and intellect. Chestnut and Wooden Brown can be a modish pick.
Libra
An artist to the core and marshmallow at the heart, Librans is the polite fleet. With romance shedding by your personas, Turquoise is your color that will sooth your energies to lead the way! Experiment with Glossy and Aqua versions of Turquoise to steal the show!
Pisces
You are highly energetic that often becomes an overdose, as you are ruled by Jupiter. Mellow down your extremes with different colors in Pastels to add confidence and depth in your attitude. Beige and Purple are the global trendsetters for Pisces.
Scorpio
Ruled by Mars, Scorpions are ambitious and hyperactive. To balance up the unsteady willpower, embrace Fiery Orange as your lucky shade. The vibrant property of Orange will keep you active and graceful, and neutralize your hypersensitivity. Tangerine and Candy Orange are the shades for your next wardrobe update!
Sagittarius
The anguish of Jupiter reflects in you, due to duality in nature and hyperactivity. Yellow will mellow you down to a soothing and calm personality, and lead your way to success. Mellow Yellow and Cheese Yellow are the trendy newcomers!
Gemini
You walk the talk, and you observe closely. Your intellect speaks power, though you often miss on the balance. Picking Lighter shades of Green will balance up your mental abilities to win the world!  Teal and Moss are the freshest of fashion vaults for gemini.
Cancer
Ruled by Moon, you are sensitive and slightly softer at heart, often leading you too weak decision-making. Silver White added to your classic shelf will help you balance your emotions. Play with Ivory and Champagne this season for appealing looks.
Capricorn
You are the powerhouse of the Zodiac, being polite and spiritual by nature and determination is your strength. The gothic glory of black will add an aura of power in their persona. Try silhouettes of Charcoal and Olive for the bold look!
Leo
Leos are ruled by Sun, and hence are the royal enigma of the zodiac with your powerful artistic and ambitious attitude. Embrace Gold to bring out the best in you and you be the winner! Your heroism stays with both subtle as well as gaudy shades of Gold!
Virgo
Governed by Earth, Virgos are inherently practical and miles away from imagination. Adding lime or gold to your shelf will do wonders to your persona by augmenting your nature of mixing with the crowd. Experiment with Lilac and Mauve for the modish closet!
Categories: Ethnic Alley, Street Clothing