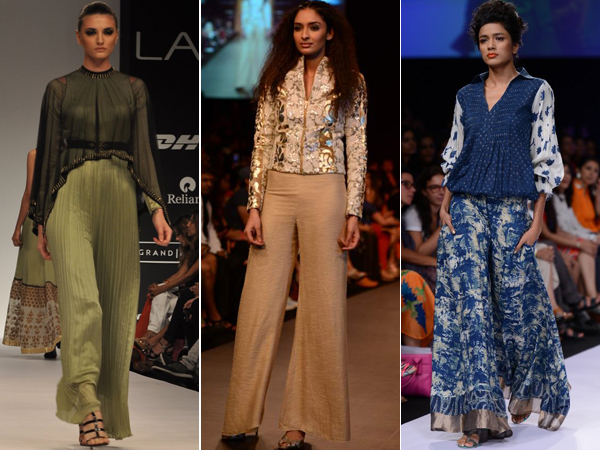 Pursuit of Palazzo
Palazzos in their groovy prints and flared silhouettes are traced back to a trend evolution way back from the 60's. Going strong with comfortable contours, these pants are going huge with a fusion of ethnic prints, getting fashion lovers to dive into elephant, camel and peacock print motifs. What with Short Kurtis, Contemporary Blouses, and even long Kurtis, palazzo pants spell a vivid statement with each attire, molding into casual or bold styles.
If you haven't worn that pair of black palazzos lying in your wardrobe because style experiments scare you, these style tips could come handy for your next hop-out. Ankle-length Palazzos do the trick for petite and short frames, while heels should be avoided by someone with a tall frame. Palazzos in varying lengths go well with for someone with an average height, more so when clubbed with a pair of heels, making one appear taller and leaner. If you're skinny or curvaceous, opt for palazzos in wide flared styles, while straight-fitting palazzos would go best with a moderately proportionate figure.
Teaming a block printed palazzo with a plain short kurti for everyday casuals. You can try pairing a long straight fit kurta with plain or palazzos in contemporary prints, for a more trendy version of  'salwar kameez'. For a bold fashion statement, teaming a blouse with zari – bordered palazzos and add an embellished jacket. If you're a travel fanatic, pop in a couple of pairs in animal print motifs,  with a casual top, perfecting it with a matching or complementing dupatta. Available in woolen silhouettes as well, you can don the ultimate winter statement with a straight-fit pair matched with a slouchy cardigan and accessorize with a scarf in bold prints.
Complementing the Indian body type as they do, Palazzo Pants are a favorite for every fashion lover. Flattering your shape the right way and taking attention away from the curves, Palazzos in traditional motifs reflect the perfect blend of Western style sensibilities with Indian ethnic fashion. Being a major trend at fashion week events this year, and a red carpet favorite for Blake Lively, Jessica Alba and our own Bollywood damsels, are loving the chic and contoured feel of palazzo pants. Well, if you don't have pair of palazzos hanging in your closet yet, you might just want to don them for your next stint with style!
Categories: Ethnic Alley, Street Clothing