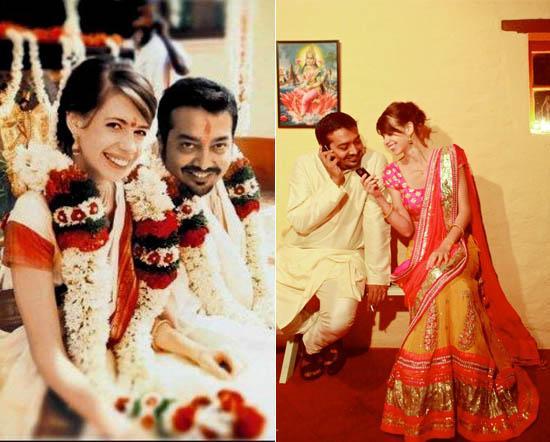 Anurag Kashyap & Kalki Koechlin Wedding
Roger Ebert, a famous journalist in the US once referred to her as a Bugs Bunny crossed with Julia Roberts. The world knows her for her morose beauty, full lips, long hair and slim frame. She isn't your usual Bollywood actress. And he isn't your usual director either. With films like Dev.D, That Girl in Yellow Boots, Gangs of Wasseypur to his credit, he has made his mark in the Indian film industry. Kalki Koechlin and Anurag Kashyap are the quintessential, insurmountable Bollywood couple, who have been dating since Dev.D and tied the knots on April 30th, 2011.
The Love Story
A French-Indian, Kalki met Anurag on the sets of Dev.D. The director/producer was then married to Aarti Bajaj, an Indian film editor. The two got divorced because of Anurag's alcoholism and soon Kalki and he began dating. Kalki, who went on a heist after her first movie came back to Bollywood with a critically acclaimed film, 'That Girl in Yellow Boots.' The couple tied the knot on April 30th, 2011 at a solemn ceremony in Ooty, where only 40-50 guests were invited for the wedding. A grand reception was held at Kalki's parental farmhouse postnuptial ties.
From the Closets of Bride & the Groom
A wedding between two Bollywood celebrities is nothing less than a regal celebration. And even though the guest list was restricted, Kalki and Anurag made a point to reflect their personalities and high-end taste in fashion. Both of them wore ensembles embellished with embroidery in authentic Indian styles. The wedding ritual conducted in the morning, saw the couple following South Indian wedding rituals with a grand evening reception. Even though Anurag is from Uttar Pradesh and Kalki is of French descent, the couple decided to go for a South Indian theme to keep their marriage serene and simple.
The Bride's Attire
For the wedding ceremony, Kalki decided to go with popular Indian designer, Laila Motwane. The designer, who retails with a variety of brands, is known for her custom made bridal trousseaus. Since Kalki has a petite frame, Laila Motwane designed a beautiful sari in Kanjivaram silk, procured from the best producers of silk from South. The yards of silk were customized to suit Kalki's demand for a simple sari. Crafted in a white tone, the sari beautifully complemented her semi-European features. Kalki's sari was given an authentic South Indian look through the use of golden embroidery on a red colored border. In addition to that it was given a minimalistic look through the amalgamation of light gray hues with a red border. Temple jewelry, which is known for its inspiring, spiritual designs, was used for accessorizing the bride.
The Groom's Attire
Anurag Kashyap, on the other hand, wore a mundu dhoti, which is the traditional wedding attire for South Indian grooms. Their outfits were given a holistic and harmonized appearance through the use of white toned wedding theme, featuring light-colored sitting areas and cooler hues for wedding hall décor.
Reception Ceremony
Kalki is known for her carefree nature. And while the wedding ceremony revealed her solemn and serious side, the reception ceremony was more about partying, comfort and a sophisticated sense of style. For the reception, Kalki went with Motwane's personalized Lehenga. Subtly contrasting her morning outfit, the Lehenga was bright and filled with an amalgamation of vibrant hues that lit up her fair face and French-Indian features. Complementing her full lips, the fuchsia toned blouse gave her a glamorous look. The use of silk and mixed fabric ensured that she carried it off with ease. Motwane readily blended Indian and European designs in the Lehenga which doubled it as an evening gown as well.
Since Kalki has a petite, slender frame, the designer used a smaller blouse that showed off her toned midriff. The fuchsia tone was contrasted with mango and orange colors, which gave her a bright, chirpy look. Popular Indian embroidery design, the Mango seed style was used on the border of the Lehenga. A hint of white ensured that the dress didn't look too gaudy. Kalki showed it off with a bun and side bangs which complemented her heart shaped face.
Anurag kept it simple and sober for the reception party. He decided to go with a minimalistic white colored pajama and kurta. The pajama kurta accentuated his tall and broad frame and was convenient for a long party.
The couple truly looked adorable and complemented each other wonderfully during the day long wedding celebration.
References
Categories: Bollywood & Beyond, Indian Cinema