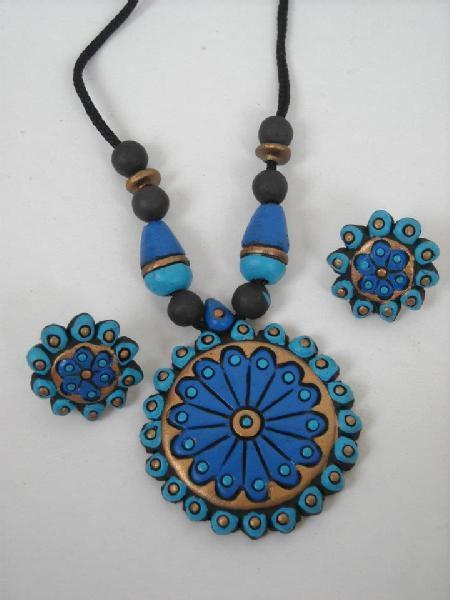 Terracotta Jewelry
Terracotta literally means 'baked earth' and is made from natural clay, giving it a reddish-brown color. It may be glazed for durability or to add color. Being water proof and sturdy, several ancient sculptures in this clay are still intact. It was used traditionally to create figures of deities on festive occasions and ceremonies besides its use in jewelry and handicrafts. The temples of Bishnupur, Murshidabad, Birbhum and Hooghly in West Bengal are superior examples of terracotta creativity. Terracotta earrings are a favorite of college goers.
Origin and History
Terracotta designs in the form of human and animal figurines were excavated from the archaeological sites of the Indus Valley Civilization in Mohenjo-daro that dates back to 3000-1500 BC.  This craft continues to thrive in India. Potters and craftsmen in India have learned the skill of creating terracotta products from their forefathers to carry forth the legacy of this art.  A big terracotta statue of the mother goddess is the most prominent discovery from Mohenjo Daro.  This depicts that this art has never perished, instead have always grown in popularity with time.
Since early times, terracotta has been used in pottery, designing sculptures and also for constructing homes. Terracotta is a form of ceramic which is molded when it is in the form of clay and is then baked.  Besides using terracotta for decorative items like vases, pots and so on, it is now increasingly being used for making a variety of products such as jewelry, smoking pipes and bangles.
Terrecotta in India
There are many states in India that have played an integral role in keeping alive this rich heritage such as Pushkar(Rajasthan) and Bishnupur (West Bengal).  In fact, Bishnupur is popular for its terracotta temples, artefacts, pottery and jewelry.  The most sought after products are the statuette of Nataraj, Lord Ganesha, elephants as well as beautifully decorated jars.  Even Gujarat is recognised as a hub for its exceptional terracotta craftsmanship.  The tribal communities in Gujarat use votive terracotta figures for their traditional rituals. Archaeologists have also found various miniatures of votive terracotta figures from Dholavira, a city from the Harappan civilization in Gujarat.
There are some regions in East Uttar Pradesh that are also renowned for Terracotta craft such as Nizamabad. The city of Nizambad produces terracotta crafts out of a particular type of clay that is sourced locally and when dried in the sun, becomes black in color.  Even Gorakhpur is famous for its red terracotta products. It also has some of the most skilled artisans who have been carrying forward the traditional terracotta art for generations.  In fact, most of the Hindu homes in Gorakhpur have a small terracotta statue of Ganesha established as a custom.  Aurangabad also is known for its terracotta craftsmen who have been into this field for five generations.
Making terracotta might appear to be a simple form of art, but it is a labor-intensive technique.  From making the clay to molding it to desired shape and then baking it under the sun, is a long process.  After the terracotta item hardens, it is then glazed for a lustrous appearance.
The Making
Methods of making pottery started with hand building where parts of the handmade vessels were joined together with the slip; an aqueous suspension of clay and water. The clay vessel could be decorated before or after firing. The Potter's wheel has a lump of clay placed in the center of a turntable called the wheel head that was rotated by the potter with the foot or an electric motor of changeable speed. The clay is then pressed, moulded and shaped gently outwards into a hollow shape. A lot of skill and experience is required to use the potter's wheel efficaciously.
Other techniques include granulate pressing, injection molding (suited to mass production for tableware), jiggering & jolleying, roller- head machines, pressure casting, slip casting and RAM pressing.
Clay art or Terracotta has diverse methods of decorating. Examples would be incising patterns on its surface, working of additives to produce the required effects, on-glazing, in-glazing, enameling, banding where a band of color is added to the edge of a cup or plate on a potter's wheel. There's Agateware, a craft wherein bands or layers of colors are blended together to give a mottled effect. Burnishing and Engobe, is a technique where a clay slip is used to coat the surface of pottery before firing to give a cosmetic improvement and to hide undesirable features in the clay.
Lithography is a three layered application of designs on articles; a layer of the design or image, the cover coat that has a protective layer and the backing on which the design is printed by screen printing or lithography. Solutions or gold powders are used to decorate superior quality ware.
Glazes are coating on pottery that is used for decorative purposes and protection. The firing technique used brick or stone kilns but recently the use of gas and electricity has made this process cleaner and more easily controlled than kiln fired by coal or wood.
Most terracotta objects are produced by molding them by hand or at the wheel and then firing them in an oven. A smoother finish can be given by rubbing and polishing the surface with wooden boards or stones while still wet.
Variety
It is an exotic form of ornamentation that adds a Bohemian look and can be teamed up with bright colored outfits.  The terracotta jewelry is hand painted in earthy hues – brown, grey, blue, green, pink and red – all adding a rustic touch to each jewellery piece. Conventional and the most popular motifs designed in terracotta jewellery include human figurines, animals or the gods of the tribes. But to add a modish touch artisans often depict contemporary shapes and patterns.
Lac coated terracotta, black pottery, decorative roof tiles, lamp shades and ornaments are just some of the diverse and beautiful earthenware of Terracotta in India. Besides these, Terracotta is majorly known for its jewelry forms.
Present Day Scenario of Terracotta
The art of terracotta is slowly dwindling away, due to the increasing competition pose by contemporary jewelry in modern times. Also the erosion of culture has resulted in the shrinking market for terracotta ware.  However, the terracotta craftsmen are diversifying their craft to produce novel and innovative products that beautifully brings out the fusion of the old with the new.  From modern looking terracotta jewelry to home décor like tabletop, wall art and terracotta lamps – there are a lot of other products that are increasingly gaining popularity.
Terracotta jewelry is fashioned to mimic Kundan or Meenakari jewelry with an astounding detail and finish. Terracotta has a wide range of products such as chimes, tiles, articles of home décor, masks, murals, and figurines of sacred deities. Dolls, tumblers, feeding bins for cattle, coffee and tea mugs are another example. Tribal jewelry in terracotta is very popular among teens and young adults.
Wearing Terracotta
Simple designs of Terracotta with minimal details can be combined with semi-formal, ethnic wear or even everyday wear. Heavily embellished jhumkas, earrings, pendants, rings, bracelets and bangles are an apt accessory for teaming up with lehengas, Anarkali kurtas and traditional heavier saris. Clay art and jewelry makes for ideal gifting items, and suits ethnic and Western wear as they come in traditional and modern designs.
Being non-reactive in nature, Clay and Terracotta jewelry suits all skin types, and does not cause allergies.
Maintenance
Terracotta or clay objects are not sturdy and require careful handling. Most clay articles come with a protective glaze but care should be taken not to bring them in contact with water. The jewelry can be wiped with a moist cloth if necessary. Some products are anyway water resistant, and the same can be confirmed at the time of purchase.
References