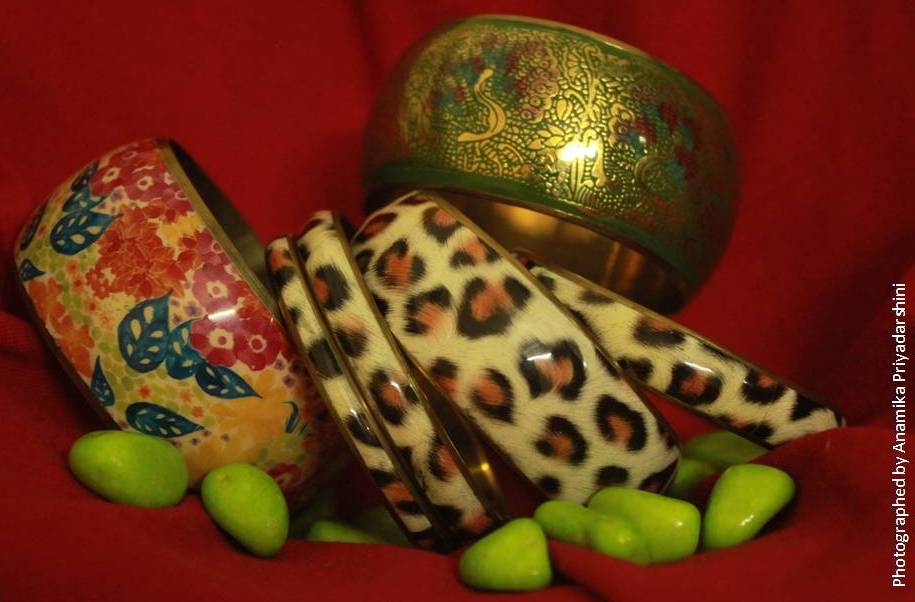 Ode to Enamel Bangles
It peeps from the counter basket in a fancy artifact shop. It shouts out with myriad colors in gullies of Lajpat Nagar. Not just that, it makes us women go weak in the knees, hanging from a wooden stand at Dilli Haat. That's the lure of Enamel Bangles. And I guess being an active participant of Delhi's ethnic milieu; these bangles made me mingle well with the ethos.
Mostly crafted with a metal base as bangle's mold, it transforms into a signature style after being layered in miniature carvings, animal prints, oil paintings, glossy beads or even threadwork. The last of the work is to cover the whole with a transparent layer of synthetic glass or enamel for the final effect. This allows the bangles to shine with the inside art glaring through the protective enamel. Dressing up comes easy with an accessory like this. One can easily don an enamel bangle with ethnic as well as western attire. The best part is they never go over the top and simply gel with the look in a short Kurti and Patiala Salwar or even with a little black dress.
However, I would offer a disclaimer to go with this, 'you would never get enough of the enamel bangles', the reason being that there is an enormous spread of these bangles all over the place. So, once you have fallen for these, you may just be on a spree for life. The good news is they are totally harmless and only add to your beauty. Totally worth the love!
Categories: Ethnic Alley, Street De Jewels