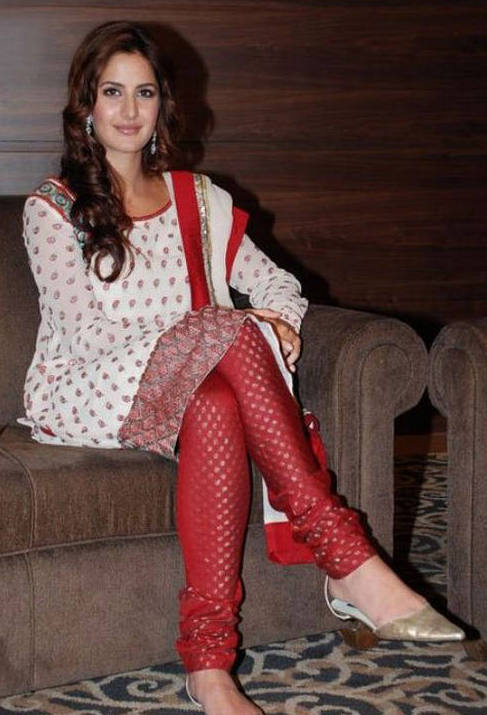 Salwar Kameez
The salwar kameez is an outfit that mainly originated in Punjab and Pakistan. The bottoms, known as a salwar, are similar to a loose pajama or pants and the top, which is known as a kameez is a tunic style top. The outfit is generally paired with a chunni or dupatta which is similar to a head scarf. Made with a wide range of fabrics, and featuring a plethora of different embroideries and motifs, the salwar kameez as an ethnic outfit is high on style as well as comfort and convenience.
Background
Among the many lower garments worn in India, churidar, salwar and pyjama are popular choices. These traditional outfits are favorites across the country due to the comfort and flexibility they offer. Moreover, they can be found in a beautiful and rich and range of designs, which makes it suitable for women of ages, shapes and sizes.
The churidar is a tight fitted trouser worn by men and women alike. The churidar's length is usually much longer than the legs; however, this is part of the churidar's style as the excess cloth stacks up like bangles or churis around the ankle. The churidar is fastened by drawstrings traditionally. The two basic styles of the churidar are Aligarhi (straight fit) and the Lucknawi (gathered fit). With emerging trends the churidar has been transformed into leggings in a stretch variety with an elasticized band instead of drawstrings.
Research says that the silhouette of the costumes worn by Iranian and Turkish men i.e. loose trousers that narrowed down at the bottom and fastened at the waist was the precursor of the modern day salwar, also known as shalwar. The Mughal invasion in the 12th century imported the style of the salwar kameez and popularized it. The salwar kameez went on to become the symbol of Punjabi fashion. A synthesis of Persian and Indian styles, the salwar kameez has transformed a lot over the years but has still retained its charm.
The Patiala salwar originated in Punjab and is more voluminous than the regular salwar, because of the pleats. A salwar or churidar with a kameez or kurta is the perfect everyday attire as well as for special and formal occasions.
The top paired with the churidar and salwar is known as the kurta and it comes in a plethora of designs such as mandarin collars or V necks, square necks, frock-style, anarkali and many more.
Made in a wide range of fabrics such as Georgette, brocade, chiffon, net, cotton, silk, satin, and more. The salwar kameez has lent itself over the years to changing cuts, needs, tastes and trends more than any other outfit. It has also been hugely inspired by the mainstream Indian film industry.
 Variety
Salwars are available in a wide range of silks like chiffon silk, dupion silk, satin silk, crepe silk, tussar silk and paper silk. The salwar kameez has imbibed many styles of embroidery such as Jaipuri Bhandej, Lucknowi Chikankari, Punjabi Phulkari, Zardozi, beaded sequins, mirror work and block printing to name a few. The range in salwar styles includes Parallel Salwar Suits, Patiala Style Salwar Suits, Pakistani or Pathani Salwar Suits, Sharara Salwar Suits, Indo-Western Kurta with Leggings.
The Afghani Suit: In this style, the salwar is very baggy and is often embroidered along the leg or ankle. The kameez is shorter than a traditional suit, ranging from mid-thigh to above the knee. This suit can be sleeveless.
The Parallel Suit: It is similar to the salwar suit except that the pants are like trousers or slightly flared like a boot cut. The parallel pant is often embroidered or designed to match the kurta which may be short or knee length. Kurtas with this type of pant can be sleeveless or with thin straps or strapless depending on the design. A dupatta with the parallel suit is optional.
The Pathani: An indigenous dress for males in Afghanistan and Pakistan, Pathani fits are worn by men in India as well, especially those belonging to the Muslim community. Available in silk, khadi and polyester besides cotton, Pathani suits are perfect for formal and special days. They can be embellished with embroidery and are available in a wide array of colors.
Sharara Salwar Suit: Sharara style salwar kameez have wide-leg pants and look like full dresses with drawstring ties at the waist. Shararas are fitted till the knees with a big-flare from the knee down or a kind of loose, trailing pajama worn by a woman.
Present day scenario
The salwar kameez in all its avatars has been featured in celebrated collections by renowned designers. For instance, Manish Malhotra's collection titled, 'Threads of Emotion' is full of traditional Phulkari embroidery, a technique originating in Punjab. In a color palette of burnt oranges, deep burgundies, royal blues, and pea greens this collection marked the return to understated elegance that infused the best of Indian craftsmanship with modern details and contemporary silhouettes.
Using a play on sheer and opaque fabrics and experimenting with constructed separates against flow, one of Kiran Uttam Ghosh's creative lines consisted of new layering ideas that went beyond the 'tunics with trousers' trend. Salwars with patchwork pockets and skinny cigarette pants are just a couple of examples.
Innovations
Dhoti Pants are the new addition to the fashion closet. These bottoms resemble the dhoti in terms of aesthetics, but are pre-stitched to look that way as opposed to the traditional dhoti which is a long piece of unstitched cloth which has to be draped in a certain way to give it the appearance one associates with a dhoti.
Personalization & Accessorizing
There are absolutely no restrictions when aiming to accessorize and personalize a pair of salwar kameez. Based on the occasion, one can choose between gold ornaments or costume jewelry. Ethnic footwear of all kinds go amazingly well with this outfit. With the exception of running shoes, one can wear any and all styles of western footwear such as gladiators, pumps or peep toes with the salwar kameez.
Suitability
Salwar kameez and churidar suits can be worn throughout the year, on special occasions as well as regular days. The only thing to keep in mind is to purchase a salwar kameez outfit that suits the season and is appropriate for the occasion in terms of embellishments, cuts, silhouettes and accessories.
Maintenance
The upkeep of salwars and churidars depends on the fabric. Cotton outfits can be washed at home but silk and chiffon with detailed embroidery or stone work should be given for dry cleaning.
References
Categories: Attires, Clothing Styles & Drapes