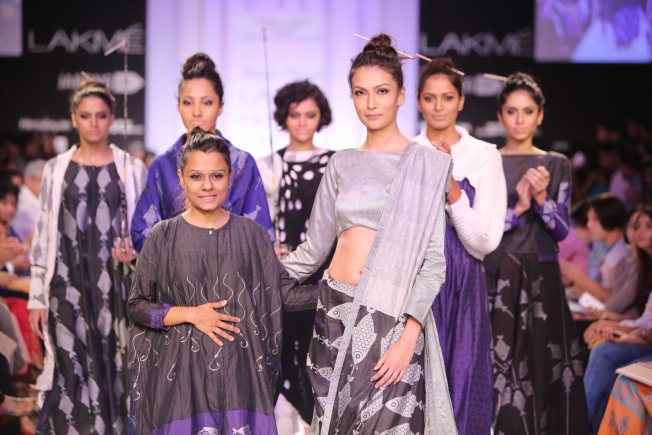 Lakme Fashion Week Winter/Festive '14 – Trend Review
Lakme Fashion Winter/Festive '14 opened its doors to Yogesh Chaudhary's label 'Surendri', which captured the essence of femininity, highlighting the spirit of the working woman. Our fashion lens also took note of his formal outfit lineup, inspired by the motif of a sunflower, coming from the harvests of Haryanvi summers. Fusion of knitwear with traditional Indian attire displayed the sequential flow of work desk tonight out ensembles for the day.
Colors like red, orange, mint greens coupled with tie and dye detailing dominated the collection, while color block outfits in black/white, orange/pink combos evoked crisp femininity. Classic silhouettes like jumpsuits, fitted dresses, pleated skirts, even kimono adapted overcoats complimented and brought out the essence of his label. Archana Rao's "Frou Frou" comprised a subtle color palette where hues like dull yellow, blush pink, dark blue and black/white stripes ruled the collection.
Day 2 kick-started with Anavila Sindhu Mishra's collection 'Mohenjo Daro'. Stitching techniques like extra weft weaving; block printing and Ikat brought out the highlights of the Indus era. Over-dyeing and printing were emphasized to evoke an aged and rustic look, as was Ajrak printing. Debashri Samanta brought in a confluence of the East and West with her Vietnam inspired "Hooked". Tussar, silk and woolen Jamdani decked in hand-woven fish and hook motifs took everyone back to the bygone era as the attires were decked in shades of black, white, purple and grey.
Day 3 brought out Pratima Pandey's "Prama" label threw the limelight on natural fabrics inspired by the life of the 20's, an era of women empowerment. Sprayed with floral embroidery, Pratima brought in a cascading flow of Chanderi Silk, cotton Madras checks on simple layered silhouettes. Day 3 closed with Sanjay Garg's label featuring gorgeous Indian textiles like Chanderi, Mushru and craft of Bengal. Showcasing hand-woven fabrics paneled on to august attires like sherwanis, lehengas, quilted jackets, waisted frocks, sarees, pajamas, and shararas.
German silver, plated brass and copper, acrylic as well as pearls; were the highlights of Suhani Pittie's collection, who painted an interesting tale, brought in a milieu of ideas for innovative jewelry. Away from the clichés of conventional jewelry, ear buttons, ear cuffs, palm cuffs and earrings added a new dimension to accessorizing. A bold giant neckpiece with 3D rose motifs commanded ample attention. Merging tradition with modern touches, Nupur Kanoi and Payal Singhal came out with "Close Knit". Winter attire wrapped in three prominent shades of bronze, golden and black with bridal embellishments on blazers, ponchos, kimonos were merged with lehengas, sherwanis, and angrakhas, creating a blend of New Age, woven in silks and crushed tissues.
The closing day boasted of a line-up of collections. Neha Agarwal's "Mille Fleur", celebrated 17th Century regal embroidery and modern silhouettes, while Arpita Mehta's label grabbed eyeballs with button-flower embroidery comprising 3D mirror flowers. Flowy gowns thronged the runway as Manish Malhotra brought the curtains down with a grand finale.
Categories: Ethnic Alley, Fashion Runways