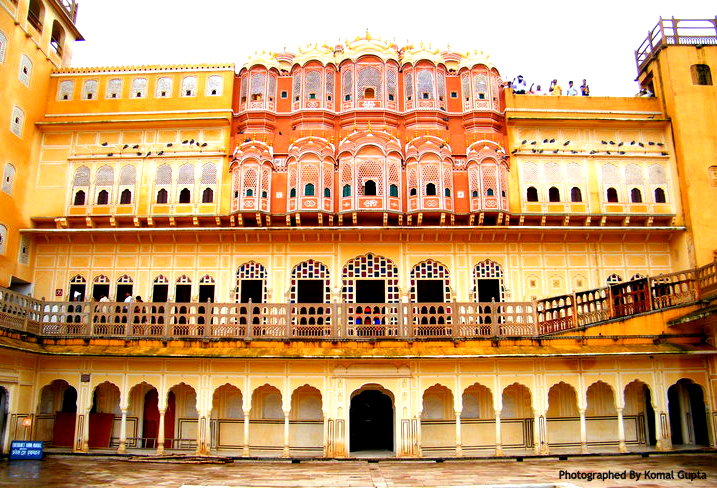 Jaipur – Shopping Hub In Rajasthan
The Pink city of India, the owner and capital of Rajasthan's heritage and the final destination for a fantastic Indian ethnic shopping experience – has Jaipur been on your mind?
The Windy Palace, the fort of Amer, the vibrant lanes of Johri Bazaar, Bapu Bazaar and Maniharon ka Rasta, this month's Travel Trousseau will take you through the imperial lanes of Jaipur, the capital city of Rajasthan! While you dip your shopping fetish into the locally designed silver and Kundan jewelry, or Mojaris, stone carvings, lac, a tiny variety of camel skin, tie & dye textiles of Bandhani & Leheriya and the block designs of Sanganer and Bagru, read on before you step out for the street spree this time, all the way from Jaipur:
Badi Chaupar
Loyally standing across 'Hawa Mahal', Badi Chaupar sprinkles the joy of little things for your Indian ethnic folder. From Mojri shoes and coin cases in camel skin to wooden artifacts and lacsmith's magic, Badi Chaupar has the scope of bargaining as your pocket allows.
Johri Bazaar
As the name resonates Johri Bazaar has the vibrancy of Bandhani or Bandhej in spreads of Dupattas, Sarees, Lehenga Choli, Penny Pouches, and other accessories. Besides these tie and dye textiles, Johri Bazaar is majorly known for real and semi gemstones and silver jewelry, carved in modern yet traditional chunks of jewels and more.
Bapu Bazaar
The most obvious creations of Jaipur spring out from the little lanes of Bapu Bazaar. Be it Sanganer & Bagru printed Bedsheets, Cushions and the famous Jaipuri Razai (Quilt), this one will throw you an endless variety to deck up your home with. Prints and paintings of Batik and Bandhej too splash bright colors to your trunk of Salwar Kameez and Dupattas!
Mirza Ismail Road (MI Road)
An emporium-like market, MI Road is known for brass, silver, kundan and iron jewelry along with a plethora of Jaipur fabrics. Your longer spree here may end up in shopping for tiny wood works and souvenirs!
 Maniharon ka Bazaar or Tripolia Bazar
Majorly known for lac bangles, and other jewelry, your bangle-cupidity will take a lovely break at Maniharon ka bazar, also known as Tripolia market.
Ornaments have the richness of the gracefully coy womanhood. With our latest post on Jaipur's Pink Palette, we intend to make you feel special about being an India-Lover. Let us know, how you feel about this story, and we shall have the right dish rolling out for you.
Categories: Ethnic Alley, Indian Enigmas