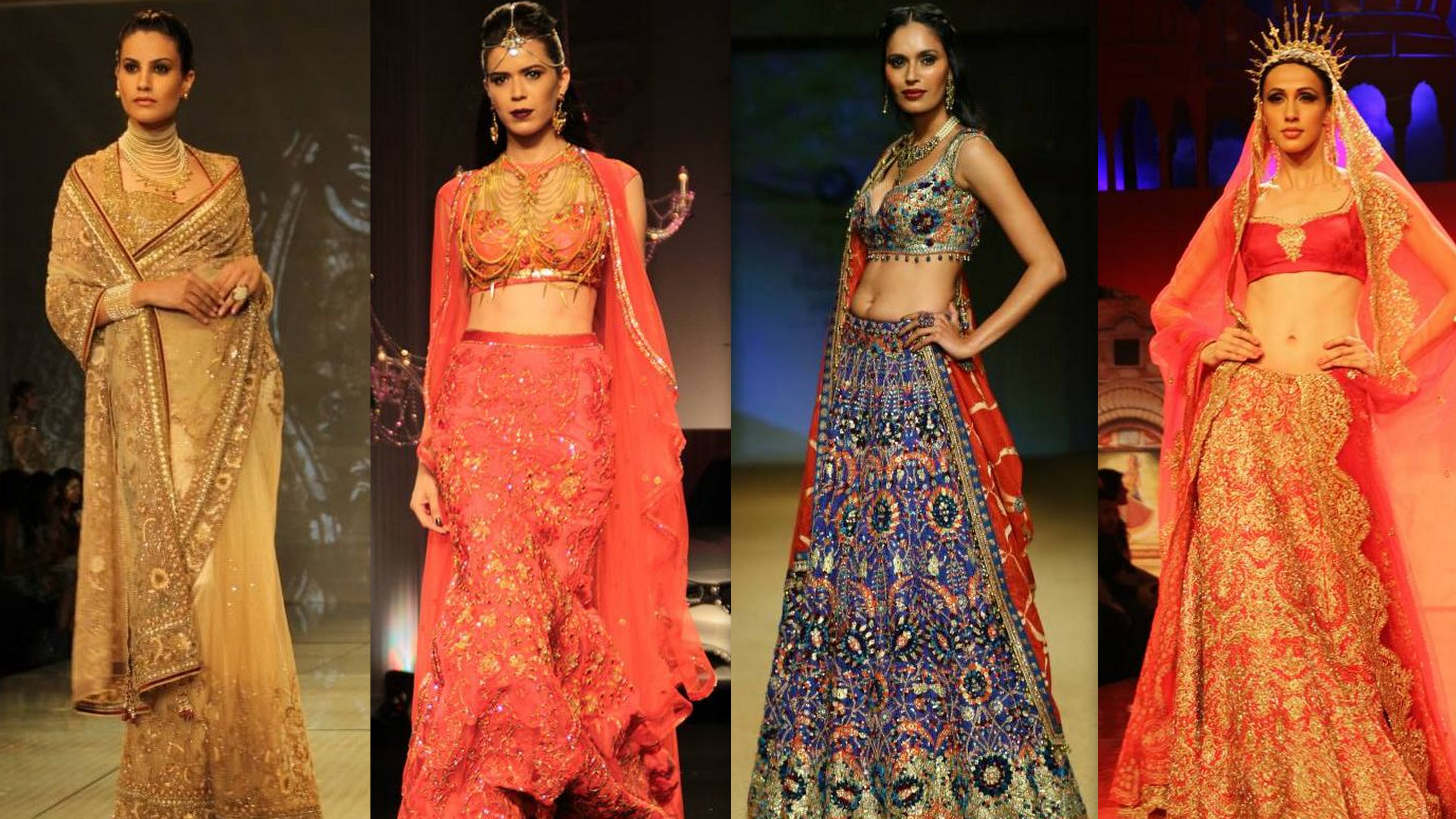 India Bridal Fashion Week'14 Digest
The Sixth Edition of BMW India Bridal Fashion Week which was held in DLF Emporio, Vasant Kunj, New Delhi on 7th August is the most awaited Bridal show of the year where famous wedding collection designers come together to set trends for soon to be brides. Here is an overview of our favorites.
Tarun Tahiliani
Tarun Tahiliani kick-started the show by displaying his signature styles on the ramp comprising floor sweeping layered lehengas, flared anarkalis and sarees with stunning zari, sequin and lace embellishments. He added a contemporary touch with saree gowns, embroidered jackets and tailored pants. The collection left us aw struck with sheer, silk and tulle ensemble draped in elegance. The color spectrum included shades of gold, bronze, champagne and red with a bang of black. While jackets worn over lehenga skirts was an excellent way to modernize, saree pallus were seen wrapped around the shoulder displaying the cultural aspect.
Raghavendra Rathore
Raghavendra Rathore presented a wide range of 'bandhgalas' paired with tulle skirts and cigarette pants. He named this masterpiece 'Reincarnation of Relics'. The jackets were delicately embroidered in gold sequins and zari while the skirts and pants were left simple that balanced the look. His collection of reinventing relics from our history observed a minimal palette of colors including pink, navy, white, maroon and black. While Rathore had his whole inspiration around a contemporary bride, he also had little kids walk in some statement wedding wear. That was adorable!
Ashima & Leena
The sisters-in-law of the fashion circuit,exhibited 'Jashn' bridal wear in metallic shades of red, blue, gold and champagne. They nailed the combination of sheer, metal and embroidery which is everything a modern bride wishes for. Ashima & Leena also paired their lehengas with crop jackets which are SO in trend. While the reds were embroidered with zari, the golds were filled with sequins. Some emphasis was laid on the layering effect that added volume to the bottom half of the attire. The amalgamation of motifs, patterns and embroidery left us wanting more.
Falguni & Shane Peacock
Falguni & Shane Peacock known for their out-of-the-box minds displayed an exciting range of bridal wear which had a tinge of vintage. While the classic A line lehengas and gowns were beautifully embellished with stones, they were paired with biker jackets in quirky motifs. Much like the others, Falguni & Shane also displayed off white, beige, pink, gold to deep reds and of course black. Their designs had elaborate thread and crystal work on sheer nets, crepes, chiffons, georgettes, silk and satin. The eccentric styles had intricate designs of flowers with crystals, stones and sequins that blew our minds.
Suneet Verma
Suneet Verma's collection changed the rules of Indian bridal fashion. It revolved around the fact that a woman should not be afraid to display her sensuality even as a bride. The line inspired by Jaipur bridal tradition had sarees with bustier blouses. Bold attires especially designed for a modern bride observed deep cut cholis with lehengas in elaborate embroidery. The color range was on the lines of pink, deep red, white, beige and black showed skin aesthetically. The emphasis on modern Indian women was also made by his creative head pieces of spiked crowns.
JJ Valaya
The king of bridal fashion closed the grand event with 'The Nautch of Fez'. This line was a combination of Moroccan motifs and Indian Styles. He broke the monotony of black and white with bright red, orange and yellow in metal tones. 'The Nautch of Fez' displayed column gowns, sarees and lehenga cholis in silk, georgette and velvet. These beauties were dipped in the traditional embroidery of brocade, zari, sequins and more. Multiple necklaces and big jhumkis adorned this spectacular collection.
Categories: Ethnic Alley, Fashion Runways