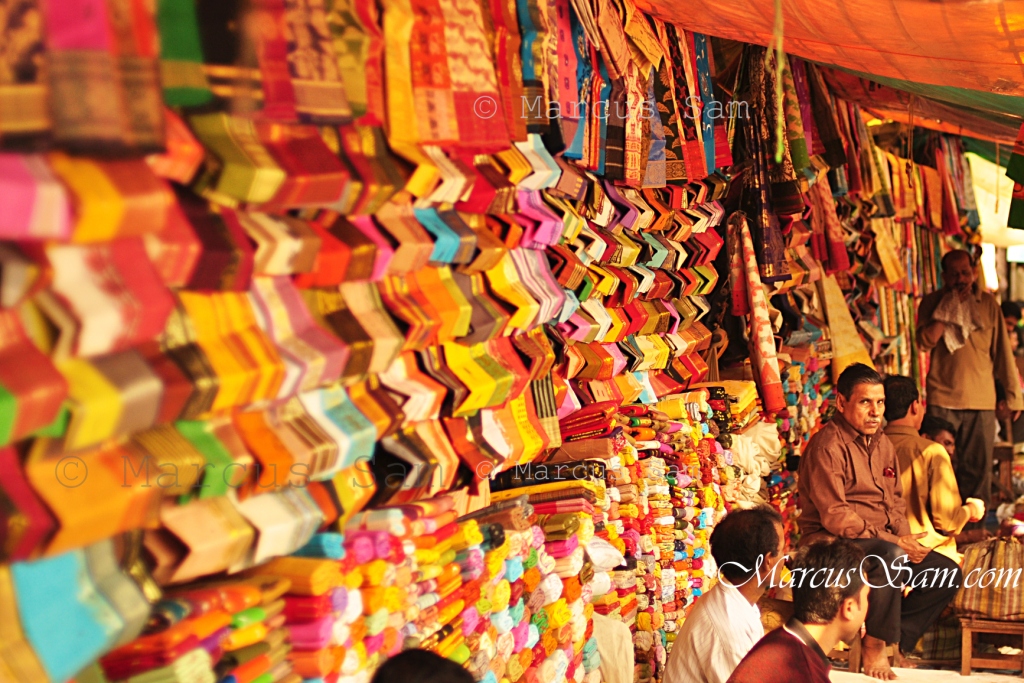 Gariahaat, Kolkata
Gariahat, also known as Garia Haat, is a large market in the South of Kolkata and a part of the Ballygunge area. It is famous for the variety it offers in Indian ethnic wear and is known as the 'shopping capital' of Kolkata. The market has high-end stores that attract affluent families with their vast collections of sarees and salwar-kameez. Located at the crossing of Gariahat Road and Rasbehari Avenue, this market is famous for multiple types of silk sarees as well as those made of other fabrics. It also sells modern jewelry in contemporary designs. This market is also famous for other products and merchandise.
History
The entire area of Ballygunge originated in the Colonial period when the British were building the Mahratta Ditch, which was a form of fortification against invasion by Maratha warriors. While the rest of the localities within Ballygunge were developed in the early 20th century, Gariahat and the surrounding areas have been developed only recently. This road has developed specialized trade since its creation and is considered one of the most upscale localities within Southern Kolkata. One of its mainstays is sarees in a number of fabrics and sub-types and a vast variety of designs and embroideries, in keeping with the contemporary tastes of the populace.
What Can you Shop?
Best described as a colorful market, Gariyahat offers exclusive as well as daily-wear Indian ethnic clothing items and jewelry to complement it. The most popular varieties of ethnic-wear found in this market are:
Silk Sarees are one of the most glamorous yet sophisticated attires in Indian ethnic fashion. These sarees are a preferred choice for festivities and special occasions and can be bought in all its glorious variety at Gariahaat. For instance, Banarasi sarees, Kanjivaram, Tussar Silk, boutique silk sarees, Kantha work sarees and many more varieties are easily available at a number of stores. Some of the varieties of silk that are indigenous to West Bengal and are readily available in the market include fabrics and embroideries like Murshidabad silk, Baluchari silk, Kantha work, and Batik sarees among others.
One of the most popular fabrics worn by the local women is cotton, especially when it comes to sarees. West Bengal is home to a number of cotton looms and weaves, such as Khaddar or Khadi, Dhanikhali cotton, Phulia cotton, Shantipuri cotton, Begumpur cotton and Kantha work cotton sarees. In fact, pure handloom white cotton sarees with a red border (that can also be substituted with other warm colors like orange) are uniquely Bengali in identity. However, this does not limit the kind of cotton sarees that is available at Gariahat.
Designer Sarees
A number of younger Bengali women are opting to wear designer sarees with heavy stone work, zari work and even zardozi on special occasions, making for a flourishing market for this type of sarees. These sarees are usually found in fabrics like chiffon, georgette, sheer and other light, flowing materials.
Festive Sarees
Certain specialized stores sell exclusive sarees such as the Jamdani saree or the Bengal Tant saree. Finding trademark, high quality variants of these sarees is usually tough, which is why shopping at select stores on this street is preferred by many avid shoppers.
Designer Suits and Salwar Kameez
Designer suits and salwar kameez, like designer sarees, are a relatively newer phenomenon. These suits are made of materials similar to that of a designer saree and showcase similar kind of embroidery as well. While suits and salwar kameez are usually considered semi-formal Indian wear, the nature of the materials and work on them makes them suitable for grand occasions. Gariahat is well-known for offering good quality suits in a vast range.
Accessories
Some of the oldest names in the jewelry business in Kolkata have set up shop in Gariahat. These jewelers deal in high quality costume jewelry in traditional as well as modern designs such as finger rings, nose rings, earrings, neckpieces, bangles, arm bracelets, amulets, anklets and many other types in precious and semi-precious metals. The types of designing of these accessories can include enamel work as well as embedding precious and semi-precious gems in the pieces. Pure pearls in a variety of different colors and diamond jewelry are other popular pieces at the jewelry stores in Gariahat. Besides these, traditional Bengali neckpieces such as the chatai haar (beaded necklace), ghunshi haar, bracelets, arm bands or baajubandh and Bagmukhi Bala i.e. gold bangles with tiger faces on the surface are also available.
Global Appeal
Gariahat sees a number of elite visitors who are accustomed to high-street shopping. Besides this, many foreigners also prefer shopping in this area due to the affluence of the market and its resulting reputation as well as the guarantee of high-quality items. Certain accessory showrooms on Gariahat have already seen their pieces on renowned runways. Moreover, a testament to the grandeur of West Bengal's ethnic Indian costume heritage is the number of cinematic depictions of the iconic Bengali saree.
Facts and Trivia
Gariahat also has a hawker's market that is set up on a particular day every week.
Hair and beauty accessories for women and children can be found in abundance on the wayside of Gariahat.
Glass bangles are very popular accessories in the Bengali culture and are therefore found easily in Gariahat as well.
Jamdani originated in the city of Dhaka in (current) Bangladesh, before the partition of Bengal.
Video of Gariyahaat
Reference
Categories: Bazaars, Ethnic Hubs