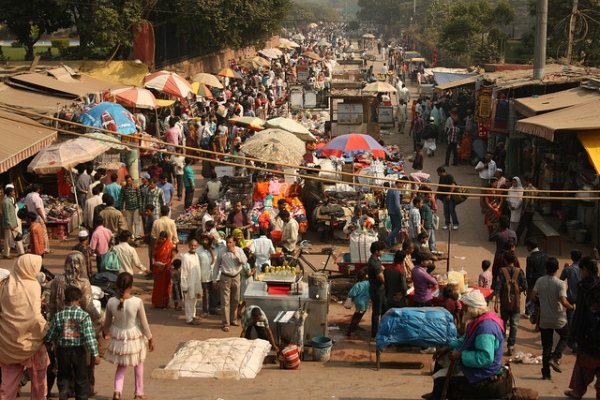 Chandani Chowk
Chandni Chowk,  is one of the oldest and busiest markets located in central north Delhi. It is believed to be the largest wholesale market in Asia. This market has some of the most well-known Indian-wear shops in the capital. Right from daily-wear sarees to bridal sarees, suits and lehengas, Chandni Chowk is truly the hub of the latest fashion at the most affordable prices. The speciality of the market lies not only in its affordability but also the modernity of patterns, designs and styles on the dress items. That is not to say that stores offering traditional ethnic Indian textiles and embroideries cannot be found. There are also many accessory shops in this market dealing in precious and semi-precious metals and stones.
Origin & History
Chandni Chowk is said to be established when the Mughal emperor Shah Jahan laid the foundation of Shahjahanabad, which was set to be the capital amongst the cities he ruled. It was initially shaped as a square at the centre of which was a pool that shimmered in the moonlight which is what the market is named after. The shops around the bazaar were arranged in a half moon pattern around the square.
Common folklore says that Shah Jahan had Chandni Chowk built so that Jahan Ara could buy whatever she wanted. Chandni Chowk acted as a common, commercial gathering place for traders and merchants of all industries who would flock to the capital from all around the country. In the early days, the bazaar was best known for its silver merchants. This portion of Chandni Chowk's history has sparked the debate that the market has been named after the trade of silver since 'Chandi' is the Hindi word for silver.
The reflecting pool and the half moon pattern of the shops have long been replaced by the numerous shops trading in raw cloth, readymade apparel, gold as well as silver jewelry, decorative items, as well as food stuff, electronics and others.
Markets in Chandni Chowk
Chandni Chowk is divided into a number of smaller markets, each of which is known for selling a particular commodity. This adds to the peculiar charm of the market and adds to the convenience of shopping in this market. Chandni Chowk is especially popular for bridal shopping, especially during the wedding season, when it becomes one of the most frequented markets for lehengas, designer sarees, accessories, reliable gold jewelry as well as decorative items for the wedding venue.
The many markets and katras specializing in the sale of a particular item or type of item are as follows:
Fatehpuri Market
The Fatehpuri Market is a popular cloth market and the various katras are known for the sale of textiles. Textile is sold in bulk and the measure of cloth sold is not in metres but as a yarn or thaan in Hindi. This market is one of the main supplying partners to many small scale clothing manufacturers, most of whom are indigenous to Chandni Chowk. The wide assortment of materials and textiles that are sold at Chandni Chowk range from cotton to georgette, chiffon, net and sheer.
Dariba Kalan
Dariba Kalan is well known for jewelry and specializes in the sale of silver and gold items. The highlight of purchasing jewelry at Dariba is the availability of hand-crafted jewelry. Dariba is famous for the sale of Kundan, Meenakari and filigree jewelry in both traditional and contemporary designs. Fashion jewelry in modern designs is also famous in this market. Polki and diamond jewelry is also one of the most purchased items at this market. The highlight of shopping in Dariba is the price range of the items which matches the lifestyle of a vast majority of the population. A rare item that is also sold at Dariba is itar, a unique variety of perfume and attar. A unique fragrance that is usually associated with the religion of Islam and its followers, itar is rare, exceptional in nature and also an extravagance that is available with relative convenience at Ballimaran.
Ballimaran
The market at Ballimaran sells shoes that are affordably priced. There are huge varieties of shoes available ranging from formal shoes to dress shoes as well. Also at Ballimaran are jootis or shoes made of leather (animal hide) in contemporary designs and colour schemes.
Kinari Bazaar
Kinari Bazaar is known for its vast collection of, jewelry, zardozi items as well as laces and frills. The variety in the material and design of the brocade and borders is vast and are considered viable options to enhance the looks of a saree, suit or lehenga by top designers in the country on popular TV shows. These borders are usually sold as 9 meter pieces and can range anywhere from 300 to 3000 INR.
Moti Bazaar
Moti Bazaar is known for shawls that are available in a myriad of colours, styles and yarns or types of wool that are available at throwaway prices. The market has been named after its specialty i.e. the sale and purchase of pearls. Shoppers frequent this market for pearl necklaces in many colours and sizes, single string and multiple strings and also for jewelry made of mother of pearl. Reliable, refined pearls or white pearls are as easily available as coloured pearls.
Meena Bazaar
The chain of exclusive, high-end sarees and lehengas has been named after the renowned Meena Bazaar in Chandni Chowk which was set up more than a century ago. Meena Bazaar sells traditional Muslim dresses and accessories such as semi-precious jewelry, embroidered indian bags, etc. Having evolved over the ages, the designs and materials used in these traditional costumes are contemporary and suit the match the lifestyle of those residing in the nearby areas, i.e. Chawri Bazaar, Daryaganj and Chandni Chowk itself.
Shopping
Not restricting themselves to the katras and markets within Chandni Chowk, many stores dealing in women's Indian wear, whether in traditional hand-crafts or modern ones, are sprawled throughout the market. However, many of these stores specialize in bridal wear and party wear Indian traditional outfits that primarily feature zardozi, bead and crystal work, sitara work, zari, kundan and other heavy, intricate embroidery styles. The variety of Indian wear that can be found in this hub is innumerable in itself.
Facts and Trivia
There were initially only three main bazaars in Chandni Chowk.
Besides shopping and fashion, this hub is famous for its food.
Within Chandni Chowk's main street are four different religious buildings within a 2-3 km span i.e. a Jain Mandir, a Gurudwara, a Church and a Masjid.
Delhi's Town Hall is located within Chandni Chowk.
Chandni Chowk has featured as a rich cultural hub in many Bollywood movies such as Delhi-6, Chandni Chowk to China and more.
 References
Categories: Bazaars, Ethnic Hubs