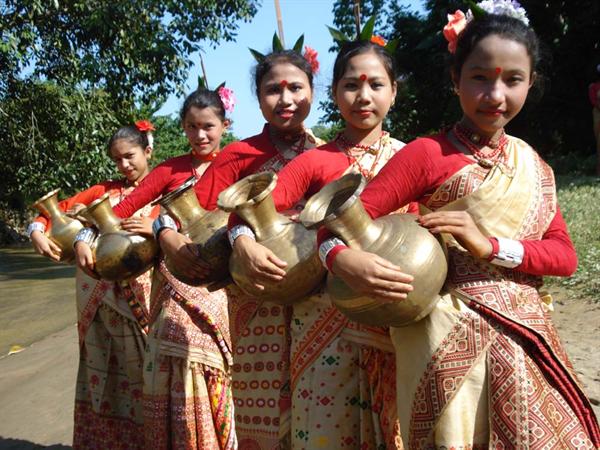 Clothing Style in Assam
The Northeastern state of Assam is one of the most popular pockets which lies in the heart of India and has enriched its soil in the traditional layers of culture and ethnicity. Whether it is the lifestyle, religion, clothing or various other cultural aspects; Assam has contributed immensely to what diversity in Indian culture really stands for.
Especially when it comes to traditional attires donned by men and women of that state, the essence of India blooms and blossoms out, connecting the hearts and minds of people on a single chord. During the festival of Bihu, which is a traditional festival of Assam, majority of men and women can be seen donning some ethnic attires.
Origin and History
The colorful and traditional clothing of the Assamese men traces its origin and emergence way back to the Mughal period during the late 1600s, when royal kings patronized the traditional attire of men to enhance the culture of Assam, especially during their ethnic festival of Rongali Bihu.
But if we dig up the archives before the 16th century, the period during the 15th century also witnessed some of the finest clothing that was manufactured out of Atasi fiber, which was commonly known as 'duluka'. Cotton and silk were widely used in those eras. However, cotton fabrics in those days were considered to be the most expensive fabrics and hence were donned only by the royal emperors.
Style
The Assamese men also tie a 'gamcha' headgear around their head and at times also tie it around their waist during their festive occasions. It is embedded with traditional designs which depict religious ethics and sentiments, along with the portrayal of sculpture, architecture, art and literature. The dhoti which is wrapped around the waist comes in different light and bright colors, which is soft in texture and convenient to wear.
The eri-chaddar is generally hung around the neck with its ends hanging loose on the front of the body. Assamese Women wear a special three piece sari known as Mekhla Chadhor or a shawl like attire which is wrapped around their waist known as puan.
Influence over the years
Nowadays, western dresses have flooded the young minds and hearts of Assam, which are creating an impact on the traditional wear as well. The silky essence of this complete traditional wear has traveled places and has uplifted its essence with more variations in colors, textures and quality. Mekhla shirt has moreover come into wide existence with its signature style of being thicker and broad bordered in texture and design. It is a unique concoction of Lungi and Aanchal. Muga silk is now extensively used in the manufacturing process of this traditional costume for Assamese men.
Innovations
These embroideries can also be found in many architectural temples which contain ethnic stone sculptures and other such culture linked items. These silken embroideries can also be found in various handicrafts like cloth bags, cushion covers, table covers, and curtains.
Global Influence
This Assamese costume has not only won the hearts and minds of India, but also of foreign nations, crediting to the level of perfection at which this fabric is intrinsically and innovatively woven. Moreover the design imprinted on this outfit that instills a complete essence of nature has struck the interest as well as the attraction chord of the people worldwide.
Accessorizing
Occasionally young lads go in for trendy jutis (shoes) to compliment and complete the entire ethnic look of the outfit. However, simple gold or chains and a kara on the wrist can add to the glam factor of this outfit.
Women can wear simple jewelry in gold and silver. The waist-chain or Kamarbandh is also a great accessory with the traditional attires.
Interesting facts and Comparisons
The silk used in this traditional outfit is an Eco-friendly silk which also bears the capability of resisting harmful rays meted out by ultraviolet radiations.
The muga silk has always been compared to many other silks like tussar and other wild silks. However this silk is softer and lighter than its competitors.
References
Categories: Attires, Clothing Styles & Drapes