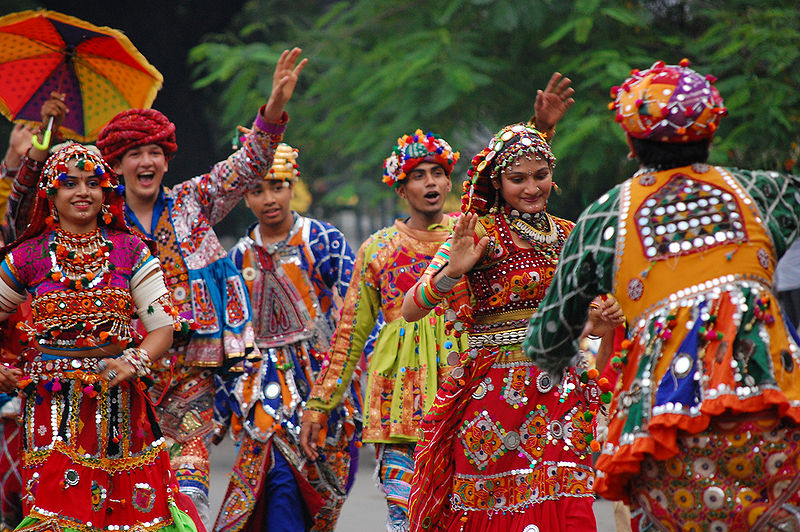 Garba
Garba is a dance form originated in Gujarat, performed during Navratri – a 9-day festival of Goddess Durga. It is also known as Garbi, Garbha or Garbha Deep. In 'Garbha Deep', the word 'Garbha' is a Sanskrit term, which means womb and 'Deep' means little earthen lamps. It is usually performed in a circle around a big lamp or the statue of Goddess Shakti.
This dance form is often confused with Dandiya, which is another dance form of Gujarat performed during Navratri, but originated in Vrindavan. The major difference between the two dance forms is that The dance is performed in circular movements with hands and feet, while Dandiya is played with colorful sticks.
History & Symbolism
It was traditionally performed around a big Garbha Deep, representing life just as fetus in the mother's womb. This dance form worships the divinity and power of Goddess Durga or Amba.
Sources of Inspiration
Another perspective on the symbolic form of Garba is that as the dancers move around in circles making circular movements with their hands and feet, it represents the circle of life, which moves from life to death to rebirth, leaving only the Goddess Durga unmoved, unchanging and invincible.
It is performed in a ring form with circular movements that is quite similar to the Sufi dancers, who too move in a spiral.
The Garba Attire
While the dancers perform in colorful costumes to the rhythm of a dhol or a drum, the men and women look vibrant and full of life in their attires. Women wear Chaniya Choli – a traditional Gujarati three-piece outfit comprising Choli or a Blouse, a Chaniya, which is a long flared skirt and an embellished dupatta.
Chaniya Choli is characterized by their colorful designs and the embroidery or the mirror work done on them. The whole costume is teamed up with Silver or Black Metal Necklaces, Big Earrings, Kamarband, Bajuband, Maang Tikka and Juttis. The men who perform the Garba wear a Kediyu – a short round Kurta along with Kafni Pajamas along with a Pagdi on their head, and Mojri or Nagras.
Innovations
The modern day dance is actually a fusion of Dandiya Raas and Garba. The mix of two has become very popular amongst the young generation, all over the world.
Global Appeal
This particular dance form is famous in the United States of America, United Kingdom, Canada and Toronto. In all, people from most countries across the globe like to dance to the lively and peppy beats.
Interesting Facts
 It is quite famous in the United States of America and around 20 Universities across the globe hold Garba dance competitions each year.
One of the most popular competitions among them happens to be Garba with Attitude which is hosted by ISC or Indian Sub-Continental Club from University of California.
Reference
Categories: Cultural Connections, Indian Performing Arts