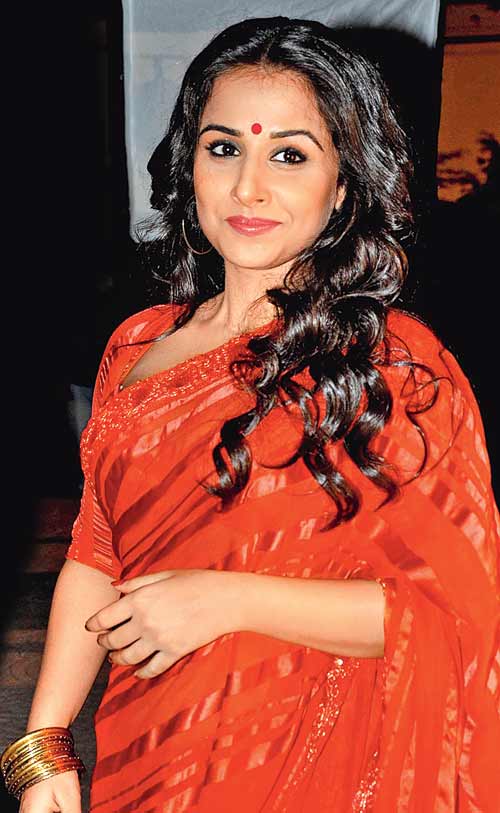 Vidya Balan
What she does to a sari is nothing less than Midas's touch! She is one of Indian cinema's rare actresses who can do wonders to a simple piece of Cotton sari and make it look grand, and perhaps it's her larger than life attitude towards everything that gets showcased on how she makes Indian ethnic wear stand out even in a crowd full of short skirts and dresses. If you haven't guessed it till now, let's spell it out, Vidya Balan. One of Bollywood's leading actresses today has charmed everyone from her first movie to the most recent. Critics may have been harsh, and she may have received a love- hate plate of critical acclaim, but she stands tall and proud, and of course beautiful.
Origin and History
Vidya Balan was born on 1st January 1978 in a small town called Ottapalam in Kerela. Her father, P.R Balan is the executive vice president of Digicable and her mother is a housewife. Vidya is well versed with several languages like Tamil, Malayalam, Hindi, Marathi, English and even Bengali. Vidya Balan's doorway into the world of films opened when at the age of 16 she starred in the hit 90's sitcom Hum Paanch, which did not get people to notice the pretty face or the hidden elegance that lied beneath those huge nerdy glasses that she wore for the sake of the character, but it did turn the wheels rolling in a direction from where there was no return.
She appeared in several commercials and music videos but did not make a splash in the world of glamor till 2005, where she starred in the Hindi film Parineeta, directed by Pradeep Sarkar. From then on it was the name Vidya Balan that got highlighted and appreciated in every news feed, entertainment pages, magazine blogs or just word of mouth from one person to the next who could not stop raving about her performance or her sensational screen presence. Following this sudden turn of fame, every producer and director wanted to work with Vidya and she graced several movies with her signature style and elegant persona, a kind that was hard to come by.
Style and Global Appeal
There has always been something simple, yet serene about Vidya Balan. What marked an advent in her style was her first Hindi movie Parineeta, where she looks stunning in an exquisite array of Silk saris, while in some parts of the movie she even wears light and sober looking salwar kurtas, with intricate Zari work. What she adds to the saree, rather than the sari adding to her is the traditional Indian charm accompanied by red bindis, delicate gold jewelry and subtle make up. The magical vintage aura came alive through her character and movie and the attire added the regal Indian charm.
The traditional Indian style that she managed to create a stir with on screen became a part and parcel of her off screen attire as well. Till date, one would come across more photographs or videos of Vidya Balan dressed in immaculate saris or salwar suits rather than dresses or jeans.
Her love for Kanchipuram saris is evident as those comprise of the major collection that she flaunts. Rich and vibrant shades of red, green, orange, purple, and gold are her hot favorites. She also loves to play it up with the unconventional styles and designs by opting for geometrical or checked patterns. Moreover, she always adds the oomph factor to the sari by going for choli like blouses with deep backs which accentuate her voluptuous frame. The one other trend that she has with sari blouses is that they are always quarter sleeved and add the vintage and old world charm to her sari. At times a red bindi, red lips and winged eyeliner are a staple to her overall attire for any event or award function.
The one thing that truly sets her apart is her minimalistic approach when it comes to jewelry. More often than not she just goes for large or small Jhumkas (earrings) or no jewelry at all. When it comes to salwar suits, she is often seen in long and elaborate Anarkali suits with beautiful gold or zari borders. Sabyasachi Mukherjee who is a famous Indian contemporary designer is Vidya Balan's favorite and for most occasions, she flaunts his traditional and elegant creations.
The Latest Buzz
At the recent Cannes film festival in Paris, Vidya Balan became quite the controversy when it came to her attire since she received some negative and positive reviews for the outfits she chose to wear. While on one hand, the outfits were glamorous and elegant, the style was considered a little too outdated or over the top. But she soon rectified her faux pas image when she appeared in a classy deep maroon creation in the form of a lehenga and full bodice top. The simple factor which always works for her made her stand out for the much acclaimed red carpet event, and she was more than able to resurrect her traditional persona.
Interesting Facts
Recently Vidya Balan got married to UTV's CEO Siddharth Roy Kapur in which all her sarees were designed by Sabyasachi.
She has majored in Sociology from St. Xavier's college in Mumbai.
Categories: Bollywood & Beyond, Indian Cinema