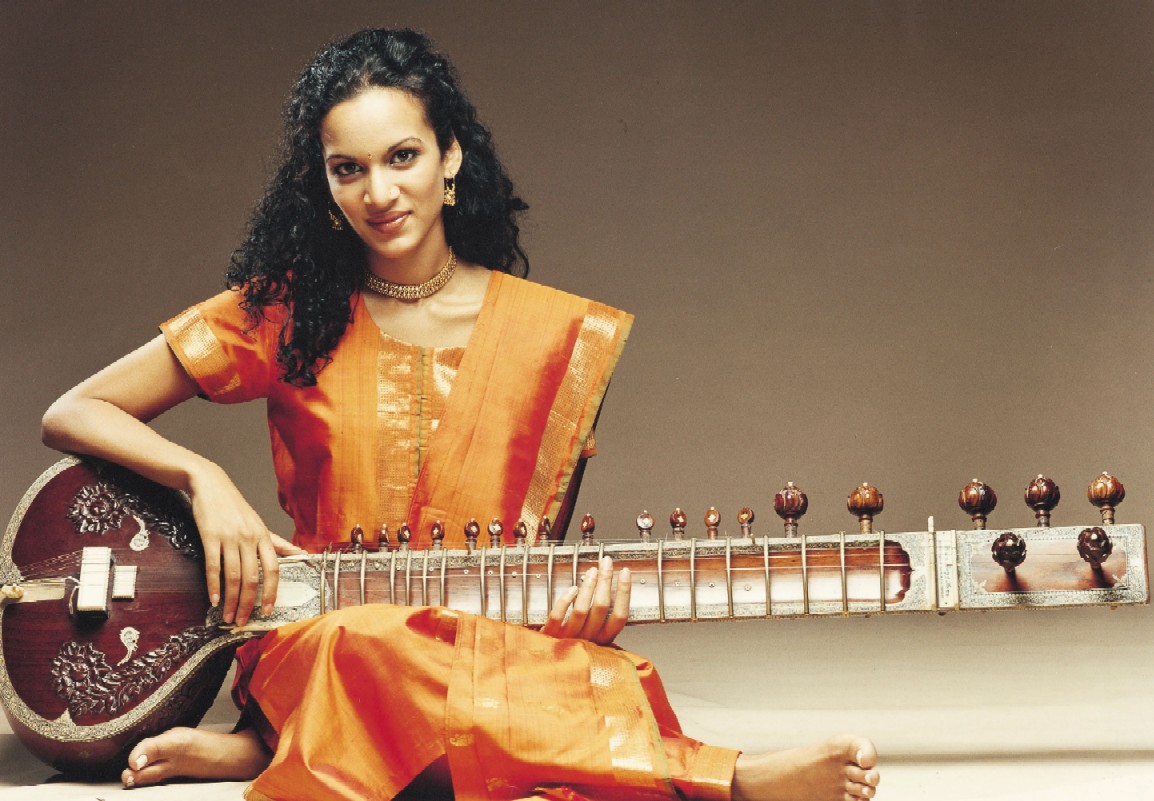 Anoushka Shankar
The daughter of one of the finest music composers and Indian sitar players Ravi Shankar, Anoushka Shankar has followed in her father's footsteps and has created her own as well. This 32 year old 'bunch of talent' has numerous music awards and acclamations, thus creating waves of popularity, fame and recognition booms across the globe. Not only does she possess a remarkable flair for music and her extraordinary acting skills in many feature films, stage ballets, and documentary concerts, but has also set a fashion trend with her mesmerizing style, elegance and splendor. Be it through the dressing sense as well as through the glamor quotient which is kept high throughout and is creatively showcased through the fashion wagons of social media.
Origin and History
Born in the year 1981, Anoushka Shankar comes from a culture blended family emerging from the roots of Eastern India as well from the Southern region of India. A major part of her childhood was spent shuffling between London, where she was born, and Delhi. This talented daughter of Ravi and Sukanya Shankar also shared a sibling bond with her half American sister Norah Jones and Shubhendra Shankar who recently expired in the year `1992. Anoushka Shankar's teenage life was entirely dedicated towards different music concerts and stage performances, which were led by her father. The threshold of her career began at the age of 16 which gifted her very first recording contract associated with Angel Records (EMI).
Style
Anoushka Shankar is considered to be the quintessence of style and modern fashion. Her signature styles include a majestic, innovative and magnificent blend of Indian, UK and US styles which gives her entire appearance and personality a unique flair. Most of the time, the prints and the designs that she prefers to embed her outfits with are eclectic in nature. Her outfits are never heavily studded with chunky embroidered work or decorative elements. She prefers to keep it simple, minimal and sophisticated in appearance. Mostly all her outfits showcase a mystic concoction of ethnicity dipped into the innovative layers of western charm and glamor.
Influence over the years
Although her Indian sense of fashion and style makes her a beauty icon and admired by millions across the world, she does not forget to keep in touch with the changing tastes of the advancing generations. Even the modern outfits that she sports, are filled with the essence of westernization, be it her floral dresses, kurtis, or shirts. She is one such Indian beauty who has over a period of time gotten well versed with the crust of the Indian fashion world and knows how to transform simplicity into layers of classiness. With the passing years, her iconic style and fashion preferences have become a source of inspiration and a mark of trend for the younger generations.
Occasion Dressing
Benefited with a soaring height and a figure to 'die for', this talented icon enhances her stage presence looks with authentic foot wear, heavily studded jewelry and ornaments complimenting her outfits which radiate bright and vibrant colors. For most of her occasions, she loves to don herself in lehenga cholis, anarkali suits, kanjeevaram saris which involve pastel shades and embroidery work with a minimal effect. Her luscious long curly locks are always left lose or half tied, which glamorizes the look even more.
Suitability
Anoushka Shankar was never fussy with her approach to fashion and style. She possessed the ability to carry any form of style gracefully and elegantly. Her wardrobe ranges from traditional Kanjeevarams to stylish hipsters. She does not believe in portraying her true self through the medium of her dressing. She considers her art to be her communicator and the platform to echo the real 'her'. Hence her simplicity makes her stylish, trendy and unique from the rest.
Accessorizing
Ethnic jewelry sets studded with pearls, precious stones as well as traditional gold plated jewelry is witnessed mostly along with her glamorous outfits. However, the major essence of simplicity reflects even in her accessories and in her styling elements, as she prefers the 'plain Jane' look instead of the garish fashion styles of today.
Interesting Facts and Comparisons
Married to a British Director Joe Wright and gave birth to their child Zubin Shankar Wright in 2011.
She was the youngest and the first woman nominee for a Grammy Award in the year 2003, followed by another Grammy Award in the year 2005, for the category of World Music for her third and the fourth music album.
She is also an active member of PETA and the spokesperson of the World Food Programme in India conducted by the United Nations.
References
Categories: Fashion Cults, Popular Faces