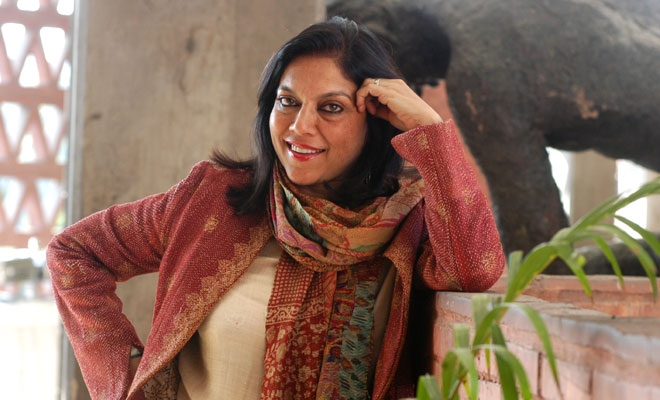 Mira Nair
Even if you are an average movie-goer, you must have heard the name of Mira Nair pop up in a film industry conversation from time to time. Mira Nair has not just found fame for her Directorial ventures in India, but has been a considerably popular and critically acclaimed movie maker in the US. As an individual, she is known for bringing Indian female attires into global spotlight while as a director, she has experimented with various fashion trends, including the ones in 18th century while working for her costume period movie. Awarded with Padma Bhushan, the director reflects an eye for fashion and has a refined sense of style. Setting remarkable trends, the director has involved dressing and styling into her commendable storylines.
Childhood and Early Career
Mira Nair's childhood and early career have been synonymous with each other. It all began when she worked as a film artist at a very young age and shot television documentaries. Inspired by lives and times in Mumbai, she directed her first movie, 'Salaam Bombay!' in 1998. Nominated with an Academy Award for Best Foreign Film, the movie indirectly showcased her intricate detail for regional fashion, wherein women in traditional Marathi style cotton saris and urban Indians in small printed suits were shown. Even today, her keen sense of detail for storyline, structure and style in the movie are considered groundbreaking classic in every sense.
The Making
It wasn't until the release of the movie 'Monsoon Wedding' in 2001 that Mira Nair received astounding success. Despite 'Salaam Bombay!' being a positively reviewed movie, it was Monsoon Wedding that gave her popularity among masses. The film, which depicted chaos during a Punjabi Wedding not just had an appreciative storyline and fine direction, but also created and brought back wedding fashion trends! Suddenly, colors like yellow, orange, golden embroidery, which were once only popular among Punjabis and Rajasthanis, were a vogue world over. In fact, the demand for Lehenga Choli, a traditional dress with flair skirt and blouses increased so much that even foreign fashion designers had an entire line dedicated to it. Elaborate accessories, including heavy jewelry were regularly designed and sold.
'The Namesake,' on the other hand was reminiscent of Indian dressing style which was popular in first generation NRIs. The movie showed Tabu (A popular Indian actress) in various urban Indian dresses including simple salwar kameez and plain and light toned saris.
Along with this, her costumes in the period movie, 'Vanity Fair,' were responsible for bringing heavier and intricately detailed evening gowns back to fashion, after more than half a century of discard. With Reese Witherspoon playing the lead in this movie, 'Vanity Fair,' became a popular cult movie for young fashionistas. Collared gowns were back to fashion. Instead of regular color tones like peach, pink, white and green, women started to experiment with brighter shades such as dark red, wine, yellow and orange.
Making a Style Statement
Mira Nair as an individual has displayed varied choices in Indian fashion. Instead of opting for formal Western fashion, she chooses to wear outfits like silk Salwar-Kameez, Anarkali suits and kurta-churidar. Silk and cotton have been her preferred fabrics. Although, she has popularized urban Indian outfits, she has hardly been seen walking on the red carpet in a sari.  Colors that she prefers vary widely, but she prefers not to use any accessory, except for a pair of earrings for accessorizing her ensembles. She knows how to accentuate her features with the right kind of makeup, by playing up her eyes and lips.
The Trendsetter
Mira Nair may not be a fashion designer or adviser herself, but she has displayed a curiosity to absorb different types of fashion in different time periods and eras. This is the reason that her movies, despite belonging to genres as different as political thrillers, family drama, biography and biopic have styling corresponding to the location and period in which they have been made. She had been equally open in promoting different Western and Indian dressing styles in her movies.
Personalization
Suits, Salwar kameez and kurta with jeans are her favorite, clothes which make her utterly comfortable.
Accessorizing
She keeps accessories to a minimum. Even on red carpets and movie promotion events, she is hardly seen as wearing a necklace or a bracelet.
Maintenance
She opts for cotton for general occasions, which is easy to maintain, use and comfortable for any season. But silk dresses with heavy work, which is used for special occasions require special care and cannot be worn in all seasons. Generally, a colorful jacket on top with plain scarf works for her during winters.
References
Categories: Bollywood & Beyond, Indian Cinema