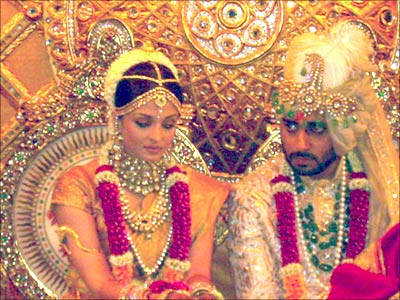 Aishwarya Rai and Abhishek Bachchan Wedding
Oprah Winfrey refers them as the strongest couple in Bollywood! The pairing of Aishwariya Rai Bachchan and Abhishek Bachchan is loved and adored by all. They share a love story that's inspiring, and have a family that every Indian aspires to have.  A silken charm was woven in their hearts when Abhishek first met Aishwarya in 1997. During those days, Aishwariya was revered for her beauty and acting abilities, while Abhishek was contemplating about his career. But soon, their paths crossed again, they worked in a number of movies, including super hit film Guru and experienced a passionate spark between them. For long, the relationship was kept private, but every now and then, the world noticed romance and humor in their love story. They married at the peak of their careers when both of them enjoyed stardom status. They were married on April 19th, 2007 in a typical Indian traditional wedding ceremony that saw influential politicians and celebrities as guests. Unraveling their love story, the couple tied the knot in Mangalore style wedding, with Aishwarya looking no less than a goddess.
The Love Story
Their love story spans across a decade, with both of enjoying their friendship before they realized that they were soul mates. Abhishek met her while she worked with his father, Amitabh Bachchan. Later, Aishwarya worked with him in movies like Dhai Akshar Prem Ke and Kuch Na Kaho, but it is said that sparks flew between them during the shooting of an item song in Bunty Aur Babli. It is when media noticed that Abhishek referred to her as Number Nine, referring to the fact that she was named as ninth most beautiful and attractive woman in the world. They dated for at least a year from 2005 to 2006 before tying the knot in April 2007. Six years after the marriage they have a little girl who is as gorgeous as the duo.
The Wedding
The wedding was organized amidst fanfare at Prateeksha, the official residence of the Bachchan Family. Before the wedding, Aishwarya had to undergo a list of rituals because of Manglik issues in her horoscope. But a few days before the marriage, Bachchan family decided to keep it simple due to a controversy, wherein a wannabe actress, Jahnavi Kapoor allegedly attempted suicide claiming that she had tied the knot with Bachchan junior. Thankfully, everything went fine and a Mangalore style traditional wedding was organized at Bachchan residence, which saw biggies such as Amar Singh, Bal Thackeray, Anil Ambani, Sanjay Dutt, Ajay Devgan, Kajol and others. The residence and wedding venue was lit up so beautifully that it looked as enchanting as an Indian bride. Pre-wedding ceremonies were held at La Mer, Aishwariya's then residence.
Aishwarya and Abhishek had a typical Indian Shaadi or wedding, which reflected from their wedding pictures showcasing how the couple ditched regular designs and popular designers for traditional, exquisitely woven wedding outfits.
The Bride's Dress
For the Mehendi ceremony, Aishwarya wore a stunning light pink Lehenga, which featured embroidery in silver tone. She was decked up in floral jewelry to give her ensemble a light, refreshing feel.
The biggest Bollywood wedding was colorful and saw Aishwarya Rai in a sari that is popular among buyers even after half a decade of their marriage. Aishwarya Rai wore a stunning red Bridal Saree on her wedding day, which perfectly complimented her fair skin and deep blue eyes. To create a royal effect, the sari featured an ornate golden colored border, which is indigenous to South Indian wedding. She also accessorized herself with henna or temporary tattoo, which was received from Sojat district in Rajasthan. The henna was special, one of its kind that was brought give days before the wedding.
The Groom's Outfit
It is said that a master weaver from Varanasi had woven a dress for Abhishek. The dress, a golden colored Sherwani was woven by craftsmen who come from 400 years old family of master weavers. The outfit was made from Chaodani Fabric, which is one of the costliest fabrics in the world. The head weaver of the family Abdul Matin meticulously crafted and tailored this designer outfit, which used gold fabric along with a base of warped silk. The dress, one of its kinds was woven at least after a gap of 20 years.
Aishwarya and Abhishek complimented their outfits with stunning Indian designer jewelry. Abhishek's ensemble featured a Sehra with peacock feathers along with emerald green jewelry, while Aishwarya wore golden along with special 'Chura' or a set of golden bangles. Alike all Mangalore style weddings, she wore a Gajra or a piece of hair ornament with white colored flowers on her head. After the ceremony, the couple wore a combination of white and red for a special celebration.
The Bachchan wedding once again reflected the strong traditional values that the family holds. Everything was kept private and it was only after the wedding that details were disclosed.
References
Categories: Bollywood & Beyond, Indian Cinema