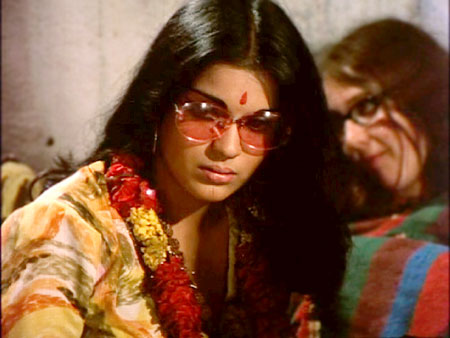 Zeenat Aman
The term diva' was probably best justified with Zeenat Aman's entrance in the Indian film industry. Sassiness encased in layers of charisma and elegance, she brought a whole new trend to what was considered fashionable and chic. Even if she wore a saree, it became sensuous! It was her aura that made everyone fall in love with her. Young Indian actresses of today's generation still look up to her as a style icon and perhaps a kind that is inimitable.
Background
Zeenat Aman was born on 19th November 1951 to a father who was a Muslim and a mother who was of Hindu origin. Her father was a renowned scriptwriter who had contributed to movies such as Mughal-e-azam and Pakeezah. He, however, died when Zeenat was only 13 years old. Her mother took her to Germany after getting remarried, but Zeenat was not happy and decided to come back to India. She was 18 at the time and went to one of Mumbai's most prestigious colleges, St. Xavier's. Her first stint with the world of glamor was when she landed a job as a journalist for Femina magazine, and that got her involved in some modeling projects as well. She even appeared in a few commercials, and went onto take part in the most sought after beauty pageant, Miss India where she won second runner-up. One thing led to the next, and after being crowned Miss Asia Pacific in 1970, Zeenat Aman became a popular face and people could not help but notice the air of charisma and beauty that surrounded her.
Her first movie that came with a small role was O.P Ralhan's Hulchul. Then came another one in the movie Hungama. Even though these movies did not fare well at the box office, Zeenat Aman did get noticed and was ultimately offered a poignant role in Dev Anand's 'Hare Rama Hare Krishna', which proved to be the turning point for her career. The song 'dum Maro dum' from the same movie, which is as popular today than it was in the 70's, seems less of a song if we don't visualize the stunning Zeenat Aman. Several other movies including 'Don', Lawaaris, Yaadon Ki Baraat and 'Qurbani added to her sultry image, a kind that was very different in comparison to other actresses of that time and era.
Style and Attire
The hippy trend that Zeenat Aman did complete justice to in the movie Hare Rama Hare Krishna became a style statement in the late 70's and continues to be held in high regards even today. The large red bindi, winged eyeliner, tinted shades, orange kurtas and rudraksh beads around the neck became a huge part of who Zeenat Aman was, and who she is recognized as even today. Due to her inherent sensual appeal, she always played strong character roles which exuded sensuality and she was never portrayed as a damsel in distress. Even in her much critically acclaimed role of Roopa in the movie 'Satyam Shivam Sundaram', the actress made a stunning screen appearance in Cotton sarees that became even more glamorous when she donned them.
Vibrant colored shirts and dresses with large amounts of 'oomph factor were her common traits on screen, and in most of her movies. She was not conservative in the slightest way and certain trends became exceedingly popular all because of her. Flaired high waist pants and an overall hippy style of dressing was made popular during that time because of the ease in which Zeenat Aman carried these styles. The Retro look was very popular during her time and she took it to greater heights with her sense of fashion and style. Several actresses who came after her always imitated her style and wanted to exude the same charisma that Zeenat Aman had and still possesses.
Zeenat Aman was never the kind to hog for the limelight, and even today she makes few appearances. But the ones she makes always leaves one in awe of her timeless beauty and appeal which are so apparent even today. One would always see her wearing classy and stylish salwar kurtas and heavy ornate jewelry. She always mixes her trends from western wear to extremely traditional kind. She always looks glamorous and has maintained her flawless figure and looks even at the age of 61! She is a fine example of a woman who believes in style and maintenance of oneself in spite of age or time.
Global Appeal

Zeenat Aman appeared on several magazine covers since she was considered to be the favourite cover girls by several magazine brands including Star dust and Cine Blitz. The trends that she made popular had a universal appeal to them. Even the saris that she wore had modernized prints that were large and colorful. Large collared shirts with bows and large prints are popular even today, and around the world. Recently, she even walked the ramp during the International Jewelry week which was held in Mumbai in 2012. Due to such appearances, she is a popular face not only in India but in countries across the world.
Accessorizing
Zeenat Aman always wears fine pieces of jewelry with whatever she dons, be it western shirts and trousers or an elaborate salwaar kurta. Heavy chokers, pendants or earrings are what she wears mostly. Her makeup is always perfect with the right shades of lipstick and eyeliner. She mostly wears dark shades of red lipstick or pink which look perfect with her skin tone.
References
Categories: Bollywood & Beyond, Indian Cinema