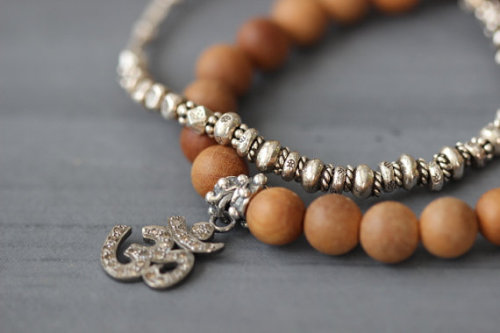 Sandalwood Art
Sandalwood or Chandan as it is called in Hindi, is a distinctively aromatic and fine grained wood renowned for its perfume and essential oils. Popular throughout the world, this heavy wood has been highly valued for centuries. It is found in India, Nepal, Sri Lanka, Indonesia, Australia, Hawaii, Bangladesh and other Pacific islands. Sandalwood prayer beads and oil are popular globally.
Background
It has been in use since more than four thousand years. As the story goes, Goddess Parvati, Lord Shiva's consort, used the paste of sandalwood to create Lord Ganesha. It has been regarded as sacred wood since a long time among Hindus and Buddhists. The Silappathikaarum (The Ankle Bracelet), a Tamil romance (roughly dated to the late 2nd century) suggests the presence of special streets that were devoted to the merchants who traded in items such as coral, pure gold, sandalwood, fine silks, rich ivory carvings, woven fabrics and lustrous pearls.
Traditionally, it has been used in the making of incense, oils, medicine, perfumes, carvings and a variety of handcrafted ornaments. It has been valued for more than two thousand years for use in religious rituals. By 700 B.C it had a high value as a trading item and has been found in the Egyptian embalming formulas. The craft was once only restricted to royalty, and the ornate artifacts were showcased in luxurious interiors.
These tree had been declared the 'royal tree' by the Sultan of Mysore in 1792. 'Santalum album' or Indian sandalwood is a threatened species being over harvested and is indigenous to South India. Illegal cutting of these trees still poses a threat; even though they are owned by the government their harvest is controlled. Within the genus S. album there are more than nineteen species and traders deal in the other species as the demand for sandalwood is high and cannot be met from S. album alone.
Its paste is used to anoint the sacred idols in temples; it is applied on the forehead during religious ceremonies and also serves to cool the body when applied as a paste. It has been used historically to treat digestive distress, acne, gonorrhea and liver problems. Research is ongoing to study the preliminary findings that suggest that sandalwood may have antiviral, sedative and cancer-preventive properties.
The Making
To make sandalwood oil, it is distilled in a four-step process, incorporating boiling, steaming, condensation and separation. The process is known as steam distillation and is widely carried out industrially at Kannauj, India. Sandalwood sculpting is a painstaking process where the dimensions of each piece of pure sandalwood, is sketched out by the designer and his woodcarvers. They use electric tools, before painstakingly sculpting the features with a sharp needle. Sandalwood furniture or sculptures are mostly engraved, inlaid and veneered to craft beautiful articles. The instruments employed by the sandalwood carvers are extremely simple, viz. a saw, plane, mallet hone or fine-grained hard stone. Sometimes, an an assortment of various shapes and sizes of chisels, and a few engraving tools are used. The procedure is started by either drawing the intended pattern on the smooth or white washed sandal wood, or on a piece of paper pasted over its surface. The design is then engraved or outlined in detail; the interspaces between the lines are next cut away, thus leaving the pattern in low relief. Lastly the design itself is carved out in the minutest detail keeping the intricacies and subtle light and shade effects, every desired curve, expression and texture is fully portrayed.
Variety/Types
Certain families of Karnataka and Shimoga and Mysore specialize in the sandalwood art. Handcrafted objects such as lamp shades, combs, jewel cases, walking sticks with rosewood handles et al are made by skilled artists.
Beautiful and detailed sandalwood boxes and jewel cases are much sought after. These boxes have designs that reflect Mughal splendor and its glory. Ornate paper cutters and artifacts for interior décor have traditional and modern designs in incredible detail.
Sandalwood necklaces used for the purposes of chanting counts in various designs of 108 beads are available. Dancing figurines of women from Rajasthan in sandalwood are carved with detailed designs of their attire. Sandalwood sculptures of musical instruments like the Veena, Tabla and dancing forms of Lord Shiva and Ganesha as decorative objects are a common household decorative item.
Present Day Scenario
Due to its cooling nature, it can be used in a paste with rosewater for relief from sweating. Also, it is an excellent remedy for sunburn and prickly heat. It has antiseptic properties. In aromatherapy, it can be used for skin problems, genital and urinary infections, digestive and respiratory problems. It has seen an increased use in aromatherapy and is diluted with other aroma oils to be used. It's warm, woody scent is ideal for the purpose of meditation. Besides sandalwood pen stands and paper weights; carved furniture, key chains, (temple for home worship), photo frames, a variety of sculpted figures depicting rural life and animals are offered at boutiques for interior décor and at handicraft showrooms. Sandalwood boxes are available in a multitude of designs such as filigree work, hand painted, with Meenakari work, in jail cut pattern and many more.
Innovations
It is used to make chess sets and screens. The latest items to hit the market are watches, rakhis (for the festival of Rakhsha Bandhan), solid tea table trays, sandalwood media consoles, beds in Grecian style and folding screens in hand carved teak wood with a sandalwood finish.
Personalization/Dressing
It has a huge demand as prayer beads, incense, aroma oils and artifacts. The market for these products such as folding fans, key chains, pendants, earrings and necklaces is still growing. It makes an exceptional gift item or a memento as it is finely crafted and its tenacity allows it to last for a very long time.
Accessorizing
Sandalwood jewelry can be complimented with casual wear and light ethnic wear such as salwar suits and saris in chiffons and georgettes. They go really well with kurtas and T-shirts in solid colors. These objects of art are excellent articles for gifting at a festival, wedding and other special events.
Suitability
It is non-reactive to sensitive skin and therefore used in beauty treatments. If ingested it is good for internal ulcers and wounds.
Maintenance
It can be cleaned with a wood cleanser. A soft cloth can be used to wipe the object and it should be left to dry. Sandalwood oil can then be brushed on gently and after it has dried, it can be stored in a pouch or box away from heat and moisture. The furniture is lacquered to protect it from sunlight, dust and moisture. A professional restorer can help in maintaining valued sandalwood items.
References
Categories: Attires, Costume Accessories