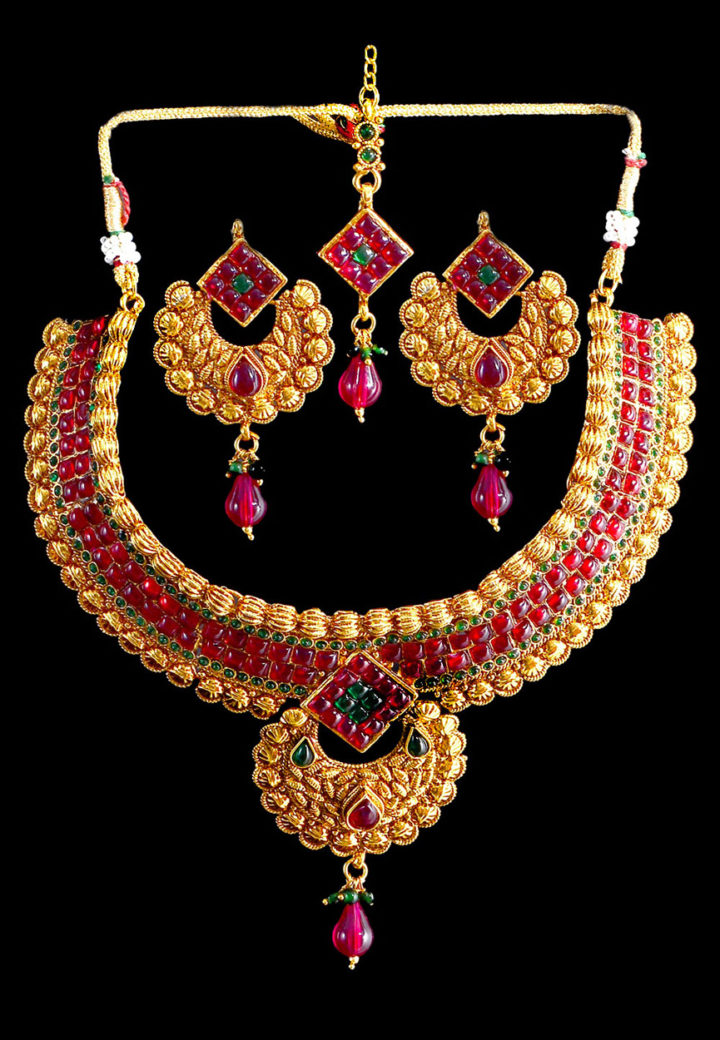 Polki Jewelry
Diamonds are indeed a girls' best friend. Carrying forward this beautiful affair between women and diamonds is the polki variety of traditional diamond jewelry. Uncut diamonds are used to carve this beauty and therefore it comes at a rather inexpensive rate. One can see the raw beauty and color of diamonds in this jewelry form which is otherwise ruptured by the shine of cut diamonds. The uncut diamonds along with other precious and imitation gemstones fit perfectly to create the raw beauty of Polki jewelry.
Origin & History
Polki is an art form that came alive during the Mughal Era, and is more than a thousand years old. It evolved as a specialty of designing traditional jewelry out of uncut diamonds. This art was a specialty of Bikaner which later traveled to different parts of the country. Polki jewelry comes in different hues.
Initially, polki jewelry was crafted out of uncut diamonds giving them shape. The enamel work done by the craftsmen on this jewelry added color and shine to the jewels. The uncut diamonds, because of being unpolished, had a different and absolutely enchanting charm to them.
Style
The overall inherent style of the Polki jewelry is traditional and cultural. Over the last several years however, this form of jewelry has evolved in many different ways which sets them apart from many handicrafts in India.
The modern day innovations involve more than just an un-cut technique, which has made it popular in the country and beyond. There has been an inclusion of rubies, emeralds, and pearls which have enhanced the overall look of polka jewelry.
Influence over the Years
A gift by the Mughals, Polki jewelry is more than just cultural heritage. The various colors and designs that are largely influenced by Rajasthani tradition have crept into the modern markets across various other states well.
Today, one can find exquisite Polki pieces which have been crafted in states like Hyderabad, Orissa, Uttar Pradesh, and even Gujarat. Each state has added its own innovation or technique, thus making Polki a universal type of jewelry and craft.
Innovations
The first form of this diamond jewelry was mainly made of uncut diamonds. There was no other metal used in the process of designing it. Eventually with time, and influence of other cultures, pearls, and other imitation metals came into use while designing this jewelry. Also, rubies became a very important part of this jewelry. Rubies added the color red to this form of jewelry thus making it suitable for bridal trousseau.
Along with the traditional forms of jewelry, polki has also innovated itself to match the casual trend. Now, a lot of designers are creating casual wear jewelry using polki technique thus giving women the option of wearing diamonds on casual occasions as well. Polki mang tikkas and kangans are extremely sought after by Indian brides.
Also Read: Nath & Nose Rings
Occasion Dressing
Most suited for bridal and traditional wear, the colors and forms of this jewelry make the trousseau attractive and appealing to one and all. Apart from weddings and religious occasions, Polki is also a great gifting item regardless of the occasion.
Global Influence
Polki jewelry is considered very traditional and beautiful by people living in the west. Countries like America, England, China and Japan have had since time immemorial a great fascination with Indian jewelry, and in particular diamonds. The different cuts, techniques, and designs that are inherently Indian have fetched worldwide acclaim from several people on a global scale.
References