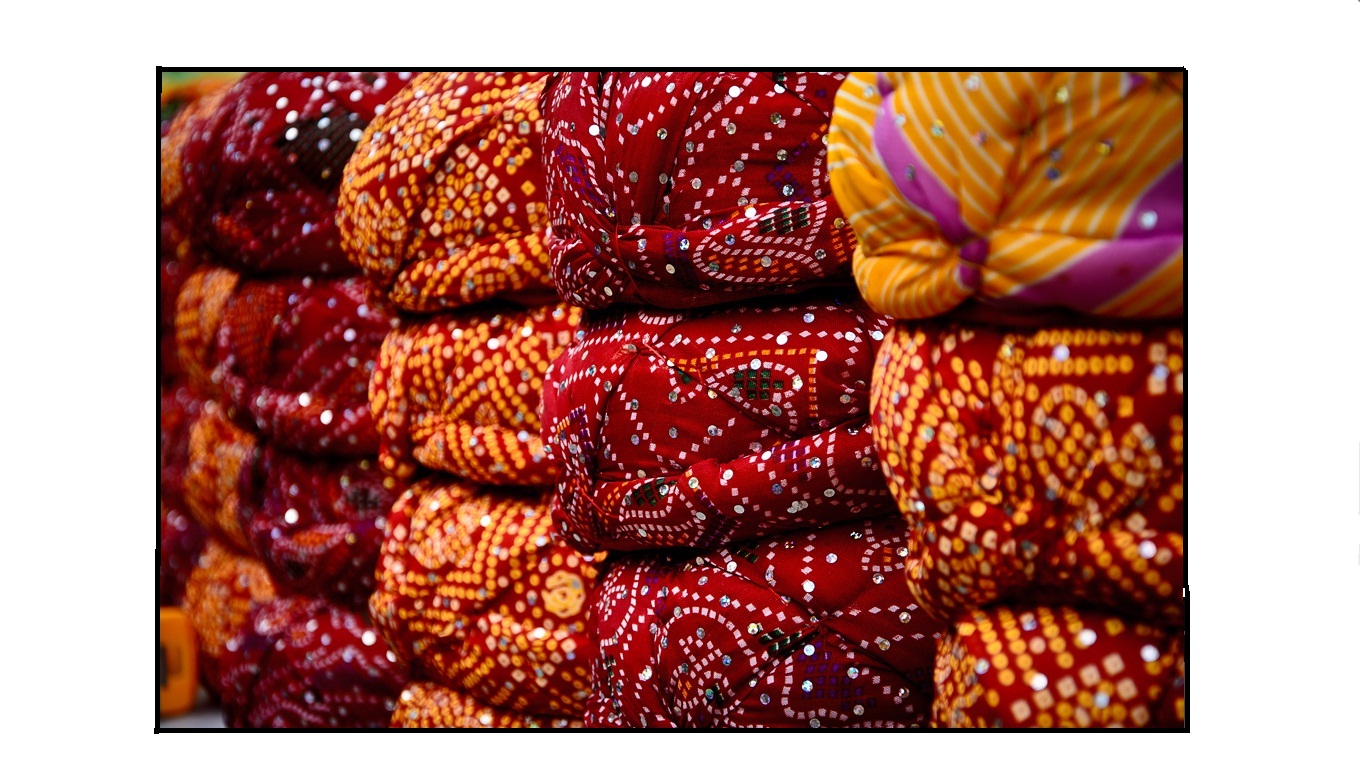 Pagri: The Pride of Marwar
The Rajasthani Pagri is an ethnic turban. The style of draping  the turban varies on the basis of climate conditions of the desert region. Also known as 'petas', the Marwari Pagris used to earlier stand for prestige and honor.
Origin and History
The golden pages of history, which showcase the emergence of this cultural attire traces back to 7th century that defined the rule of the Rajputs. It was during their era, when these turbans were intrinsically patterned and weaved with the finest threads of cotton and silk, and were patronized and promoted as a symbol of status and identity. The Rajput Kings sported this traditional turban in different colors and styles in accordance with the occasions in the majestic court.
Styles
There's an unending plethora of turbans that are are worn by people across Rajasthan. At times, the color of the pagri varies according to the season. Falgunia turbans having white and red designs are sported during spring season, whereas in the month of July, the prominent color is 'motiya' or pearl pink. A green and pink striped or yellow and red striped turban in Lehariya prints, is worn in the monsoon.
Present Day Scenario
With the fast pacing years, Leheriya Pagris have also hit the market, wherein bright colors are popular.
Occasion Wear
The Marwari turban varies in color and style according to the occasion to be worn to. Dotted turbans in bright colors are worn for marriages and birth ceremonies. Light, sober and dull shades of colors are worn for the prayer meetings of deceased people.
Global Appeal
International markets are promoting Rajasthani Pagris. Recent instances include Japanese drivers sporting Rajasthani turbans. The same has been featured in quite a few international fashion events.
Accessorizing
Sherwani suits and Jodhpuri suits generally compliment the Rajasthan Pagri. Heavily brocaded and embroidered coats and jackets also go well with the Marwari pagris, making the entire appearance and experience rich and majestic.
Suitability
These Pagris are usually worn to occasions like wedding ceremonies, religious gatherings and festive celebrations,  besides others.
Interesting Facts & Comparisons
Turban draping contests are held every year at Pushkar festival and other events organized by the state tourism department.
In Hindu Rajput marriages, the bride's father is made to wear the traditional pagri.
The city of Jaipur boasts of a turban museum, which claims to have one of the largest collections of turbans.
Reference
Categories: Attires, Costume Accessories