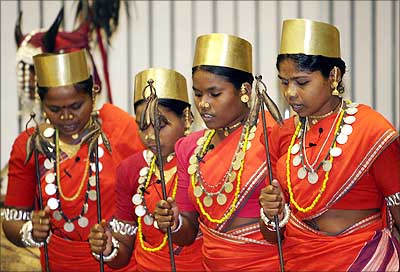 Kachchora Saree
Like every state in India, Chattisgarh has its own unique culture that is strongly identifiable in its clothing, food, festivals, language and rituals. The Kachora Saree is one such cultural element that is unique to this state. These sarees are draped in a manner that is considered typical of this region. Here a separate saree known as a Lugda is paired with a blouse known as the Polkha. Traditionally, this garment is paired with a lot of brightly colored ornaments, which is what makes this so distinct from other forms of sarees or styles of wrapping them.
Origin and history
Chattisgarh is a state that is said to be culturally immersed in religion and spirituality. Due to their firm beliefs regarding the purity of the human body, most indigenous people of this state tend to rely on agriculture, which means that their livelihood does depend a lot on working in the fields. This is how this style of wrapping the saree came into being. The Kachchora Saree is tied in a way that wraps the pallu around the waist of the wearer to avoid it from getting dirty. Over generations, this has become the norm and women prefer tying their sarees this way than any other way.
Sources of inspiration
The main source of inspiration towards creating this garment was to not get the saree dirty as women had to work in the fields all day. The fabrics themselves can be anything – silk, cotton, cotton silk and linen, usually in extremely vibrant and bright colors.
The making
Predominantly, the sarees worn by women in Chattisgarh in the Kachchora style are printed sarees that are machine made. Essentially, craftsmen in this state were widely influenced by the arts and crafts prevalent in their parent state, Madhya Pradesh. Some of the most prevalent styles of fabric making that are considered to be quintessentially Chattisgarh include weaving, tie-dye and batik styles.
Different styles and variety
The Kachchora sarees in Chattisgarh are mainly classified on the basis of the fabric used to create them. Thus, there are Batik sarees, woven sarees and Bandhini sarees when it comes to the different options available. In terms of fabrics, silk, cotton, and linen are the most commonly used fabrics and this can also be used as a means of classification. However, these sarees have extremely identifiable looks based on their style so it is hard to create sub-categories of classification for them.
Present day scenario and global influence
Presently, tribal clothing such as Kachchora sarees is a huge tourist attraction in India. State museums are known to display these sarees for tourists and Indians from other parts of the country alike to study and understand them. In fairs and festivals organized around the country that draw national attention, like the Suraj Kund Mela, these sarees are sold as a part of the Chattisgarh cultural section of the fairs.
Globally, these sarees are bought, although not always draped in the correct manner throughout the world. Designers in India, in an effort to highlight any special embroidery or print on the pallu of the saree, usually drape sarees in the Kachchora manner on the models on the runway to show these off.
Innovations
Chattisgarh takes immense pride in its own culture and highlights the tribes as frequently as possible in an effort to generate more awareness about them. The Kachchora saree was a garment that was traditionally worn only by the women in the tribal areas. However now, various younger women are known for now embracing this form of saree in the urban areas. This style of saree is also now being created on fabrics that are maintained and handled easily in order to make them more appealing to the younger generations.
How to wear the attire
Kachchora sarees are accessorized by the women in Chattisgarh in some very interesting ways. It is not uncommon to spot women wearing necklaces that are made from old coins (these necklaces are known as Baandha), 'suta', or necklaces made of silver, accessories that are a form of nose pins known as phuli, earrings which are known as Bali and Kunti along with other innovative accessories worn on the forearm such as Ainthi. They also wear jewelry around their waist along with bangles, toe rings and rings for the upper arms. While wearing this style of saree for a formal event, however, it is not customary to wear tribal jewelry.
Maintenance
When the saree is bought in silk, it needs to be maintained very carefully. Ideally, silk sarees should be wrapped in a muslin cloth to protect them from external elements. They should not be washed in a machine or dry cleaned and once washed, they should not be left to dry in direct sunlight.
Cotton sarees and linen sarees do not require any specific steps for maintenance although, as a precaution, it is always better to dry clean these garments as opposed to washing them in the machine or by hand.
Interesting facts
While this garment was initially created for the sake of comfort and convenience, it has now become a widely popular and identifiable fashion statement.
This saree has gone a long way in improving and altering the lifestyles of the indigenous tribal folk in Chattisgarh.
References
Categories: Attires, Clothing Styles & Drapes