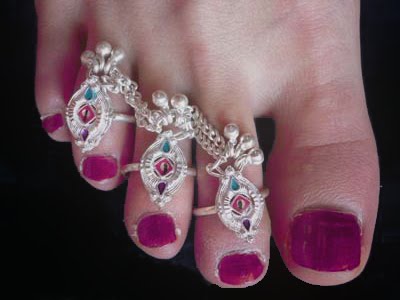 Finger Rings & Toe Rings
Introduction
Finger rings and toe rings have been adorned for centuries in India and have always held a symbolic significance. A ritualistic adornment for married women in India, finger rings and toe rings have also been an ethnic accessory for women of all age groups. Finger & toe rings essentially signify the marital status of Hindu women in India, and are part of 'Solah Shringaar', or the sixteen essential ornaments/adornments worn by them. Different rings have distinct cultural significance for a woman. In the West, however, rings are seen as more of a fashion accessory, besides the wedding rings worn by a married woman or man.
Origin and History
Throughout the pages of history, rings have been worn by people of different cultures, tribes and countries, with each kind of ring associated with a different significance. Wedding rings for instance, seem to have ancient origins, with the same being found in Egypt, estimated to be practiced since more than 3000 years ago. Token rings were exchanged between kings, queens and people of high social standing. These rings stood as a symbol of protection in situations of emergency.
Talking of material used to make rings, initially reeds & thick yarn were used as rings in Egypt for weddings. Elsewhere too, the materials  used to make them weren't durable. With time, leather, bone, ivory and other items were used to make rings. The more expensive the material, greater the value of the ring. In India, rings have been worn since centuries as a prominent indicator of the married status of Hindu women. Toe rings have been mentioned in the Ramayana as well. When Sita was kidnapped by Ravana, she threw her toe ring along the way as identification for Rama. Historically, toe rings worn by women were traditionally never crafted in gold, as gold is considered symbolic of Lakshmi, the goddess of wealth, and hence is not adorned by women below the waist. Men too wore rings on their great toes for acupressure purposes as it would increase their masculinity.
Types
Rings are primarily made in metallic, beaded & gemstone-embellished designs. Traditional rings are generally made of precious metals. Wedding and engagement rings for instance, are made of gold. Nowadays however, people go for options like white gold, because of their pocket-friendly prices. Furthermore, toe rings are also worn by the Muslim community and are symbolic of their marital status. Bengali married women wear lac rings, besides bangles.  Dual rings worn on a single toe reflect the dynamic & dual role of a woman, as a wife and a sister. Ornately embellished rings are generally worn to special occasions. However, gemstone rings have a  astrological significance in Indian culture and popular stones like diamonds, sapphires and pearls can be worn only one a particular finger, bearing a certain carats, encrusted in a particular metal to be worn on a particular day. Each stone is said to have significance and remedial powers.
The nine planetary gemstones are the Blue Sapphire, Yellow Sapphire (index finger), Red Coral (ring finger), Ruby, Emerald (little finger), Hessonite (middle finger), Diamond , Pearl (little finger), Cat's Eye (little finger).
As a fashion accessory, people go for rings made in oxidized silver, or copper & bronze, when it comes to metallic jewelry. Alternately, rings made out of plastic, beads, seas-shell, wood are also available.
Occasions
Finger rings set in precious metals and stones are generally worn to ceremonial occasions like weddings & festivals. Casual & fashion rings are generally designed in imitation stones, sea-shell, plastic or beads, or even oxidized silver. Far from being restricted to bridal wear, toe rings are a wide-spread style statement worn by people into junk jewelry.
Innovations
The traditional finger rings & bichiya (toe rings) are ornately embellished, however, the contemporary designs are minimalistic. In fact, custom-made bichiya sets which comprise toe rings for all the toes are also available in today's times. Also, since wearing gold jewelry is considered auspicious for the bride, people go for white gold which does comprise a certain percentage of pure gold, thus making it a pocket-friendly affair for them.
[youtube]https://www.youtube.com/watch?v=glBPKN9LlpE[/youtube]
Suitability
Since traditional rings are generally made of either gold or silver, one can wear them with ease. However, with rings made of alloys like white gold, especially the ones coated with rhodium, one may have skin allergies. Thus, in case of skin allergies, one must avoid wearing rings not made of precious metals. The same goes for oxidized silver jewelry which is usually worn as casual jewelry. However, plastic, beaded or sea-shell jewelry can be worn as they are not of reactive nature.
Interesting Facts & Comparisons
Toe rings are worn for a scientific reason, which states that there are pressure points in the second toes of our feet. As per the Vedas, applying pressure to these points helps in regulating the menstrual cycle in women, increases the chances of conception and also keeps the uterus healthy by ensuring blood circulation.
Furthermore, silver metal is a good conductor and helps the body to absorb the polar energies of the earth, thus rejuvenating the internal system.
The first practical use of rings was the signet or seal ring. They developed into full use under the Romans as a method of marking official parchment documents, taking the place of a man's personal signature.
Reference