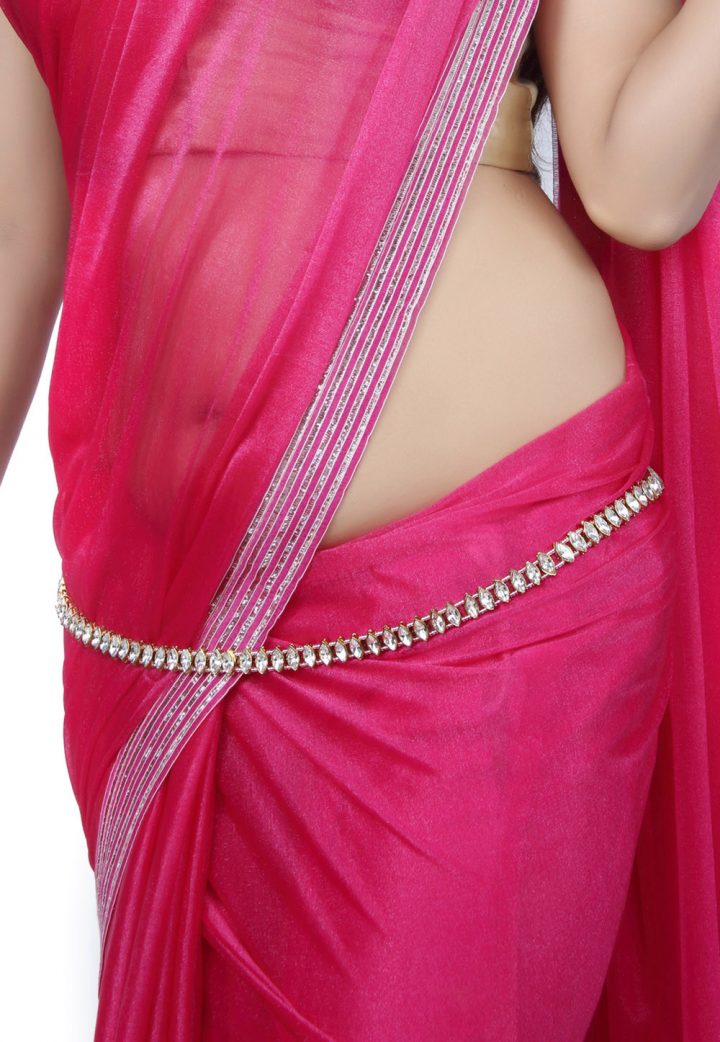 Kamarbandh
The waist belt or Kamarbandh is a stunning work of Indian craftsmanship. They are a visual delight and cherished pieces handed from one generation to another. Part of the glorious heritage of India, Kamarbandhs are a glorious reminder of the same, and hence very much worn by women.
Background
The unique designs and workmanship for which Indian jewelry is famous has been around for more than five thousand years. Egyptian tombs feature jewelry from the tombs dated beyond than 3000 BC. The collection has waist belts with beads and other semi-precious stones such as amethyst, lapis lazuli, quartz, garnet, turquoise and more.
The jewelry given to a woman during her marriage was more than a gift, it was also a financial investment. This is because earlier women did not inherit landed property. The sheer profusion of the types of jewelry pieces that a woman adorns from head to toe is astounding. This extensive type of jewelry cannot be found anywhere in the world. The royal families of India have given patronage to the art of jewelry since a long time and often vied with each other to possess the most exquisite and bejeweled pieces. The diversity of Indian jewelry can be observed in the patterns made for Gods, miniature sculptures like ceremonial elephants and horses and dances such as Kuchipudi, Kathak, Bharatnatyam, and Odissi.
Different regions of India boast of jewelry making styles unique to them – in Orissa and Andhra Pradesh fine filigree work in silver, in Jaipur the art of enameling or meenakari, temple jewelry from Nagercoil and Kundan or the setting of semi-precious or precious stones in gold from Delhi. The meenakari and kundan styles were influenced by the Mughal Dynasty. A wide variety of silver beads are found all over India, especially in Rajasthan, Gujarat, Madhya Pradesh and Himachal Pradesh. Gold designs in Tamil Nadu and Kerala were inspired by nature. The jewelry from Assam and Manipur has distinctive influences; while Assam jewelry is influenced by the local flora and fauna the Manipur jewelers like to use items like shells, animal claws, teeth, semi-precious and precious stones.
In filigree work, patterns of leaves, flowers, butterflies, birds and geometrical shapes are made with silver wires of varying thickness. The skilled jewelers draw out fine wires of silver mixed with a little bit of lead and make an outline of the pattern in thick wire. Fine wires are then collected inside the framework to create a delicate lace-like appearance.
Some forms of traditional jewelry are making an appearance again; the waistband or Kamarbandh has gained popularity with a history of being worn by kings and queens. The Kamarbandh has an added advantage of making the wearer's waist look slim.
Kamarbandh or waist belts are jewelry that is grand and exquisite. There is nothing subtle about the Kamarbandh; adorned with uncut diamonds, rubies, emeralds and pearls. Designs for gold belts with engraved patterns with a large central stone like a diamond, ruby or emerald makes a statement by itself. Kamarbandhs in the kundan style with meenakari on them with tasseled gold beads are collector's items. Waist belts made with multiple chains that are gathered together at intervals with a single stone like a ruby or an emerald are stunning are in vogue and look beautiful when worn with silk sarees in traditional designs.
In Tamil Nadu the Kamarbandh is called the Oddiyanam where the central piece has an abstract image or the image of a God or Goddess and is encrusted with precious stones. The waist belt with a pattern of gold coins is a classic in Tamil Nadu.
The Making
Traditionally, Indian goldsmiths are usually men and are referred to by a variety of names depending on the region – sonar, swarnakara, panchallar or thattan. In the Vedic period, goldsmiths had lofty standing, higher than most other artisans, perhaps because they worked with a precious metal and had royal patrons.
Historical records show that Indian jewelers mastered the various skills required to make fine jewelry quite early – mixing alloys, molding, drawing fine wires, setting stones, inlay work, relief, drawing gold and silver into thin wires, plating and gilding.
In smaller places, the goldsmith may perform all the processes involved in producing a finished piece. In cities, the different operations are undertaken by separate people – the goldsmith prepares the skeletal framework, the chatera engraves, the kundansaaz or jaria sets the stones while the meenasaaz enamels it.
Variety
Silver is being used to create belts that are narrower and less ornate that go with outfits such as light silk saris or ghagra cholis. Besides accentuating the waist, it is a great compliment for evening wear. A silver belt with diamonds whether genuine or paste looks attractive with a black sari, for instance. The festive season of Navratri or Diwali is appropriate to wear the waist belt with its diverse designs. The Navratri waist belt is available in silver or gold with multiple chains dangling from it, stones in many shades, beads and other embellishments. Kamarbandhs are offered in classic styles such as strings of pearls gathered together with a gem as a centerpiece or in rice pearls strings held at gaps with emeralds and rubies.
Present Day Scenario
The traditional waist belt has changed in form to suit women's' preferences who today wear a wide range of outfits, from traditional wear to Indo-Westerns. The Kamarbandh is made in slimmer, simpler designs too. The material now includes silver, plated metals, alloys and more. The inclusion of beads, sequins, glass, embroidery, zari and a lot more has transformed the belt making it suitable for many different occasions. Waist belts are available at reputed jewelers and online too. The embellishments, the metal used, the width and other factors end up changing the look and feel of the Kamarbandh, hence creating a different look with each type of outfit.
Innovations
Belts used for belly dancing have a profusion of bells and sequins. Waist belts worn for classical dance performances such as Bharatnatyam or Kathak are made with faux jewels and gold plated silver to make it affordable. Embroidered waist belts are trendy and worn by many. Made with semi-precious stones or even glass that resemble gem stones; Kamarbandhs are thus crafted beautifully to mimic the traditional designs.
Personalization
Nowadays a wide range of jeweled belts are available to suit different purposes; the traditional Kamarbandh being too ornate to be worn for evening wear or for semi- formal occasions.
Accessorizing
The waist belt in its ornate avatar should be worn with light jewelry. Contemporary belts with minimal designs can be teamed with Indowesterns or contrasted with outfits that bring out the colors and embellishments starkly.
Suitability
Kamarbandhs in ornate designs can be worn with outfits such as silk saris, lehengas and certain styles of churidar kurtas, like the Anarkali. The modern version of the waist belt can complement simple outfits like skirts, denim jeans or western evening wear.
Maintenance
Kamarbandhs made in gold and precious jewels should be stored away from sunlight and moisture, in a pouch or box. They can be cleaned and polished by a reputed jeweler.
References