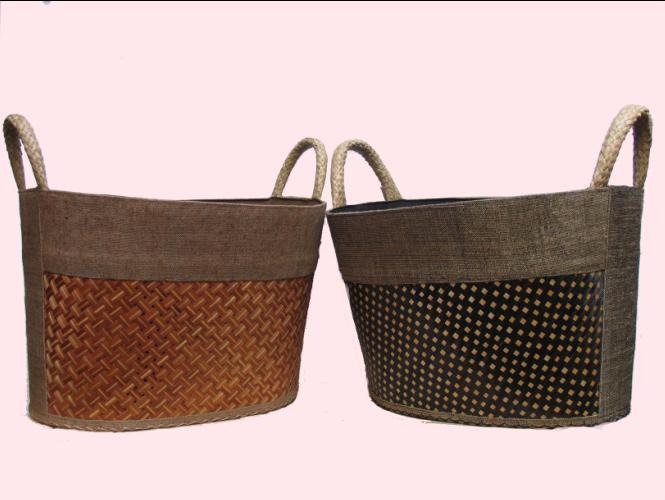 Bamboo Bags
Bamboo craft is indigenous to India, and is also amongst the oldest of crafts in the world. It is practiced in various states of India such as Kerala, Goa and the North Eastern states. They are very much into bamboo craft, and particularly, bags and bamboo baskets, which are quite popular throughout India and across the world.
Origin
In Goa, bamboo craft is practiced by the Mahars, a Goan community, who have passed on this skill for generations. In Arunachal Pradesh, bamboo is an integral part of their daily sustenance. The famous Adi Gallong basket is used to store and transport rice whereas the Angami Basket is another important bamboo craft, presented to the daughter in her marriage trousseau. Assam also has its own distinctive style of making bags and baskets out of bamboo. Besides this, they are also renowned for their innovative bamboo furniture industry as much as it is known for its basketry. Likewise, Sikkim too has a rich heritage of bamboo craft. The fine craftsmanship of these artisans shows from how they give bamboo an exquisite look by using simple tools but intricate manual methods. In fact, a lot of tribes make colorful baskets out of bamboo and adorn then with natural dues and embellishments like birds feathers. Each state has its own distinctive bamboo weaving style which gives an entirely different appearance to their bags and baskets.
Bamboo baskets are made by splitting bamboo longitudinally and then heating it on slow fire. These coils are then used in basketry and are built up in a spiral pattern to create the desired height. These baskets are then ornamented with shells and lace. The baskets are finally cleaned with the help of sandpaper and given a glossy look by polishing it with varnish.
Although these baskets and bags have a very specific use in the states from where they are originated, they are now considered to be a very popular modern-day bag accessory. Owing to its eco – friendly nature, bamboo bags and baskets are now increasingly becoming a favorite of people of all ages for a variety of purposes. Similarly, the bamboo bag/basket making craftsmen are too coming up with a variety of newer, trendier options for the youth and hence the demand for these bags, biodegradable in nature, is on the rise.
Present Day Scenario
Over the course of the past few years, the humble bamboo has evolved and come a long way as it a very commonly used favorite amongst both Indian and international designers. The versatile bamboo has now found a myriad forms and is now used in making clothes, jewelry, bags, furniture toys, beer and musical instruments. In fact, bamboo luxury brands have been in vogue for years- be it in the form of jewellery, or accessories produced by the premier brands. For instance, the bamboo crocodile satchel by Gucci is one of its kind and is priced at a whopping Rs. 12,65,000.
Global Appeal
The international movement for adopting 'green practices' and 'green products' has created a surge in bamboo accessories, particularly in handbags and baskets. Not only do they provide great durability, but are also aesthetically pleasing because of their availability in various forms, sizes, embellishments and colors.
Categories: Attires, Costume Accessories