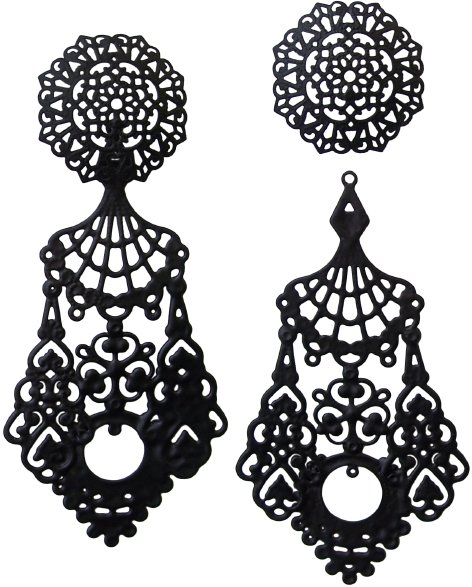 Iron Jewelry
Introduction 
Iron has been used in the making of tools since prehistoric times. It comprises a series of procedures like heating, hammering and shaping iron to form the desired shape. In India, iron craft has been extensively practiced by the Lohar Community in Bastar, Chattisgarh. Besides tools and furniture, iron jewelry has also existed in the since centuries, and continues to be crafted in present times.
Origin
Iron craft originated from the ironsmith community that used to make farming & hunting implements for tribes. Metallurgy existed prior to 2nd Millennium BC in the Indian subcontinent,  while the same finds mention in Vedic texts. The advent of Mughal further helped metallurgy gain a stronghold in India. Over the years, the craft has beautifully evolved. It is mainly concentrated in Bastar district of Chattisgarh with Kondagaon, Umargaon and Gunagaon being the main centers.
The ancient tradition of making artifacts have now given way to modern exquisite artifacts, furniture and decoration items that are pretty much in demand. From garden furniture to wrought iron beds, from figurines to jewelry – its popularity has increased with time.
Present Day Scenario
Nowadays artisans use iron to create myriad forms of crafts. Iron necklaces, chandelier earrings, jhumkas and rings are a rage with youngsters who want that additional 'perfect' accessory to compliment their Indo Western look. Ceremonial products like the Laxman Deeya and Jhaari are the most popular products. Also, the tribal statues have come to occupy a very special place in present day interior beautification & tribal craftsmen have won the recognition they so rightly justify.
Innovations
Keeping pace with changing times and tastes of buyers, today artisans produce various objects like birds, carved deeyas, candle stands, lattice, furniture, sculptures of gods and deities, apart from wall decor. Tribal musical instruments are being crafted out of iron as well. Apart from that, the iron-makers have taken the business out from their humble 'cottage industry' status by redefining it with novel (new) products.
Global Appeal
The current popularity of traditional iron craft, coupled with a surge in global demand for iron work has led to a big change in the industry. The initial traditional iron craft of making horse shoes, weapons and wares have now expanded by encompassing furniture and decor. Iron reflects an antique look, therefore it is gaining popularity amongst the current generation who enjoy mixing old with new to make a trendy style statement. The iron crafts can now be seen in Western Homes, proving to be very popular among foreigners. They purchase iron products and trinkets as the perfect souvenir for friends and family back home.
Maintenance
To keep the iron crafts and jewelry brand new, have it professionally cleaned & polished. If you are not wearing a piece of iron jewelry every day, it is advisable to place it in a plastic bag or a specially designed storage bag. This will limit it's exposure to moisture and other environmental effects that will cause the jewelry to tarnish.
 References