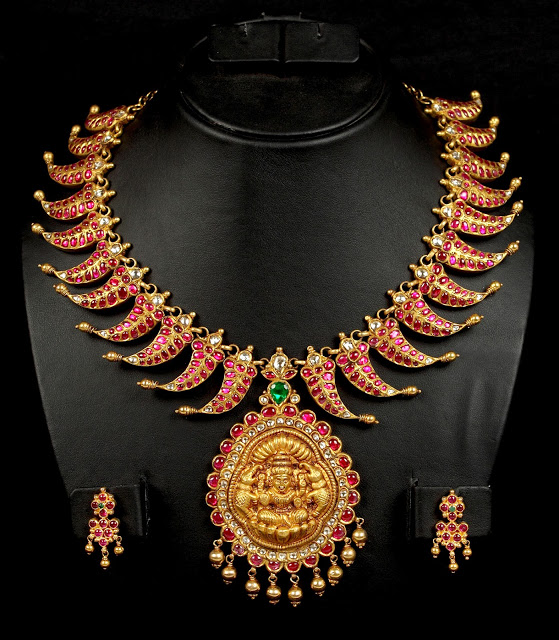 Indian Neckpieces
Indian bridal jewelry is well known for its visual appeal, but the reason why every bride or married woman adorns herself with beautiful jewels goes deeper than that. The popular adage 'old is gold' holds true in the case of Indian jewelry as the traditional and antique designs make a comeback. Traditional necklaces showcase the expertise of Indian craftsmen and enhance the overall appearance on a special occasion. Whether its diamonds and pearls or a Kundan set, ornaments in Indian families are passed on from one generation to another as a legacy with deep emotional values.
Background
The pre-Mughal era had the Maharajas with their love of large gemstones cover themselves with the largest gemstones, gold and jewelry in an exhibition of their wealth and power. Jewels were the Maharajas' best friends. Every blue blooded royal had vaults full of jewels with cascades of Golconda diamonds, Kashmir sapphires, Burmese rubies, Colombian emeralds and Basra pearls in the most magical settings that would take your breath away. And usually the best pieces were reserved for men!
The Mughal rule in India promoted heavy stonework and elaborate embellished jewelry with precious gems and even colored glass beads. They formed alliances with the Rajput rulers in the north-west India and turned Rajasthan into an exclusive hub for specialization in enameling and minakari work. With the amalgam of Indian gold artistry and Middle Eastern floral designs the Mughal style jewelry gained prominence. The typical Mughal style is visible in the jewelry in the lighter pieces in Rajasthan and heavier in South India. Birds, flowers and paisley are the most common designs used in this jewelry technique. Unique forms of Mughal craftsmanship included Minakari, Jadau, Filigree and Thewa.
West Bengal artisans are well known for their skill in jewelry making especially filigree workmanship. The Chik necklace from West Bengal is a gold choker that is about an inch wide and studded with precious stones, and is also an accessory for celebratory events. A necklace of five to seven strands of precious stones and beads is called the 'Panch Lahiri' (for five strands) and 'Saptha Lahiri' (for seven strands). The 'Sita Haar' is a necklace that has a long chain ending well below the breast bone with a detailed pendant and may or may not have meenakari work. Another element in the Sita Haar is the use of the gold coin or Guinea. The finely crafted silver necklace called Hansuli that was once worn by Muslim women has gained popularity among others as well. Influencing the tastes of modern Indian bride are Hindi films like Parineeta, Devdas, Jodha Akbar and Bengali films like Chokher Bali and Antarmahal.
With the escalation of gold prices, many imitation reproductions of Mughal jewelry are created to cater to enthusiastic buyers. Overall use of precious stones, fresh water pearls and intricate carvings are the two significant aspects of Mughal jewelry.
The Marwari brides from Rajasthan look resplendent in the 'Rani Haar' that is a necklace using Kundan work with gemstones such as uncut diamonds and emeralds. This state has spectacular minakari work on closed or fitted gold necklaces that is stately and elegant to look at and also uses semi-precious stones such as citrine, tourmalines, corals and more. The reverse sides of the necklaces also have decorations in multi colored enamel or mina work. Thewa is a traditional art of fusing 23ct gold with multicolored glass and is another famed jewelry style that is often employed for bridal neck pieces. The 'Rajasthan style' choker necklace is hand crafted with fine filigree work and seven central flower motifs. It is complemented with a variation of a traditional Rajput style 'kangan' bracelet and pair of earrings. 'Patta Haar' is a very popular royal Rajasthani necklace wherein the necklace represents the leaves and flower motifs.  Interestingly, the 'patta' or 'leaf' themes were equally popular in South India as well. It is complimented with very modernist take on a traditional Indian 'bazuband' or an armlet.
The 'Satlada' is a seven tier necklace that was traditionally a seven-tier pearl necklace with woven filigree gold work. It was unique to the collections of the Nizams of Hyderabad. The necklace represented auspicious number '7'and covers different layers from neck to navel. 'Guttapusal' (gutta meaning pearls and pusal meaning beads) is necklace from Andhra Pradesh is a timeless work of art originating in Coromandel coast close to the pearl fisheries and has bunches of pearls as the main element. 'Chintaak' or 'Jadavi Laccha' is again a very traditional Hyderabadi necklace popular in the court of the Nizams. It primarily consists of round choker made of seven layers of gold sheets and emeralds or ruby drops below.
The 'Kanti' is a neck piece from Gujarat that has square gold beads and turquoise finials and the Kantha- tudar is a necklace with several gold strings and an elaborate clasp. The nine-stone pendant, or Navaratna, is a significant part of the traditional necklaces in India. It is typically a square pendant with eight semi-precious stones around the edge and a diamond in the center.
Floral motifs and figures of gods and goddesses are extremely popular in the making of these exquisite necklaces from South India. The 'Attigai' is a type of closed gold necklace style that has traditional floral motifs and uses uncut diamonds and precious gems such as rubies and emeralds among others. Necklaces in Tamil Nadu include the 'Kasu Malai', made of coins; the 'Mallipu' or jasmine motif necklace, the lotus motif necklace with diamonds, rubies, emeralds and pearls; the 'Manga Malai' or mango motif necklace where gems stones such as rubies are interspersed. In this Linga Padakka Muthu Malai (a garland of pearls with a Lingam pendant) from Tamil Nadu, rows of pearls end in a pendant in which the Lingam, the symbol of Shiva, is shaped out of an emerald and set in an elaborate encrusted base supported by two bejeweled peacocks with their rich plumes swinging upward. The lower pendant has the usual lotus motif. 'Pathakala Haaram' is a multilayer long chain necklace with peacock pendant in 22 karat gold with gem stones.
The style of jewelry is known as 'Temple Jewelry' draws inspiration from the various Temple Motifs that includes popular deities such as Shiva, Parvati, Laskhmi and Ganesh across the South India. The stones used are Burmese Rubies, Colombian Emeralds and Fine Diamonds.
Embellished gold jewelry is more popular in the states like Bihar and Uttar Pradesh and the use of Minakari and Jadau work is minimal.
Variety/Types
Indian necklaces have lots of variety and innumerable designs to spoil the wearer for choice. Satlada is the necklace with seven strands and Naulakha is the one with nine. These were popular choices among royalty and the affluent. Other styles in necklaces include the Collar necklace, Choker style, Princess style (17" to 19" in length), Matinee necklace (20" to 24"), Opera necklace (25" to 38") and the Lariat/ Sautoir/Rope necklace (more than 38" in length).
Present Day Scenario
Modern day statement necklaces have several sources of inspiration one of them being the Hindi Film Industry that epitomizes glamor, glitz and style. The jewelry arts of Kundan, Jadau, Thewa, Minakari, filigree work and Pachchikam have been rejuvenated. The designs are a fusion of vintage and modern settings. Semi-precious stones are used in to replace real gems such as spinel instead of rubies or Swarovski crystals instead of diamonds. The use of a diamond bow pendant in a traditional gold necklace is an example of the synthesis of the old and new. Rubies and white gold in a traditional setting or pearls and diamond drops in a matte gold necklace are necklaces that uphold tradition and are some of the spectacular pieces.
Suitability
It is helpful to know your neck size and select the neck piece in accordance with it. Necklaces can be worn to suit the physical structure. In case of a small frame, a necklace with delicate work and small pendant would be suitable. Or if the wearer is tall then the rope style or chunky necklace with a larger pendant can be worn. If you are planning to wear an outfit with a square or a deep neckline then opt for a collar or choker necklace to divert the attention to your neck area instead of the neckline. Long V shaped necklaces that fall below the bust line can create the illusion of a taller frame.
Innovations
Leading Indian jeweler Nirav Modi's Mughal collection features the Mughal flower necklace in floral motifs. Each element of the floral motif has been handcrafted with different diamond cuts – leaves and veins with caliber – cut baguettes, set 'table down' for spectacular sparkle, another with a pear-cut diamond, and yet another studded with round brilliants. The flower head is a single, round and is an exquisite creation with
Personalization, Dressing and Accessorizing
A Choker necklace goes well with cocktail dresses and casual outfits, and does not blend with formal dressing. Choker style necklaces can add elegance to any of an ethnic Indian dressing – be it a Salwar Kameez or a Saree. It's perfect to be worn on weddings, receptions or similar occasions.
The Princess necklace complements generally all types of dresses, body frames and occasions. You can wear it with medium height to very low neckline dresses. It can be worn at any formal or casual event. A Matinee necklace is perfect for formal evenings.
Opera necklaces should fall on your breast bone or a little longer. With opera necklaces, you can play with your creativity, by mixing and matching two strands of necklaces.
Since layering is in, you can very well wear multiple pearls strings, or mix and match ruby and pearl strings, or emerald and pearl strings.
Maintenance
Jewelry upkeep should be entrusted to a professional and done once a year to maintain these cherished pieces. Chlorine, bleach, baking soda, acetone, alcohol, lemon juice, vinegar, coke, ammonia, turpentine, and similar chemicals can severely discolor and spoil jewelry, as well as loosen the settings. Warm water with a mild detergent is advised for home cleaning. Air-dry the jewelry for a few hours before storage. Petroleum based products are strict no for some gemstones like amber and pearls, because these gems are delicate and can be permanently damaged beyond repair.
References
https://www.utsavfashion.com/jewelry/necklaces