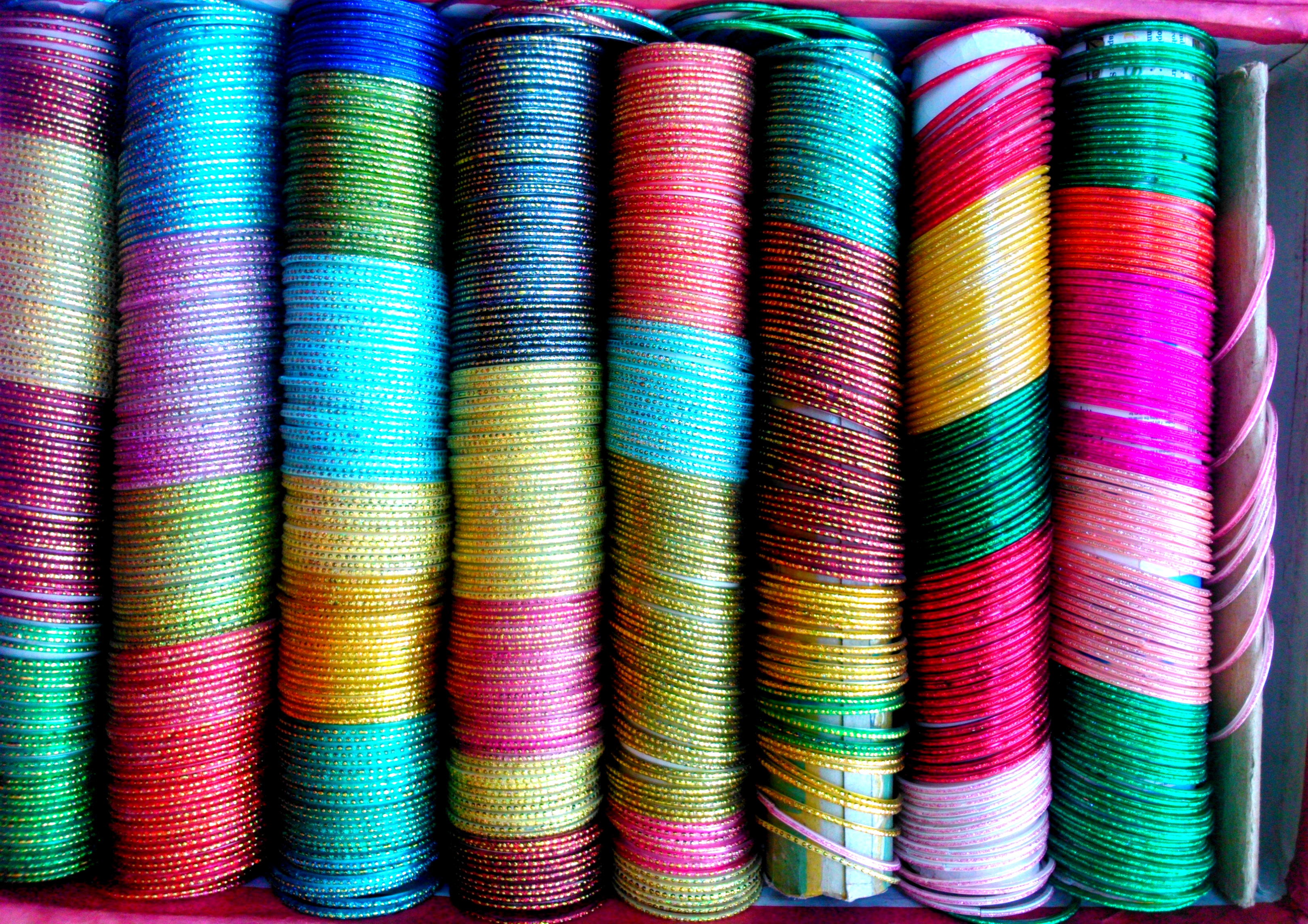 Glass Bangles
Almost every Indian wedding song celebrates the beauty and grandeur of glass bangles. They are not mere ornaments but are a signifying factor for what makes Indian women stand apart in style, tradition, and culture. Right from being considered auspicious to being the symbol of a woman's marital status, bangles play various roles in the lives of women, particularly in India.
The colorful varieties of glass bangles make them a visual treat, a cultural necessity for some, a style statement for many and all. Women since ancient times have donned glass bangles and have flaunted them with utmost grace and pride. Glass bangles have different names and forms of identity throughout India. In the North, people refer to them as 'choodi', while it is churi in Bengali, and 'Valail' in Tamil. Whether it's a young woman or an older woman, glass bangles are a primary favorite in accessories for women, and have over the years maintained their evergreen popularity.
Origin & History
The earliest sightings of glass bangles were found from the period of the Indus Valley Civilization. The form and style were extremely simple, and the bangles worn by the women were plain without any embellishments. However, during the medieval period, these bangles underwent a major transformation and were heavier in weight, and came in all kinds of styles, cuts, and colors.
They were largely associated with marriage and engagement ceremonies, where the bride would wear large stacks of glass bangles on each arm. Precious stones and materials such as gold, silver, pearls, rubies, and diamonds were used to adorn these bangles and make them more ornate and appealing. Basic colors such as red, green, and gold were used for brides since those symbolized their marital status.
Style
In the last several years, glass bangles have become a prominent fashion statement besides being of traditional significance still. Various forms of glass bangles have come up in recent times. No longer are the colors restricted to green, reds and maroons. One can find a vast array of colors such as pinks, purples, yellows, greens, black, gold, silver, orange, blue and even white. The traditional glass bangles are thin, but these days the markets are flooded with thick sized glass bangles which are either square or round in shape and come with all kinds of add-ons and styles.
Innovations
Glass bangles have become more fashionable and stylish in the present times. This is due to the innovations made by various designers and craftsmen. Artistic patterns, structures and designs have allured women of all generations, and continue to do so. Some of the most popular designs include flower motifs, pearl, and stone encrusted together, glitter, zig-zag designs in various colors, peacocks, and Rajasthani designs which are unique and colorful in every way. Polka dots, stripes and checks, there's no end the newest of designs that come up every now and then.
Influences over the Years
Glass bangles are inherently considered Indian and have been showcased in endless songs, movies, TV programs, and even on the ramp. Foreigners who visit India are always left spellbound with the color burst and varieties out on display in various bangle shops across Indian cities. Young college girls love to pair a bunch of colorful glass bangles with their kurtis, since it gives a real ethnic vibe to the ensemble. Feminine and pretty is the best way to describe the aura of glass bangles.
Occasion Dressing
The traditional glass bangles are still worn by married women to symbolize their marital status. The bangles are also worn on special occasions like festivals, functions, and religious occasions with sarees, salwar kameez, and lehengas. But they can be worn anytime regardless of the occasion. Whether one wants a fancier set of bangles, or the simpler kind, there is a variety to suit everyone's basic need and taste.
Global Influence
Glass bangles are much in vogue and is frequently used as a prop and accessory on the international runways. The traditional glass bangle holds a timeless appeal and has always soaked up attention from various sections of society and cultures. Celebrities like Madonna and Vidya Balan have flaunted various designs on special occasions, which have popularized this accessory to a large extent, especially amongst young women across the globe.