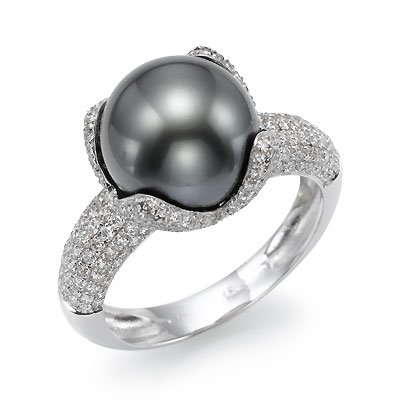 Black Pearl Jewelry
Mankind has always been mesmerized by the beauty and distinctiveness of Pearls. Whether it's white, off white or black, this unique jewel has always been cherished due to its natural shine and beauty.  The Black pearl, however, has been the most sought-after pearl because of its unique aura.
The clear blue seas of Tahiti Islands play host to several different varieties of the black pearl. The reason they are black in color is because they are formed in an oyster which has black edges. Black Pearls also happen to be bigger in size compared to ordinary, white pearls because the oysters hosting them are usually bigger in size. These pearls have been extensively refined and promoted by the Tahiti government. A strict quality check precedes the export of black pearls, and hence it is safe to buy good quality pearls from any part of the world. Pearl farmers take care of the pearl-bearing oysters for almost two years and then take them out which are ready to be used into the making of a jewelry piece or become part of ornamentation, or fashion jewelry box.
Background
The history of Black pearl jewelry is rich and enchanting. Emperors in ancient Asian culture traditionally wore Black pearl jewelry, symbolizing their ultimate royalty. It was considered that divine powers were bestowed upon the rulers who wore black pearls.
The native tribes of French Polynesia extensively used pearl jewelry to adorn themselves and believed that black pearls harnessed exquisite colors of the rainbow after a storm. Black pearl jewelry was a symbol of renewal and hope for humanity.
Style & Accessorize
The uniqueness of the black pearl has inspired many jewelry designers. They design exquisite jewelry which attracts many men and women from all over the world. The iridescent black pearl is an inspiration for jewelry designers, who are constantly creating splendid works of art containing this precious gem. The black pearl is used in creating beautiful jewelry like pendants, tear drop earrings, bracelets, finger rings, brooches, cufflinks and even tiepins.
They are also used cleverly as a fashion accessory adorning jewelry boxes, waist belts, hats, and handbags. The black pearl symbolizes class, modernity, and simplicity. The gemstone can be used in both classic and contemporary designs, which suits everyone's tastes. Considered a gift to the world and people with a strong aesthetic sense, the Tahitian black pearl is truly a work of nature's miracle.
Also called Opal in Hindi, the precious stone is not just a monotonous black gem. It has shades and overtones of blue, red, green, magenta and many more colors that add to the overall magnetic black color of the stone. They are more expensive than white pearls, as they take a much longer (over two years) duration to develop. Size and quality are the two main determinants of the value of a particular pearl. The usual shape of a black pearl is spherical but is also available in oblong and dew drop shape. The precious stone looks stunning when set in jewelry made of white gold, platinum, silver or yellow gold. Mixed with other colored pearls and diamonds, the black pearl stands out and looks grand in a unique setting.
Present Day Scenario
There are several types of black pearls available, out of which the most widely available, as well as the most popular types, is Tahitian black pearl jewelry.
Pointers When Buying a Black Pearl
1. The first factor to be considered while buying a black pearl is its color. The black pearl has a metallic shine and has the quality to reflect colors and light.
2.  The thickness of the pearl determines the surface fineness and the overall luster.
3. The usual size of a black pearl could be anything bigger then 0.8mm.
4. Bigger size and better quality will subsequently increase the price of the pearl.
5. If the pearl is fake, then the black color would reflect a matte finish and look flat. The temperature of the real black pearl is cooler and when touched to the human body it makes that place cool. This quality will be missing in an imitation pearl.
6. When seen through a high-powered magnifying lens, can notice granules and blemishes in the surface of the fake pearl.
7. You can get your pearl jewelry checked by a gemstone specialist to clear all doubts.
8. It is suggested to buy the pearls from authentic reputed pearls dealers and exporters so that you get value for your money and you are satisfied with the quality of the black pearl.
References: