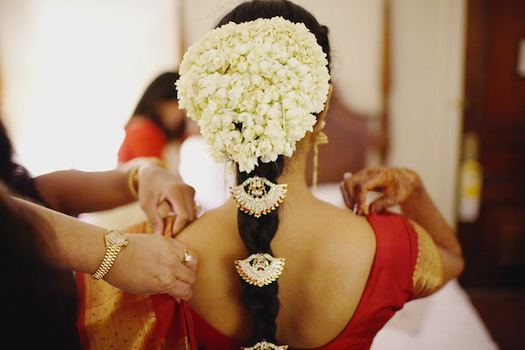 Gajra: Indian Traditional Hair Accessory
The old world charm of the Indian hair accessory known as the 'gajara' of late has reinvented itself in newer ways. Gajras have been around for centuries and have played a major role in an Indian woman's day to day beauty routine, and for adding the ethnic touch to an Indian bride's wedding trousseau.
The sweet and mild fragrance of jasmine flowers and the ethereal look that they impart to one's hair is unmatchable. Even in today's modern world, a simple hair accessory like the gajra is still popular and very much sought after for its simplistic elegance and traditional appeal.
Origin and History
According to Hindu mythology, Gajras were an important accessory used by brides and were a part of the 'solah shringaar'. The Solah Shringaar involved various steps to decking up in order to get ready in full glory for her wedding day. One of them involved the gajra. The bride's hair was initially tied in a tight braid, or in a bun, and the final touches were given by placing a single gajra flower, or, bunches of gajra were twisted around the braid or bun which completed the overall bridal look.
In the ancient day and age, Gajras were worn on all religious and festive occasions. Jasmine were typically used since they were considered auspicious and had a strong floral fragrance which stayed all day. Even though several innovations have taken place regarding the original gajra, jasmine flowers are still widely used since they can be easily strung on a tight thread, and give off a wonderful fragrance and aroma that literally gets soaked in the hair.
Present Day Scenario
Gajras are typically worn by the bride on her wedding day, or by Indian classical dancers in their performances. Apart from these, most women in South India wear gajras for religious and festive occasions. Gajras are considered auspicious and hold prime value for an Indian bride. Gajras these days are made with jasmine buds, chameli, or mogra flowers. In some cases, tiny rose buds are also pinned along with the jasmine flower to give it a more beautiful and ornate look. Each jasmine bud is tied together on plain white or colored thread.
Innovations
Gajras were initially white in color and extremely simple in their overall look. However, with the passage of time, yellow and orange colored gajras have gained immense popularity amongst several women from different sections of Indian society. Roses, mogras, chamelis, and little white beads are also imbibed with the basic jasmine strands and appear more elaborate and flamboyant. In some cases, gajras are also tied to a bride's wrist as it is considered auspicious.
Occasion Dressing
Gajras add true Indian charm and appeal to a saree or a lehenga. They complete the overall Indian traditional look and add charisma to the wearer's overall appeal and style. Whether it's for a wedding, traditional festival, or for religious occasions, gajras never look out of place. On the contrary they increase one's beauty quotient immensely. For a more classy look, you can style your gajra with matha pati or mang tikka.
Global Appeal
Several movie songs and dance sequences in Indian cinema have had gajras as their basic theme. Apart from this, well renowned Indian film actresses such as Aishwarya Rai, Shilpa Shetty, Asin, and Rekha have sported the beautiful gajra look on the red carpet which has complemented their rich silk sarees by leaps and bounds. Well known Indie-pop singer and Jazz musician Usha Uthup is well known for her gajras as well, which she never fails to adorn, especially for her performances on stage.
References
Categories: Attires, Costume Accessories