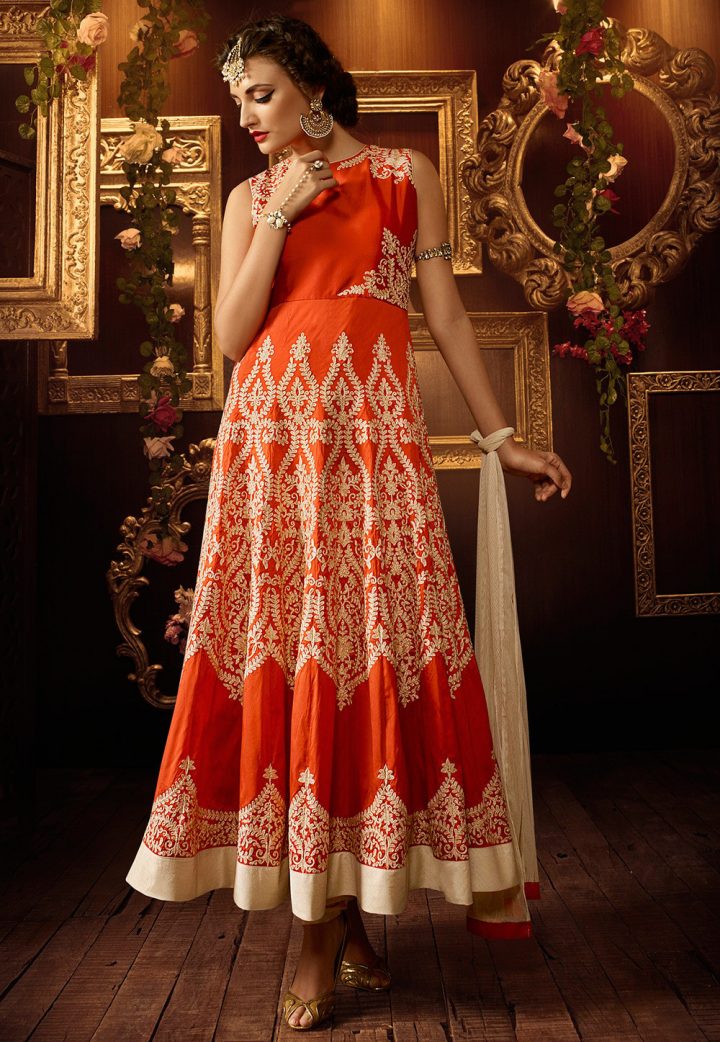 Indian Anarkali
The Anarkali is a beautiful and opulent ethnic dress that symbolizes a rich and ancient history. It lives up to the splendor of its namesake, – the famed dancer at Emperor Akbar's court who stole the heart of Prince Salim. Her beauty was so exceptional that she was given the name Anarkali which means 'blossoming pomegranate'.
Background
Anarkali's name is surrounded by mystery, romance and tragedy. Though popular, there isn't any evidence or record to support the popular legend. The story is one of forbidden love between Prince Salim and Anarkali, and consequence of the star crossed lovers. Anarkali, a dancer in Emperor Akbar's court wore form flattering kurtas. This was a tight fitting bodice till the waist and flared voluminously till below the knee. It was worn with churidar style pants and the stole or dupatta with it was of a sheer material.
The Anarkali as it came to be known, had full or half sleeves and modest necklines at that time. The materials used were silks, cotton muslins, brocades, velvets and organzas. The use of floral motifs, block printing, and kalamkari (patterns created using a pen), gold thread work around precious or semi-precious stones were made popular by the Mughal culture.
The dance performed in the emperor's court in the Mughal period was known as a mujra and these dancers wore the style of churidar and fitted, flowing kurtas which became popular as the Anarkali or the Anarkali salwar suit.
The Hindi film industry too played a role in making this attire fashionable. The epic film Mughal-e-Azam was released in 1960 and featured the lead actress Madhubala dressed in and as Anarkali. Later on in the 1970's and late 80's, it continued to set a trend and never went away. It was highlighted recently by prominent actresses such as Aishwarya Rai Bachan, Kareena Kapoor, Vidya Balan and several other famous personalities.
The Anarkali worn today has undergone many changes keeping in mind the current fashion trends. More synthetic fabrics are mixed and matched along with a mind blowing number of patterns, embroideries, designs and embellishments.
 The Making
A simple Anarkali suit takes 2 to 3 days to be stitched and the time taken varies due to the fabric, cut, embroidery or product to be embellished. They are generally worn with a dupatta in the same fabric or with a net stole. Fabrics are readily available along with the various kinds of sequins, mirrors, beads, zari, faux pearls and much more, but it is easier to get the outfit stitched. Local tailors are experienced and have sources for procuring the required elements quickly. The cost for getting it stitched varies from Rs.800/- to Rs.1200/-. Factors like patterns and designs decide the cost as it entails more labor. Readymade Anarkali costs range from Rs.2500/- to Rs.15000/- Designer ones fall in the range of Rs. 25000/- to an upward of Rs.50000/-
Types
It is an example of the ever-changing trends in Indian ethnic wear keeping in mind global fashion. In addition to the traditional silks, brocades, cottons, synthetic fabrics are being combined lately. The use of rich colors like magenta, gold, silver and dark green paired with printed borders, embroidered zardosi designs with floral backgrounds and Chinese collars are considered stylish. Anarkali for bridal wear is in a lot of demand around the globe.
Style and Attire
The types of fabrics include net, viscose, georgette, chiffon and lace. Embroideries like appliqué, Phool Patti, Bagh, Chikankari, Kashmiri kashida, Soof, Gota, Ahir, Kantha stich, Kathiawari, Kutchhi, Badla, Mirror work, patchwork and much more. The shades of color used for the Anarkali are not ordinary. Colors like salmon, ochre, teal and fuchsia are combined with regular colors to create an interesting mix.
The use of contrasting colors is a notable aspect of these suits. They look simple or extremely decorative due to the embroidery on neckline and sleeves. Sometimes lace or Gota work is used around the waist, neckline and even in the flares to create a striking effect. The use of heavy embellishment or embroidery on solid colors changes the look of this suit, and in contrast usage of delicate prints or patterns can turn the Anarkali fit for casual wear. The suit is a combination of the old and new, echoes of Mughal culture fused with international fashion trends.
Present Day Scenario
Right from wedding celebrations, parties, festive occasions and social soirees this elegant dressing is loved by women of all ages because of its form and rich look. The suit is being worn by film personalities, society divas and for public appearances and is available at branded outlets of Indian wear and designer boutiques.
Innovations
The latest trends combine bustier style bodices, ornamental tie ups in front and bodices with patchwork. It feature the use of a fabric such as chiffon or net stitched over a brocade or crepe suit. Contrasting the churidar with the Anarkali is trendy. High necklines and low backs have become chic.
Accessorizing
The Anarkali can be worn with heavy or light accessories depending on the kind of occasion and style the suit is in. A heavily embellished suit is a guaranteed head turner and requires light jewelry.
Maintenance
This suit requires being dry cleaned every time and stored away from sunlight. Indirect ironing is advised. The Anarkali in cottons, chiffon, nets and in a combination of light fabrics can be worn in the summer. Brocades and silks are suitable for colder temperatures.
References
Categories: Attires, Clothing Styles & Drapes