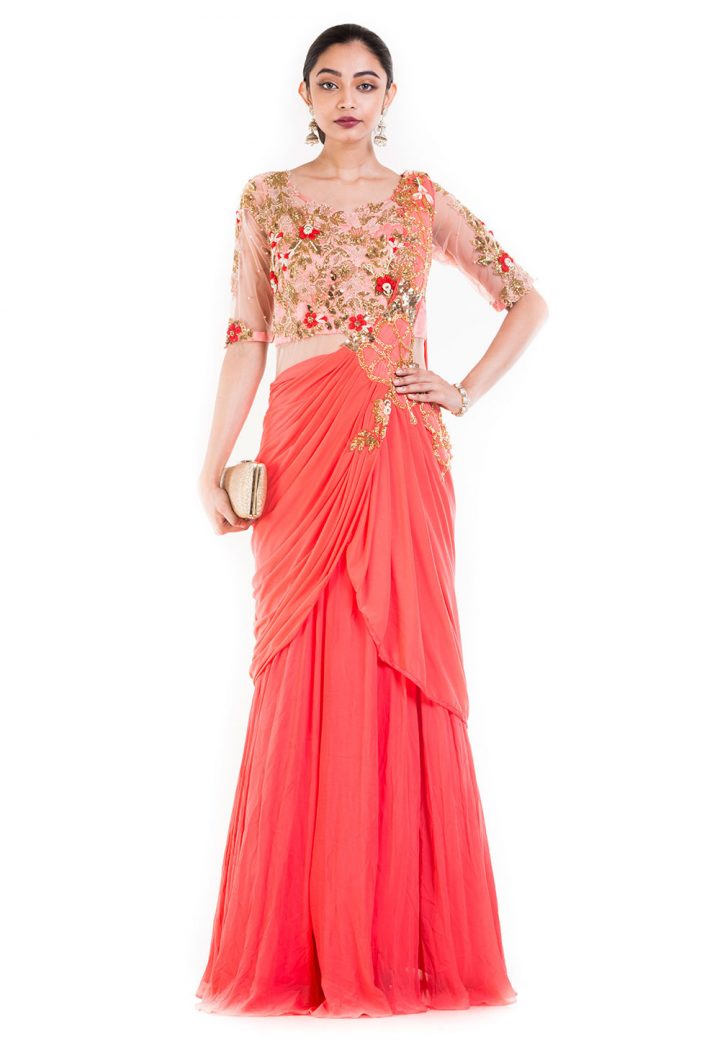 Saree Gowns
Saree gown is a fusion of the Indian Saree and the western gown. It is a gorgeous silhouette for women who wish to drape a Saree without any trouble of draping and in an effective manner. This hassle free saree cum gown outfit, also known as pre-stitched saree can be zipped up in a jiffy without worrying about getting the pleats right!
Indian saree is one of the most popular outfits worn by women since centuries. But with changing times, these traditional silhouettes have successfully stood the test of evolving fashion trends. Earlier, draping a saree involved multiple steps including, draping, adjusting the pallu length and getting the pleats right. But now with the innovation of saree gowns, one can easily wrap it around the body and let the pre-pleated pallu fall gracefully over the shoulders.
Background
The Saree inspired gown is a recent innovation. It was first sported by Princess Diana in around 1988. Designed by a London-based designer, Catherine Walker, the fuchsia colored gown became a rage at that time. In the next decade, the style started fading out but it was brought back by socialite Paris Hilton on her India tour in 2011. She who wore a pink Saree inspired gown which made the world notice the fusion fashion yet again.
Due to the time consuming and tedious process of saree draping, young women were shunning away from the idea of wearing a saree. That's when the fashion designers came up with this innovative concept of saree gowns or pre-stitched sarees. This comfortable drape allowed one to wear a saree in three easy steps. The silhouette of saree gown resembles a skirt. Put it on, zip it up and adjust the pleated pallu.
The Indian Innovations
With the increasing need to take Indian fashion go the global platform, sarees have undergone a process of radical transformation, inspiring a new wave of fashion trends across the world.
Among the Indian designers, Goa-based designer Wendell Rodricks showcased a line of Saree gowns at the Lakme Fashion Week 2012. With a split pallu and choli built in, the attire rendered a glamorous couture look. On the other hand, designer Gaurav Gupta's saree designs in pastel monotones reminisce the Victorian era. Tussar silk textiles with the edgy sheen of delicate French chiffon and lace accents completed the saree look for him.
Designer duo Kavita and Meenu Malik have gone further to add a twist to the traditional sari. As an alternative to traditional sarees, their saree gown designs were embellished with crystals, zircons, and crystals. The gown sarees are made from tulle, Chantilly lace nets, shimmer Georgette and Lycra nets.
Designers like Varun Bahl, Masaba Gupta, Monisha Jaising, Anamika Khanna, Tarun Tahiliani, Jai-Parvesh, Nida Mahmood, Hemant-Nandita and others have pushed their creative levels, innovating myriad versions of sarees like Saree gowns, Lehenga Sarees, Dhoti Sarees and more.
In Bollywood, actresses like Aishwarya Rai Bachchan, Shilpa Shetty, Deepika Padukone, Kareena Kapoor Khan, Sania Mirza, Katrina Kaif and many others have dazzled in the saree gowns at various red carpet events and award ceremonies, to keep up their style quotient.
The Global Influence
The traditional sari has truly transformed from being a traditional outfit to being adapted as a modern dress. Globally, celebs like Hayden Panettiere, Jennifer Lopez, Paris Hilton and Blake Lively have donned this beautiful attire gracefully.
Besides Hollywood, international fashion designer Karl Lagerfeld showcased a collection titled Paris-Bombay for Chanel where the entire lineup was an ode to India. The creative mind gave an interesting twist to the sari which took all the spectators to the era of Rani Laxmi Bai.
Celebs embracing saree gowns at a global level is pronouncing this trendy fusion silhouette a big hit worldwide.
Categories: Ethnic Innovations, Outfits