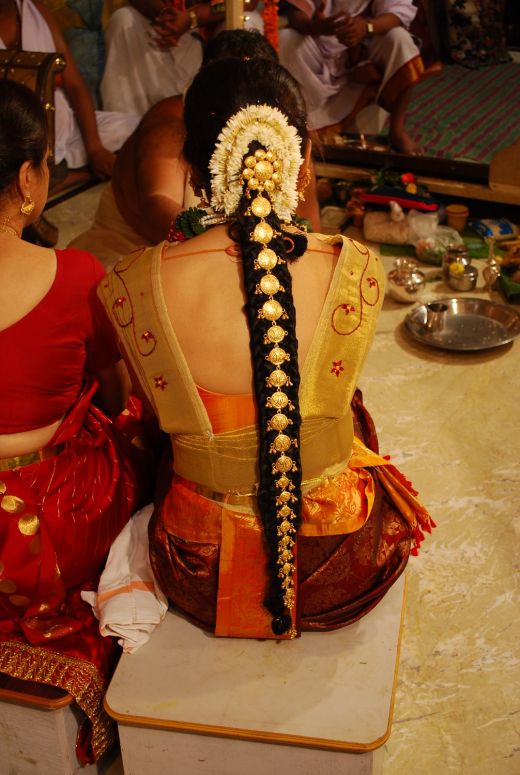 Hair Accessories
Hair accessories have been in vogue since times immemorial and have been a major part of an Indian woman's case of accessories and jewels. A woman's hair is perhaps one of her greatest assets. Adorning it with beautiful looking jewels, pins, scarfs, feathers, or bands is just one of the ways in which a woman can enhance her beauty and appeal. Accessories for the hair come in various styles, shapes, designs. From latkans, to hair jewels, to mang tikas, and now the modern day style clips and hair bands, every single hair accessory is unique. The sheer variety of the same allows one to sport different looks at different times.
Origin
Indian hair accessories have been popular since ancient times, especially in the Mughal era. Various begums and women belonging to a royal background adorned and popularized the use of accessories like latkans and maang tikas. Such hair accessories were made out of precious stones such as diamonds, rubies, sapphires, crystals and pearls. Additional embellishments in these hair brooches included peacock feathers, flowers and various other motifs. Many of these were inspired by nature or by surrounding temples and monuments. Metals used to make such hair accessories included gold, silver, copper, and bronze.
Even in the Middle East, dancers and queens wore multi-chained accessories over their head which glided across their hair and was pinned to the sides. Historical references to hair accessories have been made in other countries as well, such as Egypt, Rome and Greece. These hair accessories were ornate, vintage and rather heavy to don as well. With the passage of time however, these accessories were made with less detailing and ensuring minimal weight so that those could be easily pinned without the weight being a bother.
Present Day Scenario
These days the markets are flooded with all kinds of hair accessories. From the vintage kind that have a traditional appeal, to the more modern day kind with abstract designs and style, there is something available for people with varying tastes. Head bands with chunky pieces of crystals, pearls, and other stones are very popular amongst the younger generation.
Apart from this, more elaborate looking hair accessories like mang tikas and latkans are a must-have for every bride on her wedding day. Hair latkans made out of pure gold or silver add to the overall charm of the bride. Similarly, peacock feathers and flowers are quite a rage across India and beyond. Young girls in particular love pinning their hairdos with a vibrant looking peacock feather clip which looks chic and stylish all at the same time.
Besides jewels being used as part of hair accessories, real flowers too are used in making gajras, which are worn by the bride on her wedding day. These gajras are made out of real and beautiful flowers such as Jasmine, mogras, chameli and roses and lend an aesthetic appeal to the wearer.
Global Appeal
Hair accessories are highly regarded in the West, especially in countries like America, U.K, France. Tiny hair clips with butterfly and peacock motifs in stones and gold are popular amongst teenagers and young women. Even for weddings, women love to flaunt hair accessories on one or either side of their head.
Categories: Attires, Costume Accessories