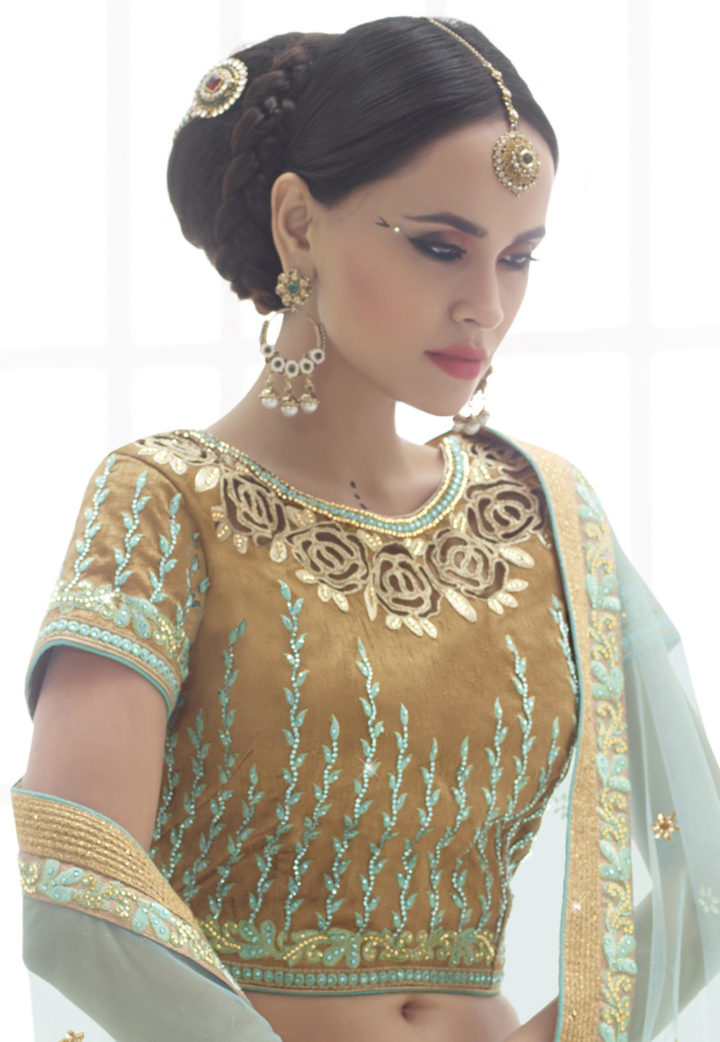 Saree Blouses
Blouse is a midriff baring upper garment worn with a saree, lehenga and other ethnic wear. A sari blouse has come out of its plaid boring form and has donned a modernistic look which complements the Indian woman of today.
Earlier, blouses used to have a very simple look with basic geometrical hemlines and perhaps a border to go with the pallu, but that is not so now. The blouse has now been reinvented and has in fact become a very important element of a sari.
Modern blouse fashion might still depend on the tradition and culture of the place that you come from, but it is fast becoming a trendy piece of accessory that no Indian woman can escape!
The blouse has evolved over the past few years and has adopted various Western facets such as the halter neck, bustier, corset and spaghetti strap avatars to make the sari look like a modern and chic attire.
Blouses have always customarily been stitched according to the occasion. For instance, the bride could wear a modest blouse embellished with zari, stone work and embroidery, whereas the cocktail look would need a more stylish blouse, which would have a sensual and elegant appeal.
Origin
A blouse is basically a low cut shirt that is partially visible in the sari and covers the torso above the navel. However, now the demure blouse has become a fashion statement and the sari is draped in a manner that reveals the stylish look of the blouse. A lot of designers have now come out with a range of designer blouses.
From appliqué work to zari, embroidery and brocade- blouses have become exclusive to the extent that a sari needs to complement a blouse these days!
A sari and a blouse have an eternal partnership that has lasted for centuries and one is incomplete without the other. The blouse is always secondary when compared to the sari, which stands out the most. However, lately, the much-ignored blouse has been revamped to make it the 'hero' of the attire.
In fact, Indian women today are more concerned about having a stylish and well-fitted blouse which can lift a plain sari and give it a designer look. A blouse is now a statement of a woman's attitude and her personality.
Suneet Verma, a famous Indian designer has aptly described the blouse as no mere accessory, as it has now become an expression of the woman's sense of liberation and an extension of her personality.
A lot of emphasis is being placed on having a few designer blouses with stylish cuts like backless, high neck, choli and many others.
Exquisite heavily embroidered blouses are also very much in vogue, such as the ones embellished with traditional sequins, kundan, neemzari, dabka and many others to add that classic touch.
These days a lot of attention is also being placed on the sleeve styles of the blouse such as frill sleeves, mega sleeves, sleeveless, full sleeves and the current hot favorite, three-quarter sleeves popularized by Bollywood divas like Vidya Balan.
The Making of Blouses
Earlier, sari blouses were called 'cholis' or were also referred to as a 'woman's shirt'. In the earlier days, blouses were normally made out of cotton or silk fabric and did not have the collar and sleeves like men's shirts but they did have buttons that were on the opposite side from men's shirts.
It was basically introduced by launderers so that they could distinguish between the male and female garments. Time went by, and the blouse no longer became a demure piece of clothing, but evolved into a graceful companion of the elegant sari, and has also taken the entire attire to a different level altogether.
Furthermore, one cannot even forget the fact that the blouse is perhaps the toughest component to stitch in a saree, as it is stitched by putting together 5-6 cuts of cloth in a manner that it feels like second skin. A blouse needs to look natural, feel comfortable and at the same time needs to flatter a woman's curves and all that takes an expert tailor to accomplish.
Innovations
Fashion repeats itself and that is what has happened with blouses as the fashion trends of the 50's and 60's have come back to life with several improvisations.
A lot of blouse designs have come up as beautiful amalgamations of the western and Indian sensibilities such as the halter neck blouses that are very much in demand and can flatter the upper body of a woman if worn correctly.
Then there are the very ethnic and rustic choli-cut blouses which are derived from the 'chaniya choli' which is heavily embellished with a traditional look. A one-shouldered blouse is perfect for a contemporary Indian look and so is the off shoulder blouse that reveals well-toned arms and is stitched to perfection.
References Links
Categories: Attires, Clothing Styles & Drapes