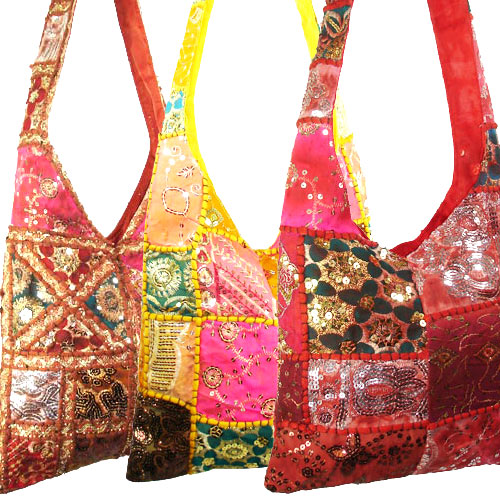 Jhola
Neon colors, shimmering hues and works of stones, twigs, beads and what not, Indian sling bags are quite a fancy for women. Small, medium, large, extra large, and gigantic! Sling bags, or what are also commonly known as messenger bags', or as Indian women like to call it 'jhola', come in all types of shapes, colors and designs. Sling bags with Indian embroidery and artwork have ruled the fashion world for several years, and with the passage of time the quality of designs and materials have grown largely and have spread their wonders across several countries worldwide. Whether its the fashion designers who play around with innovative ideas or whether its women who love flaunting stylish and traditional couture, ethnic bags are always a style statement on their own and need no additional accessories to showcase ethnicity and exquisiteness, which are all imbibed in one.
Origin
Sling bags are considered a modern day piece of accessory, but what may come across as a pleasant surprise is that these bags have a lot of ancient history attached to them, which can be traced back to as far as the biblical times. References regarding pouches, or bags carried across the shoulders have been made in the Bible. Moreover, in ancient Egypt, people would carry little bags which contained valuable items such as money, food, or precious jewelry. Even during the Mughal era, noble women, and royal queens would carry little pouches made out of gold textured lace and cloth with little pearl beads as embellishments. These pouches had little draw strings, and were held in a similar way as the modern day clutch.
The fashion of carrying sling bags was revived in India around the 1960's and became popular due to several European travelers's who would roam around the country with little bags strung across their shoulders. These bags were made out of leather and had minimal designs. They however gained immense esteem, and became a fashionable accessory for many people living in India.
Style & Variety
These days one can find a vast array of sling bags in the market. Some are ornate with elaborate adornments or textures, while some are made out of simple fabrics like Cotton, Jute, or Khadi. The most common kind of sling bags are inspired by Rajasthani and Gujarati designs, and have patchwork or colorful motifs that include elephants, horses, camels, birds, and flowers. These bags are easy to carry, and have either large straps, or thin ones depending on the size of the actual bag. This type of variety is in style amongst college going or young women in India who find it convenient and stylish to carry such bags for their day to day routine.
Additional frills are woven onto these bags as well, such as beads, or Zari, and make the sling bags look more vibrant and elegant. Kashmiri embroidery sling bags are also popular, and give off a richer ethnic appeal. Ethnic Indian sling bags are available in all kinds of materials and textures, such as Silk, Cotton, poly-synthetic, wool, and even faux fur.
Innovations 
Sling bags have gone through a large amalgamation of style, and new designs have been incorporated in this accessory in order to keep up with the fashionable times. Bags with Indo-western motifs and designs have also been created, which appeal to the younger generation. At the same time, however, the traditional and simple designs are also available for women who prefer less exquisite and more practical sling bags. Hip and modish designs such as Bollywood actresses or dramatic and retro inspired figures are incorporated on sling bags, which appear as modern pop art, and have a funky edge in their appeal. Indian fashion designers such as Nida Mahmood, and Satya Paul have completely revamped the entire idea of a sling bag, and have popularized this accessory by leaps and bounds.
Global Appeal
Convenient, trendy, and traditional is the basic essence of sling bags in India, which make them a popular must-have for people living in countries like America, U.K, Canada, Pakistan, China and Australia. This is a popular accessory, especially for college students who love matching these bags with their outfits, or with the occasion. Since these bags are not extremely expensive, anyone and everyone can buy several at a time, and the maintenance level is pretty low as well, which make it a well-liked fashion accessory throughout the world.
Reference
Categories: Attires, Costume Accessories