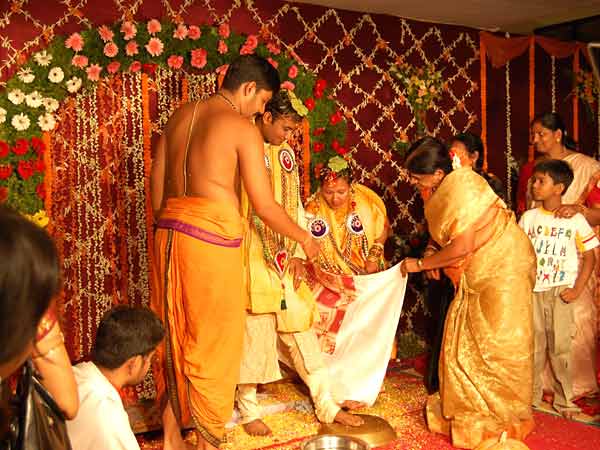 Weddings in Andhra Pradesh
Elaborate wedding rituals, diverse yet unified customs, incredible cultural aspects, artistic attires and ensemble best describe a wedding in Andhra Pradesh. The South Indian state, which is known for its wide array of the Indian population, including Muslims and Hindus has a range of ensembles that are popularly seen at a wedding. Sarees, Sharara, Dhotis and Kurta Pajamas are quite popular fashion picks for a wedding.
Origin
Weddings in Andhra Pradesh feature a vast and rich cultural heritage that is widely reflected in its ceremonies, including rituals of Engagement, Snaatakam or the Graduation Bath, Kaasi Yatra or a trip to Kashi, along with elaborate rituals such as Mangala Snaanam (auspicious bath), Aarti (prayers), Ganesha and Gowri Puja or Lord Ganesha and Gowri Prayers along with customs such as placing paste of cumin seeds and jaggery along with wearing of Mangalsutra or Holy necklace. Ideally, each of these functions follows the usage of different types of attires, especially saris that feature 5.5 yards of cotton or silk. Saris, which are popularly worn for weddings irrespective of caste or religion, are known for their rich textures and ethnicity.
Dharmavaram, a city known for silk saris is generally the place people go for wedding shopping. The bridal wear saris from this region are splendid. Similarly, Kalamkari fabric saris are also preferred for weddings, especially contemporary ones. Men generally choose to wear dhoti kurta or more commonly a sherwani for the wedding.
Varieties in Style and Attire
Saris worn during a wedding in Andhra Pradesh has its own unique style. For instance, Dharmavaram saris are quite popular for their ornate designs and are brocaded with golden plating for a more classy and stylish appearance. Gadwal saris, manufactured in Gadwal region are known for their cotton bodice, strong silk borders and elaborately crafted tail ends or 'pallu.' Gadwal is widely preferred in wealthier communities as it is one of the most expensive linen in the world.
Apart from these, Ikkat Saris and Mangalgiri Saris are also popular for weddings because of their immaculate craftsmanship. Saris like the ones made from Kalamkari fabric have gained widespread popularity among the city people because of the exquisite paintings that showcase mythological figures.
For men, plain white dhotis with fine, thin borders in adaptable colors are popularly used. The kurtas are generally plain with embroidery close to the neckline. In case of Sherwani, there may be elaborately and intricate embroidery with the use of sequins or gold colored threads.
Present Day Scenario and Innovations
The best part about Andhra Pradesh weddings is that they stay true to their soil. Therefore, people still prefer to use the fabric and embroidery style indigenous to the region itself. Several innovations have been made to the outfits and now different modern styles, prints and arts are used on the saris. Dhoti colors can also vary, but men now prefer to wear a sherwani for the wedding. Pearl ornaments, especially the ones crafted in the state are quite popular and paired as an accessory to wedding ensembles.
Global Wearability
There isn't a doubt about the fact that Andhra Pradesh has bestowed its gorgeous range of attires to the world. The popularity of saris has grown manifold all over the world and it is Andhra Saris that are preferred at a global level. Celebrities from Hollywood, including Oprah Winfrey are known for having a collection of beautiful Gadwal Saris that are suitable for festive occasions, while the mythological prints of Kalamkari fabric have found its way in Milan, New York, London and Paris fashion week. Some of the embroideries is a source of inspiration for foreign fashion designers who have entire range of clothing based on the elaborate wedding ensembles in Andhra.
Surely, Andhra weddings are exquisite, and the attractive attires add to the creative luster and fine craftsmanship inherent in this region.
References
Categories: Wedding Types, Weddings & Festivals