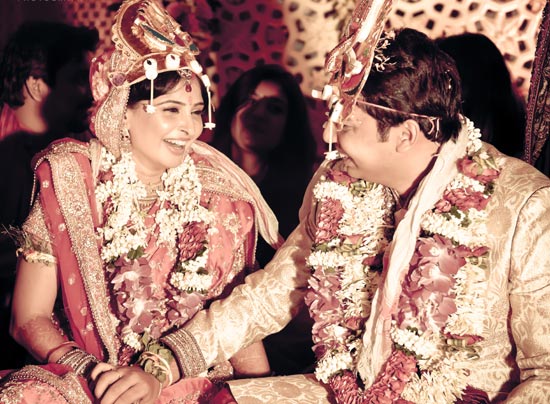 Odisha Weddings Rituals
Minimalism is one word that describes Oriya weddings at its best. Known for their non-extravagant yet elegant styles; sarees for the women and dhotis for the men are fashion staples here.
While Brahmin weddings are performed in the morning, other castes have their rituals performed in the evening/night. But even amidst the diverse rituals, the wedding style is simple, and showcases age old tradition and values intrinsic to Orissa.
Origin
Since time immemorial, weddings in Oriya have been performed in simple but rich clothing. Women have been known to wear saris, which are an amalgamation of Eastern and South-Indian designs, styles and fabrics. With a generous use of elaborate artwork, including embroidery, prints and Zari, this attire is complemented with aesthetically appealing accessories, including necklaces, head accessory, earrings, nose rings and anklets. Made from silk, cotton, chiffon or Georgette, these saris are worn in rich colors such as maroon, red or orange to complement a bride's skin tone and to reflect the richness and vibrancy of Indian culture. The brides also don an elaborate accessory known as 'Uttariya', which is a type of scarf draped across the saree.
Men's attire is as elaborate as that of women and the grooms are known for wearing beautiful Dhotis and shoes known as 'Punjabis.
Varieties in Style and Attire
While it is true that the wedding attire is similar for all regions of Odisha, the overall pattern and styling may differ. An array of embroideries are available for the bride's saris, which may include intricate Zari embroidery, and is more expensive than the others or the elaborately detailed, sheen inducing ones with extravagant embroidery using different threads, sequins, beads or mirror work. The embroidery is generally in golden tones to match the gold jewelry that a bride usually wears for the wedding. Otherwise, it could be an amalgamation of colors which have various tones such as, wine, Mehendi, or Green to provide a contrasting aesthetic appeal to these beautiful saris. Brocade in gold is also popular, a style that draws its inspiration from South Indian Saris. Elaborately crafted headgear, which resembles a peacock feather, is used by both bride and groom.
Present Day Scenario and Innovations
While cotton and silk are the most popular wedding ensemble fabrics, women are now increasingly opting for net and Georgette because they are easy to carry, have a unique look and can be stylized in infinite ways. Men, on the other hand, wear dhoti kurta or dhoti for a very rustic look. As a symbol of purity, they are supposed to wear a 'jor' or a long silk cloth that is draped on the top. Men may even choose to wear kurta Pajama.
Over the years, wedding styles in Oriya have seen several innovations, including the use of Lehenga Choli, or a blouse with a flared skirt used by the bride during weddings. The overall global appeal of this outfit makes it contemporary and packs a traditional twist at the same time. Similarly, men have also tried innovative styles like Sherwani or Western Suits for the wedding, but the overall charm of Dhoti and the silk drape remains intact.
Global Wearability
The easy to carry, aesthetically appealing, unique in design quality, and the fact that these outfits can blend into any culture is what makes them stand apart and a hit with people living across the world and beyond Indian borders.
All over the world, celebrities like Ashley Judd and Elizabeth Hurley, alongside famous politicians like Sonia Gandhi have worn and flaunted Oriya Sari styles for different international events, and have even worn them for themed weddings.
References
Categories: Wedding Types, Weddings & Festivals