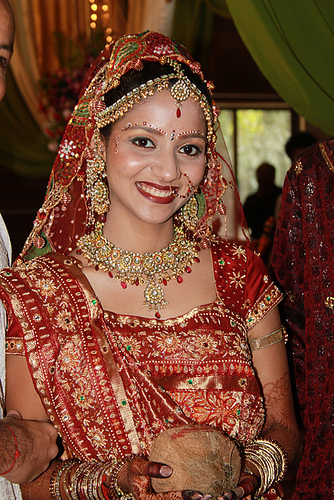 Gujarati Wedding
A Gujarati wedding is an eclectic mix of tradition, colors and rituals that reflect the vibrant and rich culture of Gujarat. An elaborate affair, numerous pre and post wedding functions mark the celebration of a Gujarati wedding. Amid culinary delicacies, traditional dance or garba performances, timeless rituals, the essence of a Gujarati wedding percolates through the myriad of colors that don the marrying couple, their family and all their wedding guests. Like many other parts of the country, a Gujarati bride adorns a distinctive Gujarati saree on her wedding day while the groom wears the traditional dhoti kurta.
Background
The Panetar and Gharchola are two saris that hold immense significance in a Gujarati wedding. On her wedding day the bride drapes herself in a Panetar sari, which is a gift to the bride by her maternal uncle. The Gharchola, on the other hand, is given to the bride by her in-laws. Traditionally, the bride changes into the Gharchola at the end of the wedding ceremony, a custom that symbolizes her first steps into a new household. Today, it is common to find a bride drape a Gharchola chunni over her head as part of her wedding ensemble.
Style and attire
Gujarat has a rich tradition of tie-dye textiles and the Panetar sari mirrors the same. Panetar is a unique sari of Gajji silk weave with a white body and red border. The white body may have linear stripes or checks in gold zari and is laid over with the regular pattern of red tie-dyed motifs. While originally, the border color of a Panetar sari was green, Gujarati wedding fashion underwent a change around the time of India's independence that led to the introduction of the colors, saffron and orange. Later, red, the symbol of joy, became the preferred color for border, and remains so till today.
In contrast to the Panetar, Gharchola is more complex in its fabric, texture and design. The cloth used to create a Gharchola sari is tied in Kutch, which is a region in Gujarat, before being shipped to Jamnagar where it is dyed. Woven using silk and zari thread, the Gharchola comes in a grid pattern outlined by zari and brocade work. The zari grids on a vertical row of a Gharchola are 9, 12, or 52. The woven Gharchola is then embellished with tied dot bandhini designs in a variety of themes like floral or religious motifs, and even peacocks.
The sari is draped in a fashion that is typical to the region of Gujarat. The decorative end, or the pallu, is draped over the right shoulder, brought from back to the front in a pleated fashion. Groom's traditional wedding attire is dhoti kurta along with a Bandhini dupatta or Achkan, draped around the neck.
Global wear-ability
With business as the primary occupation of most Gujarati people, the community is well spread across the globe but at the same time rooted to tradition. The aplomb with which weddings are celebrated in India canvasses Gujarati weddings abroad too. Wedding attires of the bride, groom and guests are a vibrant mix of colours, embellishments and designs. Contemporary influences also blend with traditional styles in saris or lehengas worn by women, and West-inspired kurta pyjamas for men.
Present day scenario and innovations
Many brides today are alternating sari with dresses like lehenga, keeping the drape as traditional Gujarati style. Though red has been the traditional color for bridal attire, more contemporary colours like rose peach, and green are finding their way into Gujarati bridal wear. Grooms too opt for a more indo-western look with kurta pyjama.
Accessories
Given the colorful and festive mood of Gujarati weddings, jewelry finds its share of importance in a bride's ensemble. Gold, kundan and diamond ornaments complement a Gujarati bride's wedding attire. Hair is tied back in a neat bun or braid, and covered with the sari pallu or a dupatta, while the forehead is adorned with a matha tikka and a bindi.
Traditional Indian jewelry like necklaces, earrings, mix of gold and glass bangles, rings, toe rings, nose rings or nath all form part of a Gujarati bride's wedding ensemble. An armlet or bajuband around the forearm completes the bridal look.
References
Categories: Wedding Types, Weddings & Festivals