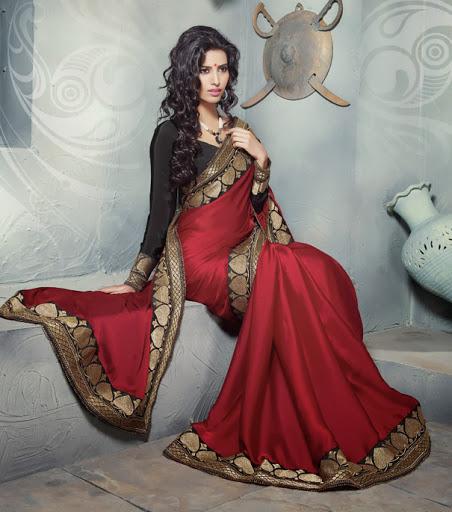 Dharmavaram Silk
Spreading out its essence from the enriched land of Andhra Pradesh, this ethnic Silk has imprinted a long lasting statement style with its heavy colored borders which are accompanied by shaded pallus which enhance the intrinsically woven golden borders.
This embroidered fabric is also considered to be 'The' sari for the 'bride'. Etched with traditional beauty and royalty, Dharamavaram silk saris have made it big and are renowned within the family of Silk, as well as in the fashion world.
Origin and History
These saris imprinted their essence into the ethnic world 120 years ago. This fabric originated from a small structured town called Dharmavaram, which is located in the rural parts of Anantapur district, situated in the region of Rayalaseema, Andhra Pradesh.
Yellow and Maroon combination saris were originally initiated by the weavers which served as a typical wedding sari combination. These double shades were given with an intention to create a twisted effect over the outlook of the sari, by presenting it uniquely from the rest.
Present Day Scenario
Dharmavaram silk weaving industry started off with a few numbers in counting, but today there are over 1500 Dharmavaram silk manufacturing openings with one lakh handlooms in hand. The purest form of this fabric has also escalated in demand as well as in the cost factor, which showcases its popularity and recognition among millions of masses worldwide. Rs. 2000 to 1 lakh is the price range of these saris.
In today's day and age, designs crafted on the sari have become the deciding factor of the cost for sale. Heavily embroidered saris have more cost values attached to them. Mainly people living in Delhi are inclined towards this sari as well as who have taken up the task of designing for these saris.
Sources of Inspiration
Dharmavaram saris began spreading out their wings of beauty through their essence of having double muted colors woven to the fabric which highlighted the look especially by bringing solid embroidered and worked borders and pallus.
Faces behind the Fabric
Dharmavaram silk set its foot into the world of tradition not only because of the objective of adding more enhancement into ethnic fashion, but also because of its dependable past. Many families base their living on the silk trade and industry, out of which this silk rose in popularity and interest. This also gave rise to many industrial garment sectors to take up the idea of promoting this Silk to different countries across the globe like France and Germany.
Varieties
Dharamvaram saris are extremely well known for the gold plated borders and artwork imprinted on them. Besides this fabric also includes gold brocaded patterns and motifs which resemble the religious symbols depicted in temples and other religious places of worship.
Be it the elephant designs, peacocks or even the aesthetic temple borders, these motifs and designs replicate the religious culture through these saris, which are not only universally but also religiously accepted and appreciated.
Innovations
The Dharamavaram saris of today are innovatively embellished with decorative stones, chamkies, sequins, and kundans which either contain the same color or are multi colored. Besides saris, this artwork can also be witnessed on salwar kameez, kurtis, scarves and stoles. Even handloom items like carpets, bed sheets, curtains, bags, and cushion covers have this artwork imprinted on them.
Suitability
This sari is majorly referred to as the 'wedding' sari for the South-Indian brides. The royal majestic look of the sari can compliment any occasion of celebrations like traditional and religious ceremonies, and marriage functions.
Global Wearability 
Crediting to the fact that this fabric has captured the international soils of Germany and France, many countries abroad are recognizing the traditional aspect of this fabric and are appreciating the royalty and elegance this fabric exhibits.
Accessorizing
Considering its wedding attributes, pure traditional heavily worked gold jewelry can enhance the elegance of this outfit. Also, Diamond studded jewelry can go well with this sari by giving the entire look more richness.
Maintenance
As the texture of this fabric is extremely silky as well as the weight of these saris are on the heavier side, only dry cleaning washes and gentle ironing are recommended.
Chronicles of the future Foretold
The silk weaving industry has managed to spread their markets all over the world. There will come a time when this fabric will almost become a regular feature in different forms, owing to its grand look.
Interesting Facts and Comparisons 
This silk has often been compared to the Kanchipuram silk. However, the double colored and shaded effect of Dharmavaram saris stands uniquely apart.
These saris are also known as Rajwadi sarees for its exclusive color combinations and variety of ethnic designs.
Reference
Categories: Textiles