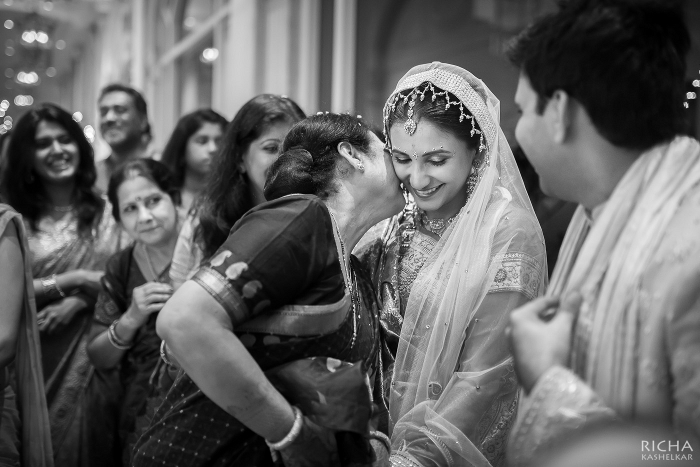 Vidai or Doli – Hindu Wedding Rituals
With elaborate wedding rituals, Vidai (also known as Bidai or Bidaai) is a ritual of bride bidding farewell to her family and leaving of her maternal home. Literally translating to the phrase 'Goodbye,' Vidai is one of the most sentimental outburst of any wedding across the world. The last ritual of the wedding, this Indian ceremony marks the end of Bride's life as a daughter and establishes her new role as a wife and daughter-in-law. In Sikhism, this ceremony is called as 'Doli'
Origin
Originally, brides were given away to kings and princes from far off lands, as a gift, property or something to surrender or make a treaty between two kingdoms. This is where the inception of the 'Vidaai' ceremony took place.
The Ritual of Vidaai
Indians have always believed that a girl is 'paraya dhan,' (eventually belongs to someone special) someone who has been blissfully given away at the time of marriage. When the bride leaves her home, she is usually dressed in her bridal wear that she donned during the Kanyadan and Phere. Along with her husband, she moves outside her maternal home mostly surrounded by her father and brothers, as she throws three handful of rice or wheat and few coins over her head and into the house. This ritual of throwing rice and coins symbolizes that she is repaying back her parents for keeping her in the house and also spreading happiness and prosperity in all corners of the house. Once this ritual is completed, she is lead to the Palanquin or the groom's vehicle to leave for her new home.
The Vidai Attires
In most of the cultures, Vidai ceremony happens immediately after the 7 Vows, hence the brides choose to wear a wedding Lehenga.
Most women feel that Lehengas and heavy wedding attires can be difficult to carry during the Vidai Ceremony. And if one wants something that is comfortable, chic and glamorous at the same time, then perhaps saree is the best attire to choose. A heavily embellished Sari is usually a supplement of a wedding Lehenga, hence donning a net sari or a Banarasi Saree in bridal tones of red, maroon, yellow and green is evident The sari is extremely important, but so is the blouse! These days women pay a lot of attention if not more to how the blouse would look and what shape or design it would entail in contrast to the sari. Backless, choli, quarter sleeved vintage style blouses are extremely popular.
These days, most of the brides, particularly Punjabi brides tend to be more inclined towards Salwar Kameez for the Vidaai Ceremony. It is a convenient option because after the Vidai, brides has to travel to the groom's house and participate in more ceremonies at the new house. An embellished Salwar Kurta or an Anarkali suit is mostly preferred.
Complete Look
The freshly added Mangalsutra, wedding ring, and sindoor are part and parcel of the bride. Heavy jewelry in gold or diamond are the most commonly worn jewels. From polki, to different diamond cuts, emeralds, oxidized, or platinum, the market is flooded with all kinds of jewelry pieces that can be mixed and matched with one's outfit.
References
Categories: Wedding Rituals, Weddings & Festivals