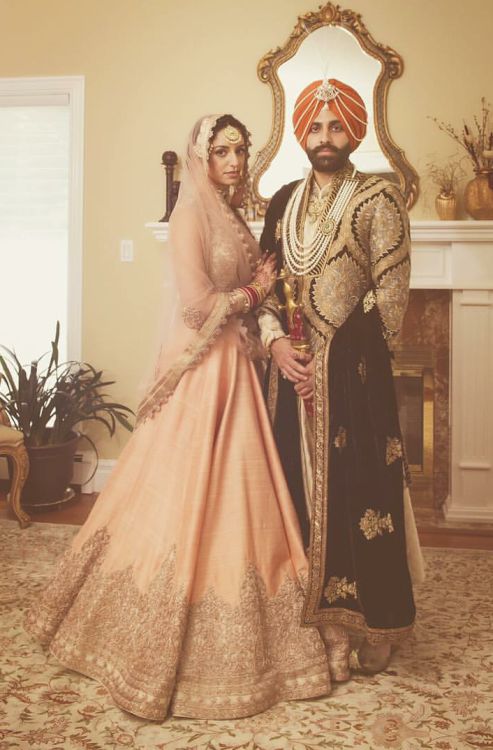 Weddings in Punjab
The ethnically rooted culture of Punjab mesmerizes the nation through its traditional essence. This culture echoes the spirit of colorful Punjab as well as defines the cultural soil which has christened Punjab with a soul of ethnicity. The customs and traditions which are followed in Punjab are soaked in a strong concoction of Punjabi Culture. Be it religious ceremonies, ritualistic occasions, traditional celebrations and many more adding to the list, this vibrant state sets the whole nation on a ride over the enriched roots of Punjab.
Background
Punjab is defined at its cultural best, when it comes to the celebrations of weddings and marriage ceremonies. This state has always been popular for its lively traditions and culture that binds people in brotherhood and unity. The food, rituals, dress, dance and many such entertainment aspects are richly followed in this state, which boosts up the 'life' of this state. The traditional wedding rituals of Punjab are divided into 3 categories, namely; pre wedding which includes Takha, Rokha, Mangni, Sagai, Sangeet, and Mehendi, which comprise the main wedding. Some other aspects of a Punjabi wedding includes pheres and kanyadaan. But the fun does not stop there, and a typical Punjabi wedding ends with a grand reception and a tearful vidaai, where the bride is sent off to her new home.
Style and Attire
The wedding day attire begins with donning ivory and red colored 21 bangles, which is considered as a symbolic and ritualistic number on each arm portion. Traditionally woven, ethnically embroidered and brocaded with golden and silver satin threads, sequins, stones, and heavy Zari work, the various lehenga cholis and salwar suits are seen in radiant and bright colors of green or red, and is donned by the bride on this day.
Along with the attire, maang tika, heavy churas and bangles, gold anklets and a red and gold colored odhna' are the accompaniments which are used to glamorize the overall appearance. Grooms dress in Sherwanis and formal silk suits, which are brocaded with delicate zari work and traditional motifs. Along with the attire, the groom also wears an exquisitely designed turban, which is centrally studded with a precious stone. Heavy and chunky gold jewelry and loud make up are the main highlights of a pompous and grand Punjabi wedding.
Present Day Scenario
Today's advanced day and age has introduced innovative transformations and creativity in the fields of style, fashion and culture as a whole. Although the traditional ways in which a marriage is celebrated are still the same to a great extent, but a lot of flexibility has entered into the world of traditions, which has cut short the otherwise elongated traditions and customs.
For instance, nowadays brides decide on the number of traditional bangles which are to be worn on the wedding day, so it is entirely her discretion. The cholis worn by the brides come in different styles and designs and that too with different fabrics. As far as the makeup is concerned, the brides have started following the 'less is more' mantra, and they do not overdo the eyes or lips. A certain amount of subtlety has come about in the Punjabi wedding, but the basic crux of the rituals and overall style remain opulent and nothing less than extraordinary.
References
Categories: Wedding Types, Weddings & Festivals