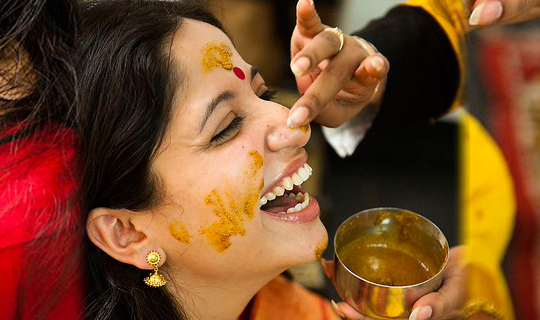 Haldi or Ubtan
Every woman wishes to look her best on the wedding day, and to bring that perfection in her beauty, she spends most of her time in beauty salons and spa. However, back in the old days, the existence of salons was negligent and hence, came the concept of Haldi ceremony before the wedding. Since then, the tradition of applying Haldi or Turmeric on the bride's face and body by the near and dear ones has been running for decades in both Hindu and Muslim families. It is referred to as 'Haldi' in the Hindu culture, while celebrated as 'Manjha' in Islam.
What's Haldi/Manjha Ceremony?
Marriage is perhaps the most important event of an individual's life, especially in India. That's why marriages are celebrated with great vigor and zest, and a lot of preparation goes into it as well. According to the Indian tradition, marriages aren't just a celebration of a single day. Instead, they follow a long list of pre and post wedding rituals, which ensure that the celebration brings two families together, and one such event is the Haldi Ceremony.
Usually performed a day before the marriage, the Haldi ceremony is like an Indian traditional spa that ensures that brides and grooms look their best on the wedding day. Hindu and Islamic versions of this ritual are usually held two days before the wedding ceremony. In both religions, the prospective bride is made to sit on a small wooden stool and Turmeric paste, using almond oil, gram flour, sandalwood powder, rose water and milk, sent by the groom's family is applied on the body of the bride. Islamic culture, in particular, follows a second ritual, where a married friend of the bride applies the Haldi and accompanies the bride at all times.
What distinguishes Manjha and Haldi ceremony is the fact that the Haldi ceremony is also celebrated by the groom in the Hindu culture.
What to wear?
There was a time when women opted for older looking clothes due to the fear that the haldi may stain their clothing, but this has now taken a turn and several brides and women who take part in the ceremony opt for chic looking clothes which are simple, yet have a distinct elegance. The bride usually wears a sari or salwar kurta in the color yellow or white. Minimal jewelry and no makeup is the usual norm as well. Muslim brides on the other hand usually go in for a simple looking sharara or salwar kurta. The saris worn during this occasion are either Silk or Cotton, but the latter is normally preferred since it is easy to wear and is well-suited with the somberness of the ceremony.
Trend Tips for Haldi/Manjha
Women
There are a variety of outfits that one can try for the Haldi ceremony. In most homes, Haldi ceremony coincides with Ladies Sangeet ceremony or Mehendi Ceremony. In case one has two ceremonies clubbed together, then they can wear a saree or Lehenga.
Some of the popular sari colors include bright yellow with an amalgamation of designs in pink, purple or blue. For those with petite or curvy frames, saris would look the best for a function like the Haldi ceremony. Heavy Lehengas and sarees are generally avoided since that makes the entire process cumbersome.
If the Haldi Ceremony doesn't coincide with other ceremonies, then one can choose to wear a suit which is yellow or mustard in color with little or no embroidery. Such attire looks perfect for a simple wedding ceremony.
Men
Men can opt for regular kurta pajama for the occasion. Ideally, grooms wear a pale yellow colored kurta, featuring embroidery on the neckline. Basic cotton kurta in white also looks great on men who don't want to wear yellow. Red or maroon colored kurta with or without embellishments along with white pajama would suit almost any man irrespective of physique and size.
Accessorizing
In the Hindu pre-wedding Haldi ritual most women avoid accessorizing heavily, but small earrings or Jhumkis are usually preferred. In the Muslim pre-wedding rituals the bride is required to wear yellow outfits sans jewelry.
References
Categories: Wedding Rituals, Weddings & Festivals