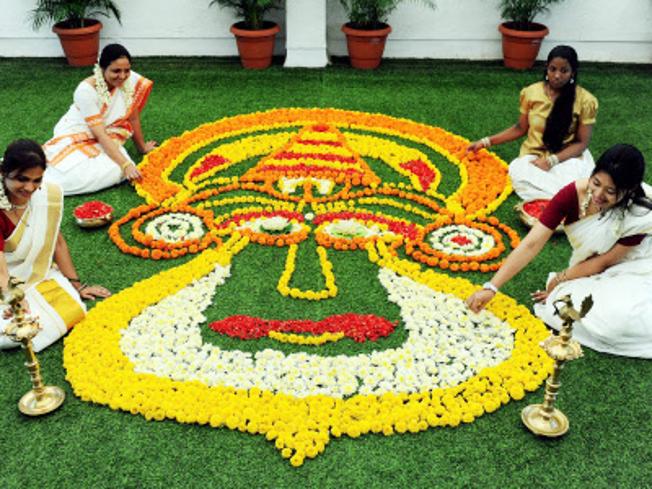 Onam – Ten Days of Sheer Celebration
Kerala, the land of beaches, stunning landscape, alluring cityscape and beautiful green vicinity is best known for its lively people and bright hues in traditional dressing. This is why the festival of Onam is one of the biggest cultural event celebrated in Kerala. Lasting for ten days, the event features vibrant colors and a long list of rituals, including intricate flower carpet, elaborately detailed outfits, banquet lunches and boat races. While women wear traditional saree like attire, men are most often seen in Dhotis. This is one of the festivals in India which is celebrated with zeal, zest and most number of cultural elements.
Origin and History
Onam, which is generally celebrated in August-September, is related to Kerala's harvest festival and the festival of rain flowers. But most importantly, the festival commemorates the Vamana Avatar of Lord Vishnu and the homecoming of Mahabali, a legendary emperor in Indian History.
Enthralled Kerala populations celebrate this festival over a period of ten days and the first day marks laying off 'Pookalam' or floral carpet, a kind of Rangoli that is similar to floral designs and features yellow colored flowers. The second day marks the use of yellow and orange to the Pookalam and households are prepared for the third day. By the third day, newer designs of 4-5 colors are added to the floral carpet and the fourth day, which is widely considered as most auspicious day sees people opening markets for harvest sale and pookalam competitions. The fun does not end here and the fifth day sees Snake boat races, while the sixth day features people visiting their near and dear ones. The seventh day sees small Onam special buffet lunches, while the eighth day marks off major ritual of cleaning statues of Mahabali and Vamana. Shopping is the major activity. The eight-day witness extreme frenzy and is known as First Onam. The tenth day culminates the carnival and sees larger banquet buffets.
Mostly during the celebrations, women of Kerala wear Kasavu Sarees, which are white in color with gold thread, and the sari blouse colors generally correspond to the upper garment that their male partners wear. Women generally don't wear shoes and young girls wear long, flair skirts with colorful blouses.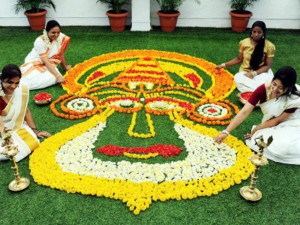 Varieties and Styles
More or less, the traditional dress of Kerala is the same for all women, featuring Mundu and Neriathu, which is a sari, white in color embroidered with golden border. While mundu is 5-6 meters of cloth draped on the lower body, neriyathi is a jacket style clothing over the blouse. The color of blouse varies. Cotton or south silk is majorly used for the sari and most often, the golden blouse can be accompanied with light orange color or with golden embroidery in circular, rectangular or diagonal designs. Young girls have to wear long skirts with golden border along with long blouses in varied colors. The dressing is accompanied by gold jewelry, which features long necklaces, which can reach close to the waist, along with smaller necklaces, earrings, headband and gajra, a hair accessory made of flowers.
Men, on the other hand, have to wear dhoti, which is white in color. Mostly their upper garment resembles the color of the blouse that their wife wears.
Present Day Scenario
In the last few years not much has changed with regards to dressing during Onam. In fact, it is one of the occasions that have received popularity because of traditional styles being followed vigorously. The only change that has occurred is that women may wear wider golden borders, also known as 'Kasavu.' Otherwise, they may wear South Silk or Cotton Saris that feature golden printing on bright colors such as maroon, red, wine, green, Mehendi green and orange.
Global Appeal
Kerala's dressing for Onam has been received positively in fashion circuits. The style of Mundu is quite popular among North Indians as well as foreigners who prefer this 'Set Sari' because of it's simplistic and easy to wear appeal. South silk is one of the most popular varieties of Saris in the world, because they flatter all kinds of figures, are easy to maintain and are more affordable than other types of silk.
References
Categories: Festivals, Weddings & Festivals