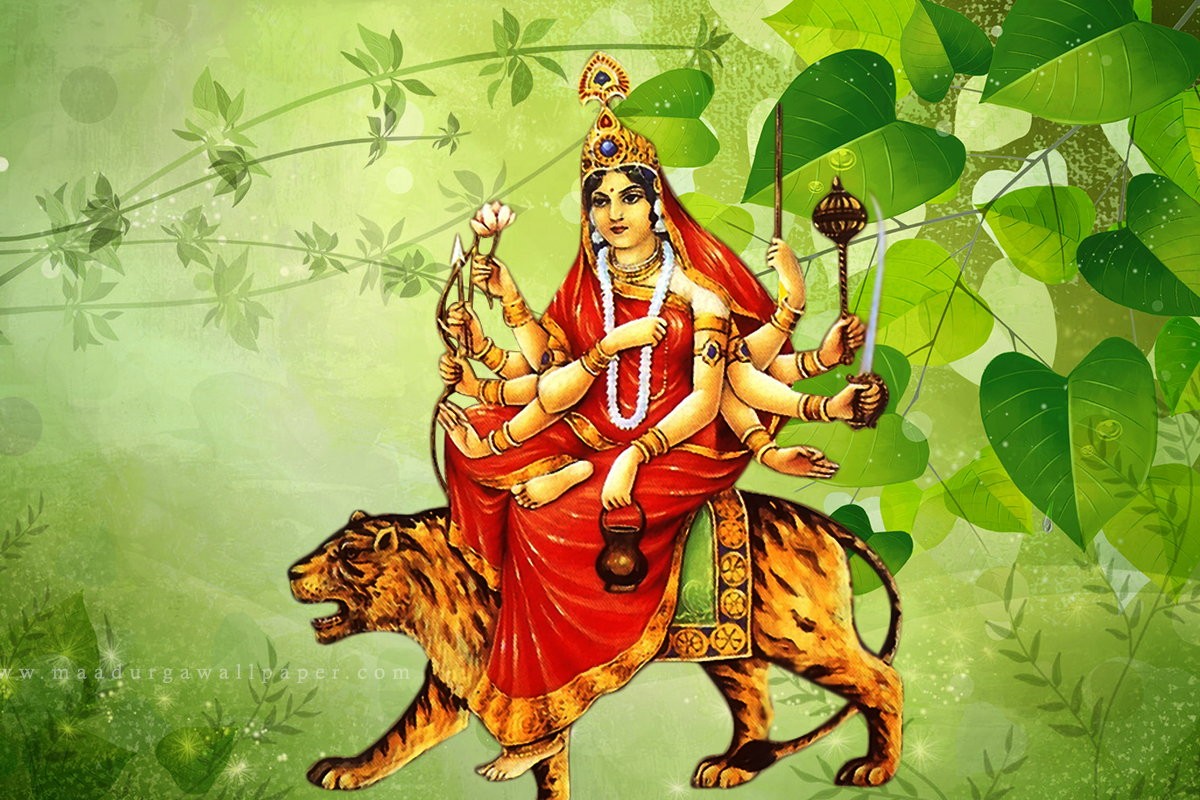 Navratri Day 3 | Worship Devi Chandraghanta
The third day of Navratri is dedicated to worshiping Devi Chandraghanta. Being the third manifestation of Ma Durga, she wears a half moon (chandra) on her forehead.  This moon resembles the shape of a bell (ghanta), hence, the name Chandraghanta. This ten-handed goddess has a radiating golden body and a third eye. While her nine hands hold different weapons that are said to destroy evil occurrences, her 10th hand showers blessings on the world. Ardent devotees of this Goddess worship her to seek forgiveness for their misdeeds. They also revere her in an attempt to obtain her blessings for long lasting endurance, as well as an obstacle free life.
Origin and History
According to legends, when Sati burned her body in the yagya agni, she took rebirth as Parvati to Parvatraj Himalaya. Parvati married Lord Shiva.  On the day of their marriage, Lord Shiva arrived with all his Aghoris and Ghosts to take Devi Parvati along with him. On seeing this form of Shiva, her parents and all the guests were horrified.
Looking at all this, Parvati transformed herself into Goddess Chandraghanta and approached Lord Shiva. She requested him to reappear in the form of a charming prince. In the mean time, she revived her family from the shock and erased all their unpleasant memories. Since then, Devi Parvati is worshiped in her Chandraghanta avatar as the goddess of peace and forgiveness.
Customs And Rituals
Devi Chandraghanta is worshiped for her serenity and power to eradicate evil. There are certain rituals that are followed when worshiping her:
The pooja should be initiated by worshiping all the gods, goddesses and planets in the kalash. This is followed by prayers being offered to Lord Ganesha and the entire family of Ma Durga. Towards the end of the pooja, Ma Chandraghanta should be worshiped. Finally, this ritual ends with the worship of Lord Shiva and Brahama.
The mantra that is recited, when the prayers are sent, goes something like this:
Ya devi Sarvabhooteshu, Maa Chandraghanta Rupen Sansthita |
Namastasyai Namastasyai Namastasyai, Namo Namah||
Pindah Pravarudha Chandkopastrakayurta |
Prasand Tnute Mahayam, Chandraghanteti Vishruta ||
Meaning: "I join my hands in front of the powerful Goddess, one with the bell shaped moon on her forehead. I worship her to forgive all of my bad deeds."
Goddess Chandraghanta is the goddess of peace and forgiveness. Therefore, she likes to be offered something white as her bhog. One can either prepare kheer for prasad or offer milk to please her.
Color for The Day
On this day, it's good for devotees to wear something in yellow color while performing the rituals and pooja. Though the Goddess herself drapes a white saree, which symbolizes peace and forgiveness, it is said that her worshipers should wear yellow throughout the day.
Attires For The Day
Salwar Kameez: Salwar Kameez is a preferable ethnic attire among Indian women. A yellow Salwar Kameez stitched with Georgette material can be seen as one of the most popular choices on this day. One can pick up many different hues and color that perfectly blend with yellow to design their dress. Colors that go best with yellow are black, cream, blue, pink, magenta and navy blue.
Kurtis: These days, women, especially working women, prefer indo-western outfits rather than opting for complete ethnic wear. For these women, an advisable outfit can be kurtis. Women can pair up their Kurtis with either leggings or jeans and even design their own indo-western attire.
Accessories: One can add charm to her look by accessorizing herself.  A Salwar Kameez or even Kurtis can be teamed up with dark silver and oxidized earrings. Women can also pair this outfit with a self embossed Kadha for a simple yet elegant look. Designer shoes and handbags can pep up your look as well.
Kurta Payjama for Men: Style is not just associated with women anymore; men are also active participants nowadays. For men who desire to dress in ethnic wear, there is an array of Kurta Payjamas available in the market. For those who prefer to not compromise on comfort, a cotton kurta with a yellow payjama is the perfect outfit.
Interesting Facts
On third day of Navratri, a worshiper enters the Manipura Chakra and becomes capable of witnessing divine things.
Worshipping Devi Chandraghanta cultivates bravery and fearlessness in the worshipers, along with humility and serenity.
References
Categories: Festivals