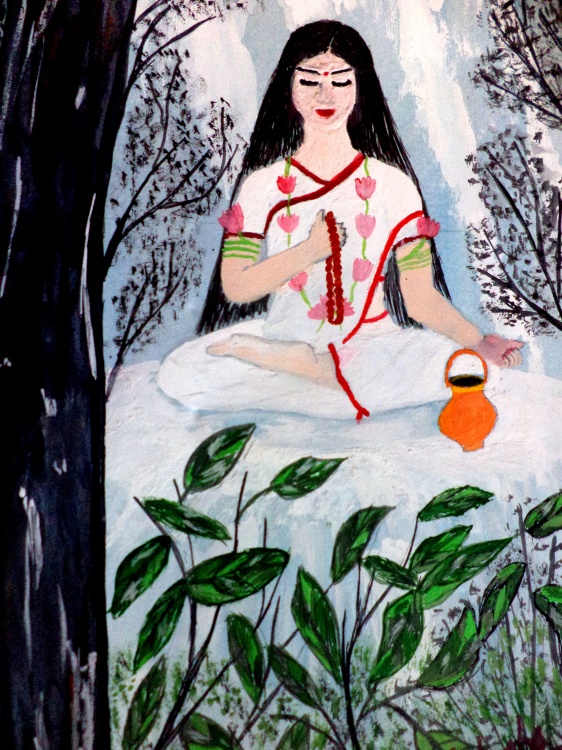 Navratri Day 2 | Worshipping Goddess Brahmacharini
Navratri is a very important Hindu festival celebrated across India, which is devoted to Goddess Durga. It stretches over a period of nine days, with each day dedicated to nine different forms. Devi Brahmacharini one of the most powerful forms is worshiped on the second day of Navratri. Her name denotes one who practices penance, with Brahma.
Origin and History
According to Hindu mythology, Godess Brahamacharini was incarnated as the daughter of Himalaya. Under the guidance of Devrishi Narada, she practiced hard penances to be a soul mate of Lord Shiva. For more than thousand years, she only had fruits, beet roots and dry leaves. Due to her unearthly penances, Brahmacharini was later reduced to a skeleton. Her penance caused great disturbances in all the three worlds (heaven, earth and hell). Ultimately, Lord Brahma blessed her with powers that can fulfill her desire.
Customs and Rituals
Rituals
People worship Goddess Brahmacharini with flowers, rice, sandalwood and kalash (established on the first day of the Navratra). Devotees pour milk, curd and honey and offer Bhogas a part of the pooja vidhi.
After offering these, people also encompass her with Paan and Supari (Betel nut). Later, devotees also recite stories, chant mantras and perform aarti.
The Mantra
Ya Devi Sarvbhuteshu Srishti Roopen Samsthita|
Namastasyai Namastasyai Namastasyai Namo Namah||
Dadhana Karpadmabhyamakshamalakamandalu|
Devi Praseedatu Mayi Brahmacharinyanuttama ||
Meaning: Salutations again and again to the Devi (Goddess), who is present the name of maya. Brahmchaarini wears white clothes; she holds rudraksh mala, lotus flower, kamandalu, in her hands. Goddess Brahmcharini is the "tapaswini" roop of goddesses, who gives freedom from kaama, krodha and bhog.
As Goddess Brahamacharini's life was full of penance and sacrifice, she likes simplicity. It is believed that offering her sweets and fruits are best way to seek her blessings. After the pooja, devotees distribute these bhogs to unmarried women, who are believed to be another form of Goddess Durga.
Goddess Bharmacharini is dressed in 'Orange' attire, symbolizing her sacrificial journey of life. However, the color of the day for devotees is royal blue. So, it is often seen that people wear clothes of blue color while offering their poojas.
What to wear on this day?
Saree is one of the most elegant outfits which accentuate the beauty of every woman. A royal blue saree embellished with golden border and intricate designs will certainly create a debonair look. One can easily carry off this color and beautifully blend with the festive aura. To stand out from the crowd, an exquisite and attractive Kundan necklace will be an ideal combination with this attire.
With a wide variety of Salwar Suits available in the market, it is not a hard task to find a suitable royal blue color designer Salwar Kameez. As blue is itself a very attractive and classy color, one does not have to pay much attention to the accessories. Additionally, a simple pair of half-moon shaped jhumkas will work wonders.
Women are passionate about Jewellery and it has always made them feel beautiful and confident. A set of blue bangles or a polki necklace with golden studs will be an idyllic pick for this day. To ensure not to look blue and boring from head to toe, one can always add a designer clutch in a contrasting color.
Interesting Facts About Goddess Brahamacharini
She is depicted as a Goddess who is dressed up as a hermit and carries a rosary and Kamandalu in her hand.
It is believed that Lord Mangal, the provider of all fortunes, is governed by Goddess Brahmacharini.
Brahmacharini is considered the centre of penance, which unites the devotees and helps them to achieve control on his senses and attain moksha.
In some regions, Goddess Chamundaswarup of Durga is also worshiped on this day. In this form she is believed to have killed the demons Chanda and Munda.
Categories: Festivals