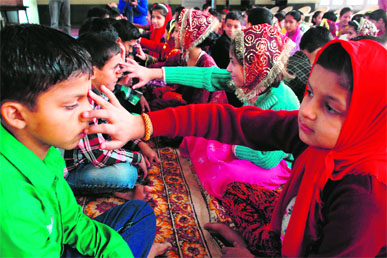 Bhai Dooj – The Festival of Brother and Sister
Bhai dooj is a celebration of the love between a brother and his sister and as such, it is similar to another Hindu festival, Raksha Bandhan. Bhai dooj is an annual festival celebrated by the Hindu community in most parts of India as well as Nepal. It is observed at the end of the five day long Diwali festivities. Celebrating the love between siblings, the festive outfits for this occasion aren't restricted to a particular kind of attire. Rather, the celebrants tend to wear the best ethnic clothes of their region.
History and Origin
There are many different myths and legends that allude to the origin of Bhai Dooj. One of the most popular ones is the story of Yamaraj, the lord of death and his sister, Yami. It is believed that one day, Yama decided to pay his sister a visit. Upon hearing of which, Yami prepared a great feast. Yama was so pleased with his sister that he granted her a wish, following which she asked that all brothers remember their sisters on that day and visit them if possible. Yami then also put a tilak on her brother's forehead and it is said that anyone who receives a tilak from his sister on that day would not go to hell.
In another legend, Bhai Dooj was the day that Lord Krishna went to sister Subhadra after defeating the Narakasura demon. She welcomed him with lamps, flowers and sweets and put the holy and protective tilak on his forehead.
It is also said that Bhai Dooj was the day that the founder of Jainism, Mahavir, attained nirvana. His brother, King Nandivardhan was quite distressed by this as he missed him. His sister, Sudarshana was the one who comforted him and since then, sisters and women have been revered during Bhai Dooj.
Amongst all the beliefs of the origin of the festival, the tilak is a common thread and involves applying a small linear smear of vermilion powder.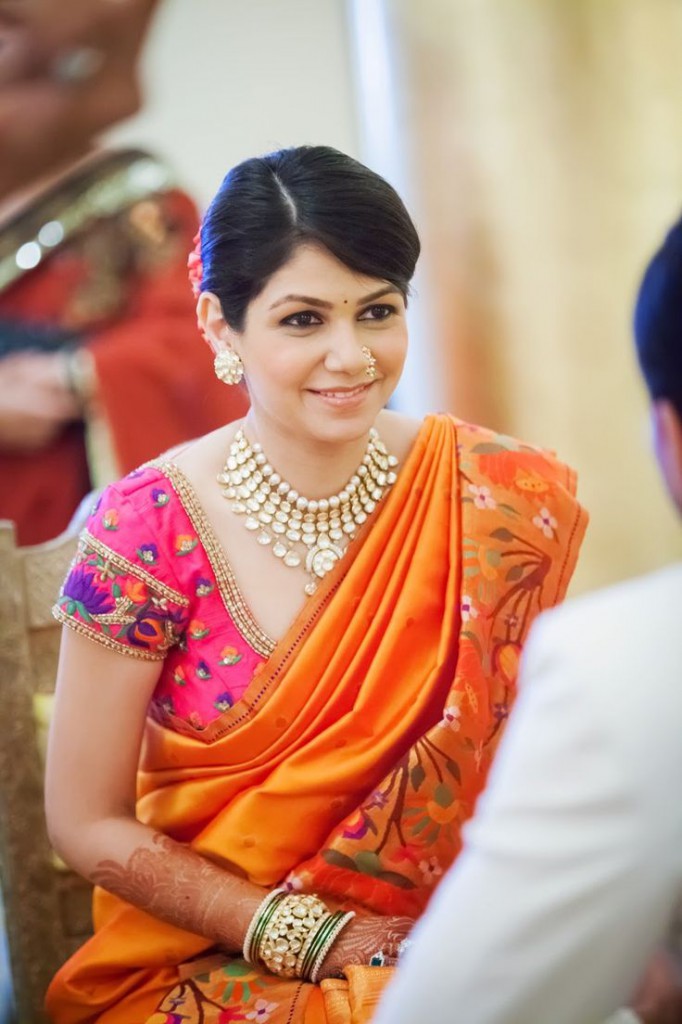 Carrying Out the Practice
Bhai Dooj is celebrated in almost all parts of India including Haryana and Delhi in the North, Bengal in the East, Gujarat, Maharashtra and Goa in the West and as well as in some Southern states like Karnataka.
Since Bhai Dooj is a celebration, vibrant colours are often associated with the festival. These colors can be seen in the vividness of the tilak to the festive clothing being worn. Both the brother and sister wear fashionable Indian garments for the occasion. Gifts are often exchanged between the two which are more often than not, clothes and ethnic accessories.
Style and Variety
Since Bhai Dooj is a culturally significant festival, the clothes worn by both men and women are vibrant, elegant and reflective of the Indian culture.
Women can wear either sarees or salwar suits, depending on their preference. The attires are quite colorful, but feature less embellishments and subtle designs, since the festivities are low-key and not grand. However, the clothes are generally made from fine materials like silk. However, suits or sarees made from lighter and more popular fabrics like georgette, chiffon and crepe are also common.
Men generally wear white kurta pajamas or sherwanis in subtle hues that are made from silk or cotton.
Womenswear for this occasion can include elaborate embellishments such as cutdana work, appliqué work, sequin work or even resham work. Mens wear on the other hand have simpler but just as intricate embroidery such as chikankaari.
In the western parts of India, the women generally wear paithaini saris while in the eastern states like Bengal, they wear tant saris and jamdani saris. In the north, women in states like Punjab wear Phulkari saris while in the southern states like Karnataka; they wear south silk saris and pattupavada saris.
Influence over the Years
These days, modern influences can easily be seen in the clothing that is worn by women. Kurtas, leggings as well as jeans have become quite popular, especially in the urban centers. The same holds true for men who prefer to stick with shirts and trousers for the occasion. This is further necessitated by the fact that people of Indian origin residing in foreign countries also observe this day and may not necessarily wish to dress in elaborate Indian clothing.
Interesting Facts
Bhai Dooj goes by many different names. It is called Bhai Phota in Bengal, Bhai Bij, Bhau Beej or Bhav Bij in states like Gujarat, Maharashtra and Goa.
Bhai Dooj is a major festival in Nepal and goes by the name Bhai Tika.
In Haryana and Maharashtra, women who do not have a brother worship the moon god instead.
In case the brother lives far away and cannot visit his sister, she sends her sincerest prayers for a long life for her brother through the moon god.
These days, sisters can send tikas through post. Virtual tikas and e-cards have also become quite popular.
Reference
Categories: Festivals, Weddings & Festivals