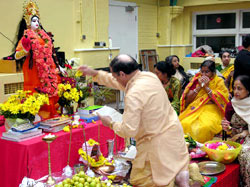 Basant Panchami
Basant Panchami, (also known as Saraswati Puja or Vasant Panchami)is a Hindu festival which signifies the arrival of the spring season. Hindu deity, Goddess Saraswati who is considered to be the source of Knowledge, education, culture, art and music in India, takes the major focus of attention on this auspicious day. This festival also mark the start of Holi season.
Background
The origin of this festival traces way back to the Royal period of King Bakshi. In his majestic palace, dhol players, dancing girls and celebrants used to perform at the King's court, thus by creating a durbar ambiance for the royals present in the king's palace. Musical and poem reciting programs used to be conducted at the palace, which also used to serve as an educational initiative for teaching children to learn and write. In the state of Bengal, ritualistic processions of Goddess Saraswati were conducted along with the procedure of last day immersion.
Style and Attire
The traditional color that denotes Basant Panchami is the mustard yellow color. Hence young girls and ladies chose to wear yellow colored garments on this day. During the royal period, women wore saffron or pink colored saris with tiny circular dot designs or red squares. Young girls went in for skirts and blouses that were ethnically stitched. The traditional embroidery work that wove these garments was with shimmering silver and golden threads, with intrinsically woven brocade and embroidery work.
Accessories plated in gold, silver, and pearls were donned by the women and girls along with traditionally designed bangles and bracelets, thus adding more glitter to the entire appearance. Dressing in ethnic clads, young girls would pluck mango leaves and flowers and innovatively set them in brass containers. Then the Basant Panchami celebration starts off with various classical music recitals and performances which are all based on love and togetherness. Then at the end of the celebration, red gulal powder is smeared on the cheeks, which is then followed by a sumptuous feast.
Present Day Scenario
Over a period of time, certain changes and innovations have been introduced to this age old festival. However, the theme of love still continues to linger into the ambiance during this celebration. Today's attires comprises more of multi-colored salwar suits and churidars, innovative saris of different fabrics and many such improvised versions of traditional outfits. Nowadays kurtas bearing the same yellow color have come into vogue, giving the entire look an innovative twist. In this way, latest styles, innovation, trends as well as fashion cults are introduced in the traditional outfits, thus enhancing and revamping the look altogether.
References
Categories: Festivals, Weddings & Festivals