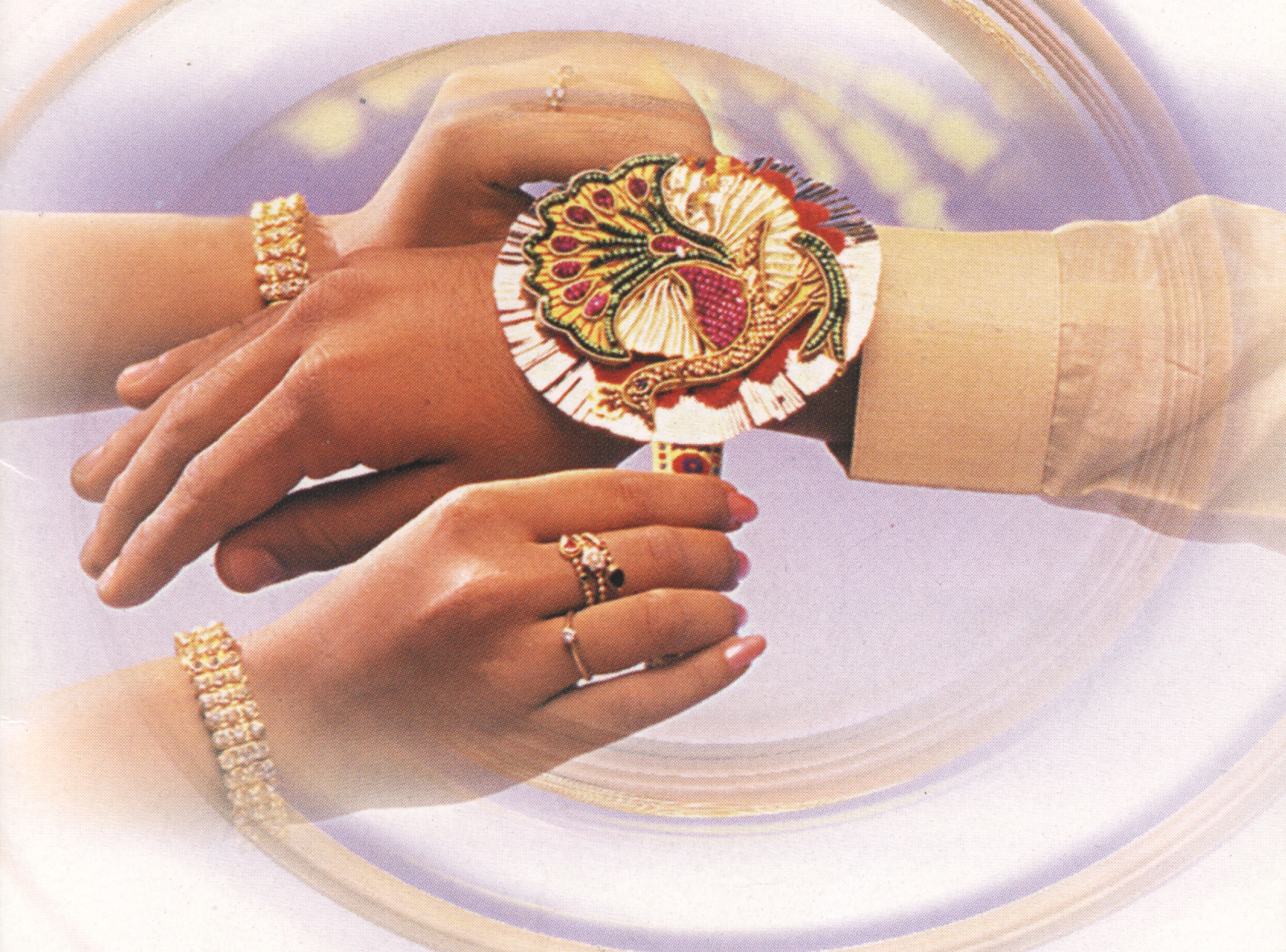 Rakshabandhan or Rakhi
Relationships have always been considered as a vital part and parcel of every individual's life. Years come and go, but certain relationships are there to stay forever. Especially, when it comes to taking a deep dip into the cultural sea of India, these eternal bonds are celebrated in every special way. One such festival which rejoices every bit of these sacred connections is the occasion of Rakshabandhan, which is a celebration of an undying bond between a brother and sister.
On this day, the sister ties a thread, also known as 'Rakhi' around her brother's wrist which shows her adoration and her longing for her brother's well-being and good health. In return, the brother gives something to his sister as a token of love and appreciation. For centuries, this festival brings great merriment and a sense of festivity into people's lives, and with the passage of time, the celebration has become more grand and elaborate in terms of its style and approach.
Background
In countries like India, Nepal, Mauritius, and Pakistan, the sanctified relationship between a brother and a sister is celebrated through the festival of Raksha Bandhan.
This festival came into the limelight of recognition during the Mughal era, wherein the Mughal Emperor Humayun received the opportunity of sharing a brotherly bond with the Queen of Chittor, Rani Karnavati when a traditional ritualistic Rakhi was sent by her when she was in need of help. Earlier, this traditional festival was more ethnically celebrated by waking up early, praying before the gods and following every traditional ritual from start till the end.
Style and Attire
In today's day, the sisters are dressed in traditional attires like lehenga cholis, salwar suits and even sarees, and wear authentic jewelry, which can either be simple or ornate, depending on one's personal taste. On the other hand, the brothers are groomed in their traditional kurta pyjamas, which are ethnically embroidered and designed.
The Rakhi's which were once very simple are now extremely glamorous and worth all the recognition. Silk threads embedded with stones or beads are widely available in the market. In some cases, gold or silver studded bracelets are also bought in place of the traditional thread.
The Traditional Procedure
The occasion begins with the brother sitting down on a well-knitted mat, eagerly waiting to be 'pampered by his adorable sister'. Then the sister applies a red elongated dot on the brother's forehead, which is a 'tika', coated with prayers and well wishes. Then the sister performs an aarti as a traditional gesture of gratitude and then ties a colorful and decorated rakhi on the brother's wrist which binds them into an eternal bond of love and security.
In return, the brother after blessing his sister with promises of safeguard showers her with unlimited gifts of her choices, or in some cases, money is given as well. Then a galore of mouth-watering sweets are fed to each other, thus followed by a sumptuous and delicious meal.
At the end of the day, the thoughts, unlimited blessings, promises and love that are meted out to each other are the main ingredients which make this festival even more priceless and meaningful to be treasured for a lifetime.
Present Day Scenario
In today's advanced world, not only blood-related siblings but also cousins as well as adopted brothers can also attain this privilege of celebrating this festival. At the same time, in today's modern world, the concept of 'e-rakhi' has gathered tons of popularity, which highlights the concept of virtual rakhi celebrations, specially designed for people living miles apart from their siblings. Thus, it can be said that although the world has advanced in leaps and bounds, certain occasions retain their essence for eternity.
In addition to all this, several Indian movies with songs, commercials, and marketing companies have banked on this festival and have made it more glamorous and appealing.
References
Categories: Weddings & Festivals